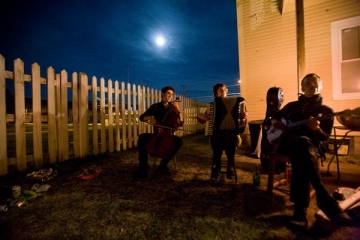 Within the packaging of their debut album, the Minneapolis-based Dark Dark Dark opted to include an eight-page booklet of photographs that featured a few pictures of the group in settings that proved more reminiscent of the late 19th century than the present, a stark contrast from the technologically dependent promo shots that most bands utilize today. Courtesy of photographer Timothy G. Piotrowski, the style most often indicated a nostalgic feel that was primarily attributed to his fascinating use of blended monochromatic and yellow shades. It also helped that the individuals featured in the photos usually had no visible expression on their faces whatsoever, alluding to the stereotypically deadpan stares that were so typical of the preceding eras. As evidenced by the sample exhibitions on Piotrowski's site and this freely distributed shot of Dark Dark Dark, the photographer utilizes contemporary photography techniques to put a new spin on styles that may be deemed outdated. But this big question will likely loom in the minds of first-time listeners: What exactly prompted Dark Dark Dark to feature this photographic style so vividly in their first full-length release? When listening to their music, it should make sense. Like Piotrowski's photography, the group takes advantage of all the resources that modern music technology has to offer them to create a stirringly nostalgic sound that becomes all their own.
A four-piece at its heart, Dark Dark Dark consists of an instrumental arsenal that is not typical of most indie-rock favorites. In addition to the rhythm section of bassist Todd Chandler and drummer Martin Dosh, the group maintains a heavy focus on cello, banjo, accordion, and piano. Jonathan Kaiser takes control of the cello, Marshall Lacount strums the banjo, and Nona Marie Invie makes use of her skills at piano and accordion. LaCount and Invie prove to be unconventionally resounding vocalists, serving as a double-edged sword with overlapping melodies that capitalize on an appealing formula that blends irresistible vocal harmonies with instrumentation that ranges anywhere in the mood palette from ominous to optimistic. In addition to Chandler, these three are the constant members, though Dosh contributed some excellent drumming to the entirety of the group's engrossing debut, The Snow Magic. The name Martin Dosh may sound familiar to fans of percussively-based electronica; the Minnesota native has been regarded as a "superstar" prodigy for his innovative fusion of post-rock, electronica, and a consistently emphasized form of percussive involvement. Signed to the Anticon label in 2003, he has released four impressive solo albums, the most recent of which – Wolves and Wishes – was released in May of this year.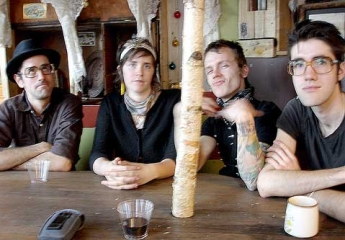 In addition to the collaborations from Dosh, the steady members of Dark Dark Dark remain just as interesting. Bassist Todd Chandler is directing and writing a film project by the name of "Flood", featuring an accompanied score by his very own band. Subsequent to his work in another locally esteemed Minneapolis-based band by the name of Woodcat, LaCount worked on Dosh's Wolves and Wishes on a handful of tracks, one being "Kit and Pearle" with Andrew Bird. Invie contributed vocals on that very same track, already acquainted with LaCount after the duo had formed Dark Dark Dark in 2006. Dark Dark Dark's debut, Love You, Bye was an EP that was released in October 2007 and recorded by now-cellist Jonathan Kaiser. After Kaiser pushed his production duties aside to focus entirely on cello, the group handed the role of producer to Robert Skoro for their debut full-length, The Snow Magic. A new staple of the Minneapolis music scene due to his intuitive mixing abilities, Skoro also is an aspiring solo songwriter whose material can be checked out here. To map out an ambitiously stylistic album like The Snow Magic, I imagine that it may have looked initially intimidating to the young producer. Looking at the final result though, I may not have given him enough credit; Skoro did a fantastic job. The atmosphere that he and the band have instilled into this memorable debut is extremely commendable with a consistent vision that goes hand-in-hand with a batch of great songs.
As evidenced by their name alone, the fact that Dark Dark Dark's stylistic territory treads on the gloomy side of things should not be surprising. Any other conceptual focus would be a mistake though, as the instrumentation glides cohesively with the content at hand. "Dig a Grave" features a gradually expanded melody that is accentuated by the simultaneous sounds of an accordion and cello. "Your ghost can stop and stay for a round, I would truly be living it up," LaCount sings, adding a bit of ironic humor to a song centered on the question of whether being haunted by a loved one is so bad after all. "Junk Bones" is a more melodically exuberant track that, once again, centers on the topics of ghostly spirits and death. Led by Invie's creakily enjoyable vocals, it features an excellent chorus that sees a simultaneous collision of an accordion and reverbed keys. "All that rope you hang your neck with," she repeats after the chorus, an effective measure of words considering these preceding lyrics: "Now you're a ghost, you can find a home away from here; I've always wanted to find a home away from here." The fact that the narrator expresses jealousy for the deceased because of her miserable state of existence is tragic, but the somewhat jovial melody makes the track fulfilling and undeniably interesting.
"Ashes", the opening track on The Snow Magic, also serves as one of the most captivating efforts on the album. Dark Dark Dark once again takes a look at the effects of death – this time at the spreading of ashes – over a swirling instrumental accompaniment and pair of dual vocals that attribute nicely to the vigorous tenacity of the track with the ardent deliveries of LaCount and Invie. "I know you want to scatter my ashes, I know you want to spread them far and wide," Invie sings. "Don't scatter my ashes; I want to run by the seaside." The content, of course, may be too dark and topically repetitive for some, but the musical style fits it well and anything else may have come across as pure desperation. In terms of dual harmonies, it would be difficult to argue against "The Benefit of the Doubt" to be one of the most impressive efforts in that regard. The instrumentation, led by a cello-accordion combo similar to "Dig a Grave", is bare compared to some others, but it proves wildly effective as it places an emphasis on the vocal harmonies of LaCount and Invie. To be warned, The Snow Magic is not the most accessible or instantaneously gripping album out there, but successive listens will undoubtedly reward listeners in a way that few debuts will this year.
——————————————————————————————
——————————————————————————————
——————————————————————————————
——————————————————————————————