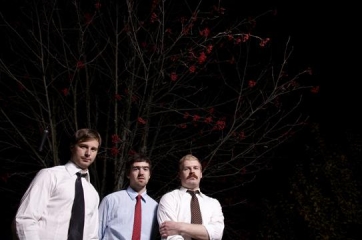 Like a swimmer dipping his foot into water to determine the proper temperature, many musicians comprehend the importance of testing the waters. Few of them instantaneously discover a stylistic solace, even if they are able to produce an eclectic number of genres flawlessly. For their own songwriting, they will never truly discover what style fits their own personal method best unless they are willing to try a variety of them. The Olympic Symphonium, a Canadian trio hailing from New Brunswick, tend to take this ideology to heart quite significantly. Between the three of them, the members have ties to nearly a dozen other groups, several of which are of different genres. Considering that the majority of their projects tend to produce vigorous forms of rock music though, it is somewhat ironic that their current primary project is focused on a gentle breed of folk, country, and pop that is accompanied by a delicate mixture of keys and acoustic guitars. The three multi-instrumentalists – Nick Cobham, Graeme Walker, and Kyle Cunjak – have written music where roaring guitars are at the forefront, others were a frail piano melody drives the track, and a few where an acoustic guitar incorporates itself within a mixture of both; it is simply a testament to the fact that these three young songwriters have tried their hand at a variety of genres.
When it all came down to it though, the trio's decision to make The Olympic Symphonium their primary source of output came down to two things: the accessibility of collaboration and the stylistic flexibility that derives from it. Between gigs like Walker's role as bassist in Grand Theft Bus, Cunjak's occupation as an increasingly reputable photographer, and both Cunjak's and Cobham's positions as members of the Andrew Sisk-fronted Share (label-mates on Forward Music Group), one should be impressed that these three talented musicians find the time to sleep. They have all found relative success in their other projects, but the growing success of The Olympic Symphonium is most likely indicative of the trio's high level of comfort when producing songs for it. Since the three members have such similar stylistic ideologies, they never are victims of forced stylistic decisiveness, instead embracing the luxury that they have in writing and performing songs in an atmosphere with no rules or guidelines. "It's a lot easier to write songs for this band in a way," Cobham said, elaborating by saying that writing for The Olympic Symphonium contains "a different aspect" of selectivity when compared to the other groups the members participate in. They are writing music in a vein most suitable for their personal tastes, resulting in something that is both resoundingly successful and methodically convincing.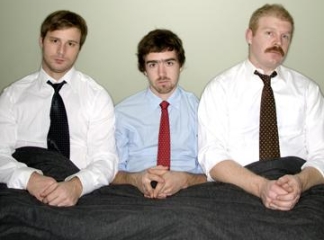 Quite naturally, The Olympic Symphonium came together over a collection of tentative songs. All three members are constantly active songwriters, and that can that be both beneficial and detrimental in the grand scheme of things. If you are with a project that strays exclusively toward a certain style, some brilliant examples of songwriting may never see the light of day due to stylistic differences. This was the case on The Olympic Symphonium's debut album, the suitably titled Chapter 1. Initially an experimentation of sorts to see if the trio's collection of songs would be compatible with a focused and cohesive sound, it expanded into a full-time project after they saw the artistic success it brought. Clearly through experience, the members knew what success sounded like after participating in both successes and failures throughout their musical careers. When crafting the beginnings of Chapter 1, they realized that this project in particular had the capability to be a prominent achievement. Though it did not manage to bustle up a lot of attention outside of Canada's three Maritime provinces, those lucky few who were able to obtain a copy were delighted to hear what was the work of genuine songwriters whose stylistic focus and level of songwriting were proficiently presented in a form that is rare among rookie and veteran musicians alike. Though it is now out of print, I recommend their debut to all those who can find it (go the MP3 route, for sure).
Continuing upon the success of Chapter 1 after its March 2007 release date, The Olympic Symphonium wisely felt that undertaking another chapter of work as soon as possible would be a wise move. They began work almost immediately, but chose to take their time in releasing the final result. Spreading their work out over several months of writing and recording, they took time in noting and expanding upon the intricacies of each and every work, just like any group of musicians who get along exceedingly well. The final versions of the songs did not appear until November 11th, when their sophomore follow-up, More in Sorrow Than in Anger, was released. With the album's title derived from Shakespeare's Hamlet, it contains the same sense of successful romanticized longing that Chapter 1 executed so well. One of the standouts, "Oh Dear", makes for an extremely touching fusion of folk and country with aching accompaniments of slide guitar and banjo. "Oh my dear, your image is calling me," Cunjak sings during the chorus. "Oh my dear, I'm falling." The verses take a route similar to that of The Czars with a slow but delicately rousing assortment of acoustics and softly echoing bass, while the chorus sees an instrumental expansion that is additionally uplifted by the usage of simultaneous vocal harmonies and more prominent usages of the banjo and steel guitar. Overall, it is my favorite on the album for both its melodic brilliance and sheer amount of raw emotion conveyed.
One aspect of musicianship that all three members of The Olympic Symphonium clearly value is collaboration, and they once again showed no reluctance to turn to other brilliant musicians to aid in the progress of More in Sorrow Than in Anger. The constant percussive additions by Bob Deveau all throughout the album, the vocals of Catherine McLellan on the broodingly acoustical "Side by Side", Kinley Dowling's strings on the haunting "The Note", and Rose Cousin's duet with Cobham on the excellent "Dead Man's Inn" are just a few of the primary collaborations throughout the album's ten tracks. "We felt there were lots of layers there that we could use and we're lucky enough to have lots of musical friends that are gracious," Walker said. And even when the group leaves the somber territory of "The Note" and "Oh Dear", they show that they are able to fill listeners with optimism on tracks like "Intentions Alone" and "Travellin' Song", the latter of which sees Cunjak's upright bass working together with Cobham's fleeting electric guitar to form a very impressive product. That the highly contrastable "Oh Dear" follows it up shows the diversity within the group's songwriting to an excellent extent. Even upon first listen, More in Sorrow Than in Anger is a very rewarding listen that immediately sees the trio expand upon the promising ideas of their first album. Especially after repeated listens though, one will begin to fully understand how capable The Olympic Symphonium really are.
——————————————————————————————
The Olympic Symphonium – Oh Dear

[audio:http://mineorecords.com/mp3/osymph-ohd.mp3]
——————————————————————————————
The Olympic Symphonium – Side by Side

[audio:http://mineorecords.com/mp3/osymph-sid.mp3]
——————————————————————————————
The Olympic Symphonium – Dead Man's Inn

[audio:http://mineorecords.com/mp3/osymph-dea.mp3]
——————————————————————————————