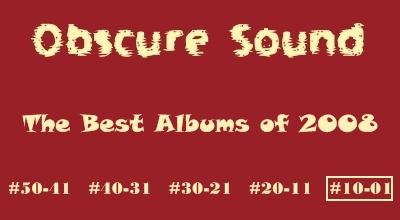 by Mike Mineo
———————————————————————————————–
10. Dr. Dog – Fate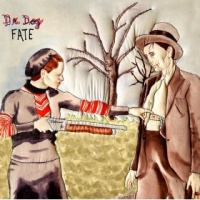 For their fifth album, Fate, Dr. Dog intentionally granted high expectations months before the release. Calling it the album that "they were destined to make", it should make the album's title a rather obvious one. However, considering that last year's We All Belong was easily one of the best indie-rock releases of the year, improving upon a release that is widely considered their best may be a daunting task. For a band that has improved with each successive release though, success appeared nearly imminent. And while Fate does not substantially topple We All Belong in terms of overall consistency, it offers a few of the most rewarding moments that can be found on Dr. Dog's growing discography. Considering that hints indicating Fate as their most expansive release to date were heavily prevalent, it is nearly ironic that the opening moments of "The Breeze" sound like the throwback lo-fi version of Dr. Dog, back in 2004 before My Morning Jacket scooped them up and brought them out on tour to expose them to an audience who would grow extremely fond of the Philly-based five-piece. As the track progresses though, "The Breeze" proves to be a great representation of Dr. Dog's songwriting. The soft strumming of an acoustic guitar gradually shifts to a broader instrumental accompaniment that features a cohesive display of guitars, tropical keys, and cooing backing vocals, with the gradually augmented percussion establishing the build-up to an extremely commendable extent. Rather than attempting to bolster a previously acclaimed style, the rest of Fate sounds very much like – well – recent Dr. Dog. To Dr. Dog's benefit, it results in being arguably the strongest album of their career. Much debate will eventually arise among fans that are split deciding which one of their three recent albums is Dr. Dog's most effective. When listening to a succession of tracks in the middle of their most recent effort, it is hard not to make a case for Fate.
Army of Ancients" kicks off this irresistible run, sporting a combination of brass and strings that makes a striking impression when set against the backdrop of vigorous keys and Scott McMicken's powerful vocals. He resembles an ardent fusion of Harry Nilsson and Richard Manuel as he lets out a highly emotive croon at the conclusion of each chorus; the whimper seems to get better each time around and establishes itself as a convincingly stable hook. "The Rabbit, the Bat, and the Reindeer" is more reminiscent of traditional Dr. Dog with its key-led progression and simplistically memorable chorus, but it fits exceedingly well between the ambitious pop of "Army of Ancients" and the outstanding "The Ark". "The Ark" serves as a great achievement for a group even of Dr. Dog's throwback mentality, as the diversity alone presented within its duration should silence any critics who describe their sound as being bland or overly imitative. Barely over three minutes long, both the track's lyrical scope and melodic tendencies prove highly memorable. The topics range from war and remorse to love and faith, all presented in lyrical forms that contradict the conventional actions involved in all circumstances. The various progressions and rhythmic accompaniments are more subdued when compared to other efforts on the album but it bodes well with the content at hand. The chorus nearly resembles the grandiose flair of Pulp's "This is Hardcore", with Dr. Dog's nostalgic tendencies emerging as the dividing factor. With the halted guitar-led stomps of "The Beach" and the intricately infectious "My Friend" closing off the album in equally impressive form, it is difficult to find a track on Fate that is not wholesomely enjoyable to some extent. So, in the end, is Fate a massive improvement upon We All Belong? No, but it is just as consistent and massively enjoyably as its predecessor. And since We All Belong was one of the best releases of last year, Fate also slides in nicely as one of the most accomplished indie-rock albums of 2008.
Dr. Dog – The Rabbit, the Bat, and the Reindeer

[audio:http://mineorecords.com/mp3/drdog-rab.mp3]
———————————————————————————————–
09. Benji Hughes – A Love Extreme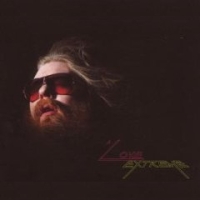 For an artist who opts to produce a double album, it is arguably vital to have a sense of confidence in regard to their own stylistic ability. Unless the songwriting can be widely classified as ingenious, few artists can release such a lengthy album without their style becoming tiresome by the last few tracks at best. This is one of the primary reasons why most double albums we see are from artists who have already had their successes and bumps in the road, as experience is the most imperative tool in crafting something successful of a lengthy duration. Keeping that in mind, for an artist to debut with a double album showcases a form of confidence that is rare even among the most experienced artists. Whether they can live up their own lofty impressions is often a flawed cause, but Benji Hughes's debut, A Love Extreme, has pulled it off so seamlessly that it is not even slightly pretentious or overbearing. Instead, the native of North Carolina has produced one of the best debuts of 2008. Within the 25 tracks that encompass A Love Extreme, Hughes' topical tendencies stray anywhere from taking mushrooms before a Flaming Lips concert to being stood up at a Dairy Queen. "I'm more alternative than Suicide Girls," he goes on to say during "The Mummy", a rather apt indication of his cultural awareness. An awareness of so-called "hipster culture" is something that he does quite humorously, with the majority of it being in satirical form like the bouncy, topically self-explanatory "I Went with Some Friends to See the Flaming Lips", the synthesized dance-pop of "Why Do These Parties Always End the Same Way?", and the infectious electro-funk of "Neighbor Down the Hall", a tale of the effect of loud music on an irritated landlord. His outlook on youth culture is amusing because he manages to make a mockery of it while not disbanding and dismissing it entirely, using realistically humorous anecdotes to often emit a central focus.
Since it is a double album after all, this is wisely not the only prevalent topical focus. Hughes also has an extreme capability to craft resoundingly successful love songs, whether they are in the form of a ballad or an infectious interpretation of electronic pop. Tracks like "All You've Got to Do Is Fall in Love", "Waiting for an Invitation", and "So Much Better" variously employ gentle acoustic and key progressions, while a brisker effort like "Even If" showcases a suave mixture of key-led pop and jazz. All of the aforementioned provide excellent results though in a romanticized atmosphere, particularly the brilliant "Even If", which finds Hughes treading successfully somewhere between The Walkmen and The Divine Comedy. Though Hughes' diversity causes comparisons to The Walkmen on "Even If" and even Wilco's Jeff Tweedy on "So Well" to arise, his multifarious topical ability is more reminiscent of Stephin Merritt, the leader of the Magnetic Fields. Like Merritt, Hughes is able to simultaneously generate ironic, satirical, and witty remarks over a ceaselessly expanding array of musical styles. It also helps that his voice is similarly low, musky, and also highly melodic. One of the album's catchiest tracks, "You Stood Me Up", fuses power-pop in the verses with an utterly irresistible chorus that is largely dependent on electro-rock. How so many songs can be simultaneously humorous and tragic is part of what makes Hughes' album so impressive. The very same thing can be said for Magnetic Fields' 69 Love Songs, another comparable epic that incorporated a massive array of styles, unpredictable topical frequencies, and amusing references to pop (and independent) culture. Like that album, A Love Extreme could very well be looked back upon in a decade as one of the best albums of its kind.
Benji Hughes – You Stood Me Up

[audio:http://mineorecords.com/mp3/bhug-you.mp3]
———————————————————————————————–
08. Cut Copy – In Ghost Colours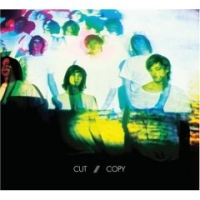 Calling Cut Copy one of the best current electronic pop artists may be an understatement. After all, so many artists today live in fear of incorporating the sheer amount of synthesized arpeggios, melodic flamboyance, and stylistic consistencies that the Australian trio has succeeded so brilliantly with on their debut, Bright Like Neon Love, and now with their second album, In Ghost Colours. Cut Copy have simply turned aspects of music that are generally considered "outdated" and fused them with a very updated style of music that is both inventive and constantly enthralling. With its widespread acclaim, the 2004 release of Bright Like Neon Love treated listeners to one of most infectious albums of the year with clever hooks and swiftly invigorating melodies. It also had a hand in opening up the field of electronic pop to listeners who may have been reluctant of it, as the album's superb tendencies of mixing synth-charged lead melodies with overlapping guitar-based progressions and real-time percussion made the stylistic transition among listeners impeccably seamless by proving that the trio's style was beyond the stereotypical mold of linear electronic pop. With polished production and quality songwriting, Cut Copy grew to be one of the most respected electro-pop groups after releasing only one album. When listening to Bright Like Neon love though, listeners should begin to realize why. That being said, In Ghost Colours simply attests to the fact that listeners were not incorrect in gauging the potential of Cut Copy. With production that is just as sharp, songwriting that is just as captivating, and a level of commitment that is just as strong, it is serves as that rare follow-up that has a chance of eclipsing a classic predecessor.
With its thumping bass and dance-like vocal bridge in the climaxing bridge, "Hearts on Fire" is the perfect clash between gaudy dance and sharply executed punk music. "With heart on fire, I reach out to you tonight," lead vocalist Dan Whitford repeats with his sleek voice. The eventual accompaniment of a lamenting saxophone adds additionally to the track's brilliance, especially when the synthy bass re-emerges and a sparkling new array of synths become complemented by a post-punkish guitar progression. "So Haunted" sees the group achieve with more haste, stacking up a distorted guitar that is melodically echoed by a high-pitched synth tremolo. But when the chorus arrives, the track arrives on that arena-like stage that it builds up to since its intro. That the chorus is both so melodically and stylistically different than the verse is a risk that the band chose to take, though the transition between verse and chorus remains brilliant. The halt of percussion of occurs during the track's conclusion also paves the way for some melodic alteration that aids the track's beautiful conclusion, one that sees Whitford's vocals take on a heavenly melody that remains embedded within the core of "So Haunted". With "Unforgettable Season" and "Midnight Runner" serving as additional highlights that see the group's successful attempts at a more guitar-based, atmospherically indie-rock side of things, Cut Copy have added another modern electro-pop to the books with In Ghost Colours.
———————————————————————————————–
07. Quiet Village – Silent Movie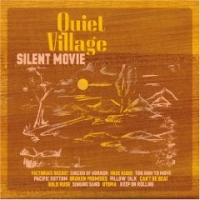 If I went on to say that Quiet Village's latest LP, Silent Movie, consisted in bulk of numerous samples, I imagine that many people would be turned off immediately. It's a shame too, as the album is easily one of the most impressive things I have heard all year. There is not much personal information available about the extremely talented duo, but it would be safe to assume that both members in Quiet Village – Matt Edwards and Joel Martin – have such a masterful grasp on various styles of music that their fixation on sampling is simply the result of two artists who view the method as the most efficient and potentially successful option available. On Silent Movie, one can expect to find a variety of styles, most of which are contained within an enthralling delivery of entailed relaxation. Whether one stumbles upon the seductive jazz in the latter half of "Too High to Move", the finger-plucked elegance of the beautiful "Utopia", the thumping string-propelled dance of "Can't Be Beat", or the tinges of reggae and surf in the infectious (and appropriately titled) "Pacific Rhythm", there is not one song on here that sounds like one another, providing for a fulfilling and artistically invigorating listening experience. The process that Edwards and Martin have went through to craft such a grandiose effort is also extremely commendable, with their ability to identify a sample, exploit it in talented form, and implement it over a variety of other samples being both extremely impressive and highly original in its result.Silent Movie kicks off with "Victoria's Secret", an evolving opener that remains focused on an oddly familiar string progression that is supplemented by the backing chirps of seagulls. Its enjoyment primarily derives from the uniquely serene atmosphere that the track creates, but the effects that Edwards and Martin personally employ are too minor to be a sufficient example of Quiet Village's supreme chops. For that, just take a listen to the next song on the album, "Circus of Horror". In stark contrast to its subdued predecessor, a gritty guitar progression immediately emerges as the melodic guide. A mixture of strings and reflectively eerie backing vocals follow shortly thereafter, aiding the melody and lifting it to new heights. When the progression changes, the sample of an ardent, soul-like croon is executed with successful precision. The addition sounds minimal at first, but repeated listens upon moments like this throughout the album eventually prove to be invigorating, as the subtle executions that Edwards and Martin introduce throughout the album in turn crafts a variety of clever hooks. "Free Rider" finds success under similar circumstances, ushering in a bouncy guitar progression once the sole beat of shuffling percussion and reflective vocals subsides.
Easily the most accessible track on Silent Movie, "Pacific Rhythm" is also one of the only tracks on the album that substitutes audible experimentation for immediate accessibility. The underlying guitar progression is reminiscent of reggae, but the strings and bass line beckon to a more sweeping nature of symphonic pop. The vocals on "Pacific Rhythm" also serve as one of the rare moments on the album where a single vocal performance is attributed. Often, on tracks like "Free Rider" and "Too High to Move", the only glimpse of vocals are either in the form of a backing melody or non-melodic sample. Instead, the female vocals on "Pacific Rhythm" contribute to the straightforward elegance beautifully. The song itself contributes to the fantastic flow of the album in unique form as well, providing a breath of relief in the enjoyable midst of avant-garde leanings on the outstanding jazz-oriented "Too High to Move" and the suave, string-aided throwback in "Broken Promises". The impressive "Utopia" borrows more than a few samples from Andreas Vollenweider's "Steam Forest", utilizing a beautiful finger-plucked acoustical melody over sparkling keys and the reverbed clicking of percussion. The result, like the entire duration of Silent Movie, is a ravishing display of innovation that provides for pure and easygoing enjoyment on the listener's part. In addition to being one of the most uniquely satisfying releases I have heard so far this year, Silent Movie is also one of the all-around best.
Quiet Village – Pacific Rhythm

[audio:http://mineorecords.com/mp3/qvillage-pac.mp3]
———————————————————————————————–
06. The Tallest Man on Earth – Shallow Grave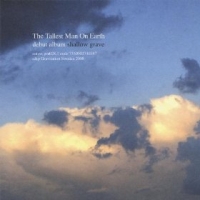 It is often a nuisance whenever a critic calls a new and young artist a "beatnik", but I suppose that it would be a somewhat suitable classification for Kristian Matsson, aka The Tallest Man on Earth. Despite a fresh and wavering scene that mainly dismisses gritty folk as a component of the past, Matsson has chosen to disregard the skeptics and carry on with a style that suits him the best, similar to the individualistic ideals of his namesake. If you had read any article concerning Matsson prior to this one, you are probably aware of one comparison that is consistently evident. Dylan-like, Dylan-esque… yeah, you get the drift – Matsson sounds a bit like the folk legend. It seems that the tag has been granted to seemingly every folk songwriter with an acoustic guitar these days, but Matsson actually makes a case for a legit comparison. Playing a varied style of acoustical folk is one thing, but Matsson's excelled lyrical prowess is where he shines most uniquely. Providing a cohesion of metaphorical imagery and anecdotal musings, Matsson's emphasis on nature serves as a refreshing change of pace when compared to other, somewhat melodramatic songwriters. Though the transcendentalism of Thoreau and Emerson provided us with a similarly successful literary device for two centuries, the delivery is exceptionally suited for Matsson's music. Appropriately enough, the talented Swede sounds nothing like the indie-pop the country has been stereotypically churning out enjoyably in massive numbers. In fact, I would have taken him for an American if I had not known prior of his geographical origins. His style of folk takes plenty of dues from rootsy Americana, with his soulful croon embodying the genuine ardency that western folk music has come to be known for.
Folk remains Matsson's primary stylistic preference, but he also weaves in elements of finger-picked blues (Piedmont blues) to provide a reminder of artists like Mississippi John Hurt and Curley Weaver. To make the sense of nostalgia even more suitable, Mattson utilizes a form of production that relies on both his raspy vocals and instrumental minimalism. The lo-fi approach is overwhelmingly appealing when applied to Matsson, and it mainly has to due with the fact that his lyrics are constantly invigorating. Considering they play such a large role and are impossible to avoid due to the minimalist style of production, his poetic talent provides a breath of a relief. Also, the fact that his debut, Shallow Grave, sounds like it was recorded on a random tape machine is part of its lo-fi charm; it is the same method that made the preceding EP so uniquely enjoyable. I admit that, like Dylan or any artist in a similar vein, not everyone will find themselves growing easily accustomed to Matsson's vocal style. It has a sense of intimacy to it that usually only songwriters that are old in age and bountiful in experience encompass, being unconventional in the most broadest sense. I personally was enamored with it the first time I heard the opening track on Shallow Grave, the fantastic "I Won't Be Found". Rather than simply repeating "carpe diem", Matsson signifies the importance of treasuring every moment in life, looking upon death as an imminent circumstance that can only be enjoyed if its preceding life was lived to the fullest extent. Over a fastidiously plucked guitar progression, he sings ardently and establishes time as a component that should be treasured. "Well if I ever get to slumber just like I'm old deep in the ground, hell, I won't be found." "Into the Stream" features a more simplistically repetitive progression that is excelled by Matsson's vocal melody and the slight melodic transitioning that takes place after each verse. This time around, Matsson tackles the obstacles in turning a fantasy into reality. Using natural elements like alternating weather with metaphorical significance, the values of societal perception are also put into question, eventually settling on circumstances that are widely dependent on the individual. As far as recent folk artists go, I have heard very few that compare to Kristian Matsson's raw skill as a lyricist and songwriter.
The Tallest Man on Earth – I Won't Be Found

[audio:http://mineorecords.com/mp3/tallman-iwo.mp3]
The Tallest Man on Earth – Into the Stream

[audio:http://mineorecords.com/mp3/tallman-int.mp3]
———————————————————————————————–
05. Fleet Foxes – Fleet Foxes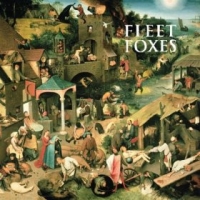 Fleet Foxes. Fleet Foxes. Fleet Foxes. The band's name has been practically drilled into your skull by now. Listeners have debated whether their self-titled debut album deserves all the success it has achieved, primarily because there are always skeptics involved when a rookie band with independent backings ends up in the top 10 for seemingly every year-end list available. I was never one to conform, but I have to go with the masses on this one. Not only has this young five-piece from Seattle crafted an album filled with outstanding songwriting, but they have led an initiative among independent songwriters that has begun to surface more prevalently. Folk music is becoming more abundant as artists become less and less reluctant to try their hand at a style that they were likely raised on; Fleet Foxes have had a substantial role in that movement with their debut full-length. When listening to them, a rather stereotypical image of a bunch of bearded guys playing together in a forest of complete tranquility is somehow stirred up, likely due to the extremely spontaneous nature that Fleet Foxes releases through melodically enriching tracks like "He Doesn't Know" and "White Winter Hymnal". Yeah, Animal Collective and Devendra Banhart have generated similar imagery with their interpretations of psych-folk, but that Fleet Foxes have achieved success in such grandiose form through a style of folk that would likely have folk legends like Pete Seeger and Woody Guthrie feeling optimistic about the future of a style wrongfully fading due to false stereotypes and a lack of contemporary lyrical perception. What Fleet Foxes do so brilliantly is their simultaneous comprehension of lyrical and melodic aspects. They build a bridge that allows fans of both lyrical imagery and melodic beauty, which is quite refreshing now that it seems that many people today do not have the capacity to cherish both.
For those who prefer to take in all aspects of a song, Fleet Foxes is a remarkable debut that proves worthy of its widespread acclaim. Their sound is prosperously abundant in gorgeous vocal harmonies, stellar hooks, and thickly intricate instrumentation that contains plenty of melodic variation while wisely limiting itself to a few of the conventional instruments that made the traditional folk so memorable. "Tiger Mountain Peasant Song", one of the most haunting songs of the year, sees nothing but a dual guitar accompaniment accompanying the forlorn vocals of Robin Pecknold. Enriching in harmony, balmy in tone, and impeccable in melody, it would not be an overstatement to say that Pecknold's vocal performance on Fleet Foxes may very well serve as the best vocal performance of the year. "Tiger Mountain Peasant Song" is just a solid example of this; despite an extremely strong acoustical melody, Pecknold is the primary reason for this song's success, mainly because the bare instrumentation leaves room for him to shine. He puts so much raw emotion into his performance that it should leave most listeners breathless, especially during the track's vocally extended chorus. "He Doesn't Know Why" is also highly rewarding, ushering out an irresistible opening verse that brings shades of Crosby, Stills & Nash to the forefront with its touches of rock and country. A comparison could even be made to Jim James' notable croon, as both he and Pecknold have the ability to craft stunning melodies using their vocal chords alone. When Pecknold sings out, "there's nothing I do, there's nothing I can say", during the middle of "He Doesn't Know Why", this becomes readily prevalent, as does the overall brilliance of an absolute gem like Fleet Foxes. Hyped it may be, but for once it might be at least slightly justified.
Fleet Foxes – He Doesn't Know Why

[audio:http://mineorecords.com/mp3/fleetf-hed.mp3]
Fleet Foxes – Tiger Mountain Peasant Song

[audio:http://mineorecords.com/mp3/fleetf-tig.mp3]
———————————————————————————————–
04. Deerhunter – Microcastle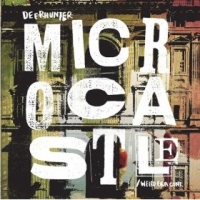 "Indie-rock bullshit", as Deerhunter frontman Bradford Cox puts it, is something that neither of his two primary projects will succumb to. What he is referring to is a mass customization of styles, one that is grouped in a mold so generic and lifelessly derivative that innovation is put on the backburner behind commercialization and singular ideas. Through both his solo project, Atlas Sound, and the five-piece in which he is the lead singer and songwriter for in Deerhunter, he has certainly proven this, unleashing an unpredictable array of styles that influence that would never be abundantly prevalent in that "indie-rock bullshit" he has so successfully avoided. Punk, shoegaze, electronica, and experimental rock are all forces at work for Deerhunter, resulting in a fused tag that everyone seems to be calling "ambient punk" these days. Their third album, Microcastle, is not purely ambient by any means with Cox's vocal pitch and delivery being variably dependent on the different styles of play, but the variation often involved in his voice often results in another instrument itself . For example, in addition to making the eerie echoes of "Calvary Scars" more chilling with his spoken-word musings and the post-punk leanings of "Little Kids" even more resounding with a slight snarl, Bradford's vocals add some desired melody to the fuzz-filled bliss of "Saved by Old Times". It is just one of several examples of how his vocals serve as a completely separate entity from the melody or tonal structure emitted by the instrumentation, certainly something that would be considered successfully unconventional in our world of "indie-rock bullshit".
While the bulk of Microcastle consists of sprawling efforts that are filled with unconventional structural tendencies and attentively implemented assortments of styles like shoegaze and punk, Deerhunter throws in a few accessible efforts that should have some introductory fans already yearning for more. Rarely will you find something as straightforward as "Agoraphobia" on an album that involves Cox, even if it still reaches that same degree of success as more epically geared efforts like the volcanic tendencies of "Microcastle" and "Nothing Ever Happened", the latter being a great choice for the album's first single with its exciting mixture of alt-rock and concluding selection of soaring guitar solos. The vocals on "Agoraphobia" belong to those of guitarist Lockett Pundt, but it serves as an ideal introductory track as he quivers, "Cover me, come for me, comfort me," over an array of psych-rock structural variations and post-punk guitar progressions. The majority of side A, with tracks like "Never Stops" and "Little Kids", reaps benefits similarly: by employing simplistically expressive topics over infectiously accessible instrumental accompaniments. This soon changes though, as expected for a group like Deerhunter. After the piano-led "Green Jacket", side B commences with some unexplored territory that sees the group's more embellished shoegaze and "ambient punk" directions. Throughout the album, an atmospheric touch is always wavering above the songs, like in the ghostly murmurs of "Green Jacket" or the trickling psychedelia of "Calvary Scars", and they are all so diverse from one another that the album's listening experience proves to be one of the most fascinating of the year. And this is the reason why Deerhunter have become so renowned; ingenious songwriting, a firm grasp on atmospherics, and raw emotion are the main forces at work for Bradford Cox and co's brilliant Microcastle.
———————————————————————————————–
03. Bon Iver – For Emma, Forever Ago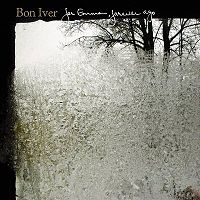 On For Emma, Forever Ago, it is utterly amazing how Justin Vernon has done so much with so little. Like the aforementioned Kristian Matsson, he has crafted an album of pure splendor by using little more than his voice, an acoustic guitar, and some damn strong lyrics to accompany them. The album's story is an old one by now: Vernon secluded himself in Wisconsin to a deserted cabin, placing himself in socially desolate circumstances for the eventual craftwork of For Emma, Forever Ago. I suppose you can see the parallel to Thoreau's Cabin at Walden Pond, another artist of sorts who used social desolation to write his most renowned work, Walden. That For Emma, Forever Ago is Vernon's solo debut makes it unpredictable as to whether it will be considered his definitive opus, but it certainly would not be an insult if it were to be. After all, the album has already been called a modern classic for several reasons, one of which relates to Vernon's ability to relay such strong emotional commitments while using little to no technological edge. Listening to this album, it is apparent that it could have been written either in the early 20th century or the 21st century, already giving it that "timeless" tag that folk releases often strive for and then fall short of because of either restrictive tendencies or technologically expansive techniques. While the production of For Emma, Forever Ago is superb with its use of overlapping vocal harmonies and different guitar tones, it is the overall songwriting and vocal usage that stands out more than anything.
As far as Vernon's vocals go, he possesses a range that any striving vocalist would envy. They are both soothing and warmly reverberating, allowing his slight falsetto to emerge without becoming too straining or overwhelming. This can be best seen on a track like "Skinny Love", where even the opening moments prove indicative of his expansive vocal arsenal. When he chants "my, my, my" during the first verse, I can't help but envision Vernon having some sort of soul influence. When he says, "Come on skinny love," it sounds as if he is biting his teeth down in frustration, maintaining his utmost coherence in the process. When the highly ardent chorus enters, one can't help but be impressed by Vernon's melodic diversity as well. His soulful croon makes a slight transition to a bluesier demeanor as he concludes with a few free-spirited howls. "Lump Sum", while more melodically linear than "Skinny Love", packs a heavy emotional punch that can be attributed to both the spine-tingling touch of reverb in Vernon's quivering vocals and his lyrical output. "Fit it all, fit it in the doldrums… or so the story goes," he sings over a lightly strummed acoustical progression, alluding to a reluctance of looking toward the future rather than a current state of stringing onto the past and present. Like "Lump Sum", his topics are often highly relatable in their tone and delivery, contributing to the impeccable craftsmanship of a folk release that already has "classic" written all over it.
———————————————————————————————–
02. TV on the Radio – Dear Science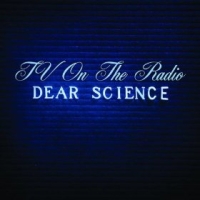 Ah, the annual safety pick for the year. If there is one album in 2008 that remains indisputably one of the best, then TV on the Radio's fourth album, Dear Science, has to be it. It is quite startling that their third album, Return to Cookie Mountain, was in this exact situation two years ago, though it simply attests to both the band's level of consistency and their relationship as a group that attributes to it. Like on Return to Cookie Mountain, Dear Science sees all three of the group's primary members – Tunde Adebimpe, Kyp Malone, and Dave Sitek – each flourish based on their own unqiue strengths. Adebimpe and Malone are astoundingly ardent vocalists in their own right, and a tag team consisting of them simply makes all the better. Sitek, a highly sought-after producer for several years now, mans the studio controls yet again for his expectedly sparkling production. Thanks to his work as producer and the high standards involved for the songwriting of all three members, you could very well call Dear Science the most technically refined album of the year. In addition to the group's level of collaborative musicianship and Sitek's production abilities, it is rooted primarily in the stylistic diversity of the album and how each and every track succeeds resoundingly despite the majority of them proving to be highly separable stylistic entities from one another. That they are also able to cloak arguably their bleakest lyrical content to date under some of the most infectious compositions you are bound to hear this year is simply another reason to cling onto an album that can be unanimously called a major accomplishment.
Whether TV on the Radio choose to focus on the sentimental bearings of "Family Tree" and "Love Dog" or the immensely danceable ruminations of "Dancing Choose" and "Golden Age", it is simply remarkable that the result is always rooted in success. "Family Tree" leads the way as the album's central ballad, emitting a delicately slow-paced piano over Adebimpe's embracing vocals. "And in the shadow of the gallows of your family tree," he sings as percussion and strings begin to establish their involvement. "There's a hundred hearts or three, pumping blood to the roots of evil to keep it young." The scene is highly metaphorical and topically brilliant, a highly commendable aspect that the equally successful instrumentation and vocal power practically demands. When "Family Tree" is directly followed by a track that contrasts sharply with a very flamboyant style of soul in "Red Dress", the conclusion of that should convince listeners of this group's high level of stylistic perception. Adebimpe and Malone combine forces here under a flurry of brass and bustling rhythm section, revealing an energetic side that "Dancing Choose" also demonstrates with Adebimpe's fast-paced delivery over a collection of synthesizers and funk-tinged bass lines. For every track like "Dancing Choose" or "Red Dress" though, there seems to be a soulful ballad like "Family Tree" or the fused orchestration of keys and brass in "Love Dog" to complement it in the most thoroughly satisfying way possible. The stellar songwriting and excellent production are a few of the reasons why TV on the Radio's Dear Science is arguably the most universally acknowledged "album of the year", but it is the seamlessness of the group's stylistic transitions that truly makes this album a classic.
TV on the Radio – Dancing Choose

[audio:http://mineorecords.com/mp3/tvor-dan.mp3]
———————————————————————————————–
01. My Morning Jacket – Evil Urges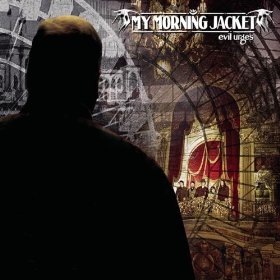 As it stood before the production phase of Evil Urges, My Morning Jacket had little reason to try anything new at all. After all, their previous album, Z, was one of the most critically acclaimed albums of 2005 and was prematurely being described by many as the group at their creative peak. I suppose the acclaim was imminent at the time, as it was their most varied effort before the release of Evil Urges. Their first two albums, The Tennessee Fire and At Dawn, brought the group plenty of buzz but they found it initially difficult to escape the linear classifications of alt-country that critics granted them, mainly due to the determinable sound that frontman Jim James and company were just beginning to confidently grasp. Though not as consistent in quality with the first two albums, It Still Moves was the group's first step in their ambitions to become a rock act where stylistic classifications were made on a per-song basis and not based on a singular career. Z simply perfected James' approach as an impressively unpredictable songwriter, mixing anthemic indie-rock tracks like "Anytime" and "Lay Low" with tinges of reggae in "Off the Record" and reminiscences of their classic alternative sound in the opening "Wordless Chorus". Even if the increased eclecticism was subtle for many listeners, the changes were evident for veteran fans. In a matter of 6 years, My Morning Jacket evolved from just another alt-country band into something of bigger, more epic proportions. Instead of sticking with southern stereotypes, comparisons were being made to The Flaming Lips and R.E.M, both artists who – in a sense – revolutionized the way that modern artists in their respective genres would tackle songwriting. And with the release of Evil Urges, such commendable sentiments are stronger than ever.

Like several My Morning Jacket albums before it, the opening track on Evil Urges serves as a gradually satisfying experience that increases in memorability with each successive listen. Also serving as the self-titled track, the heightened pitch in James' vocals during "Evil Urges" will catch listeners off guard initially, but the summery guitar progression and brisk rhythm section will soothe any concerns about the track going stylistically overboard. As James' vocals become more familiar and the rebounding melody begins to engross the listener, sudden enhancements like the slight dosage of strings during the chorus' second entry become more noticeable and rewarding. Like preceding greats in the vein of "Anytime" and "One Big Holiday", it concludes gracefully with a stirringly effective guitar solo before the infectious chorus is recapped once more. The following track, "Touch Me I'm Going to Scream", is unlike anything My Morning Jacket have attempted before, utilizing a synth line as the primary instrumental force. The synths clash fluidly over a constant bass line, bringing up unlikely comparisons to Prince and The Flaming Lips in the process. I guess you could call the soothing key-aided "It Beats For You" a distant cousin, but even that particular track had guitar-led arrangements that were expected of the band. If it were not for James' distinctively soaring vocals, many would not be able to tell that "Touch Me I'm Going to Scream" was from My Morning Jacket at all. It remains oddly addictive though, even if the style contained in the track and its 8-minute counterpart ("part two") differs dramatically from the rest of the album.
It was certainly an odd choice to stick "Evil Urges", "Touch Me I'm Going to Scream", and "Highly Suspicious" as the first three tracks on Evil Urges, as they can arguably stand as My Morning Jacket's most unconventional efforts to date. "Highly Suspicious" is inarguably the most bizarre on the album, led by hardly much more than James' apparent falsetto, a booming bass line, and steady percussion. The chorus adds a few halted guitar chords as James and a few deeper-voiced companions chant "highly suspicious!" over the eventual whirring of a synth. Being the second track in a row that reminds me of Prince (and enjoyably so), I would not be surprised if the majority of listeners refuse to take it seriously. And hey, who's to blame them? Looking back, the decision appears wise to slot these 3 tracks together, as the rest of the album contains a similar degree of variation that is more conventional in regard to My Morning Jacket's stylistic standards. The fourth track, "I'm Amazed", immediately puts the listener back in the warm embrace of classic My Morning Jacket, re-introducing James' distinctive croon as was heard in the first four albums. Like "Anytime", it proves further that James' ability to write an anthemic track – regardless of whether its in the vein of indie-rock or alt-country – is something of a rare skill. The first two minutes consist purely of radio-friendly alternative, with the remainder being a captivating guitar solo that coincides precisely with the backing chorus. In terms of tracks that would fit just as well on early My Morning Jacket material, only the strangely nostalgic "Smokin' From Shootin'" and simplistically endearing "Look At You" come close. It ends up being commendable though, as I have not even touched upon the best moments of Evil Urges yet.
Jim James clarified in an interview several months ago that "I'm Amazed" would begin the "second phase" of the album, following the first three tracks that somehow went "together in this weird way." The group has been known to perform with fully accompanied orchestras during their live performances lately, and several excellent tracks during the "second phase" like "Sec Walkin'", "Librarian", and "Thank You Too" utilize this new approach with confidence, swagger, and resounding success. "Sec Walkin'" manages to recall classic country with the overlapping of reverbed keys and guitars as James puts his full southern accent on the table, deepening his voice to a suave croon with contained influences of Johnny Cash, Hank Williams, and Carl Perkins. "Thank You Too" sports the album's most grandiose chorus, supplemented by a swirling arrangement of strings and James' limitless vocal range. And as oddly creepy as the lyrical content is, the build-up of strings in "Libraries" is too masterfully executed to ignore. The insanely catchy "Two Halves" recalls an accessible, pop-oriented Roy Orbison in its recollection of '60s rock 'n' roll, serving as the most immediately satisfying track on the album. It is in close competition with "Aluminum Park" though, a roaring rock 'n' roll ditty in which James into some ardent hybrid of Springsteen and Meat Loaf during the song's exceptional chorus. All of the influences may be hard to classify initially, but one thing is for certain; My Morning Jacket are proud to wear them on their sleeves. And when a band of My Morning Jacket's ingenious talent has the maturity to embrace their past influences and implement them fluidly into a contemporary sound, the result sounds something like Evil Urges. It may not be the most technically precise or emotionally demanding album of 2008, but Evil Urges is the most fun I have had listening to an album all year.
My Morning Jacket – Sec Walkin'

[audio:http://mineorecords.com/mp3/mjacket-sec.mp3]
My Morning Jacket – Two Halves

[audio:http://mineorecords.com/mp3/mjacket-two.mp3]
My Morning Jacket – Aluminum Park

[audio:http://mineorecords.com/mp3/mjacket-alu.mp3]
My Morning Jacket – Evil Urges

[audio:http://mineorecords.com/mp3/mjacket-evi.mp3]