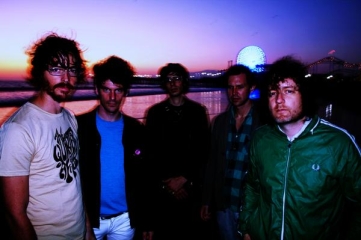 As evidenced on Monday with Andre Ethier's excellent Born of Blue Fog, January is often a time for this site to explore releases that I may have overlooked in 2008. It is not by any means intentional, as no one could possibly listen to every single release in a year by the end of it. Instead, since I tend to avoid covering groups with a lot of buzz surrounding them since a simple Google search can usually provide all the commentary and information necessary, these releases are often indication of a group whose major spotlight is yet to arrive. When listening to the latest release from The High Dials, it is startling to me that I first discovered news of their new album a mere few days ago. I was a big fan of their second album, War of the Wakening Phantoms, and the stylistic boundaries that the Canadian group broke through. Like a large variety of new groups though, they were a victim of loose comparative ideals with their early material. They had yet to find a stylistic focus that was innovative and captivating enough to advance to the next level, one that brings forth both acclaim and recognition. An artist can quite possibly find success through a linear style if they choose to pursue glamorized mainstream pop music, but for a group whose influences include legendary groups like The Beatles, The Rolling Stones, and other early British rockers that would shake their heads at the current state of pop music, that route will never be an option for The High Dials.
Despite the release providing little to flaunt in terms of stylistic innovation, The High Dials' full-length debut in 2003, A New Devotion, was by no means a bad album. Tracks like the psychedelic "Can You Hear the Bells?" and the briskly infectious "Morning's White Vibration" were pure successes, but listeners found too little to latch onto with a predictable flow that proved to be the consequential effect of a style that most contemporary music fans were already familiar with. It was also over an hour long, a flawed decision due to the group's linear style at the time. Basically, differentiating between songs on A New Devotion almost seemed like a chore. Like any wise group though, they took the criticism openly and decided to tweak their sound for their follow-up. To test the waters, they released an EP in 2004 by the name of Fields in Glass. The self-titled track was initially featured on A New Devotion, but the EP introduced a remix that saw a more organized "Fields in Glass" after a decrease in atmospherics was substituted for a more audibly enhanced rhythm section. The remix of "Fields in Glass", along with two new songs in "City Rivers" and "The House Where Trouble Sleeps" was the first example of The High Dials' new stylistic intentions. And as their following album proved, it was one hell of a decision.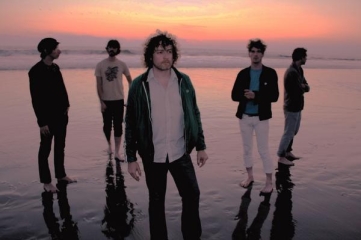 Though an unavoidable stylistic transition occurred between the releases of A New Devotion and War of the Wakening Phantoms, it was certainly not as if The High Dials sounded like a completely different band. After all, the contrast between psychedelic mod-rock and new-wave is not as stark as it seemed, at least for The High Dials. Trevor Anderson's vocals still evoke nostalgic psychedelia with heavy doses of reverb, but the melodies are now more memorable and the instrumental accompaniments are more lively and focused. Most importantly, The High Dials' most recent two albums have found a bulk of their success through a more eclectic track-by-track approach. War of the Wakening Phantoms was the first to introduce this, cohesively implementing aspects of shoegaze, hard-rock, acoustic pop, and synth-pop over a central focus of new-wave and power-pop. For someone who had only listened to A New Devotion, ambitious efforts like the epic "Your Eyes Are a Door" and the synthesized "A River Haunting" would be a welcomed surprise. Anderson's vocals remain generally similar, but the group took great strides on their second album with sharper songwriting, crisp production, and a sound that was certainly eclectic enough for a group aiming for both accessibility and innovation.
Due to the success and rave reviews that stemmed from War of the Wakening Phantoms, it is not surprising to see The High Dials pursue a similar approach on their third album, Moon Country. It offers plenty of variety and infectiousness, two commendable aspects of War of the Wakening Phantoms that were the primary causes of its success. Just to name a few of the highlights at their disposal, listeners have irresistible power-pop gems like "My Heart Is Pinned to Your Sleeve", the electro-acoustic workings of "Killer of Dragons", the ardently acoustic finesse of "Angels and Devils", and the psychedelically epic "Open the Gates" to satiate any hunger for stylistic diversity. "My Heart Is Pinned to Your Sleeve" sounds like a cheerier British Sea Power (the introduction of bursting guitars could not help but remind me of "Carrion"), with the undercurrent of twinkling keys over a heavy bass and Anderson's effervescent vocals crafting a bright power-pop delicacy with plenty of structural diversity on a track where a high level of accessibility is heavily prominent. "Killer of Dragons", while just as accessible, pursues a different route with a series of electronic percussive stomps and handclaps build up to a chorus that is slightly reminiscent of '90s Brit-pop with an electric guitar reflecting Anderson's vocal melody. The opening "These Days Mean Nothing to Me" is also notable for its build-up, one that sees a series of twinkling atmospherics convert to a fierce guitar-led fury that proves to be an excellent microcosm of the group's newly utilized stylistic ambitions. At over an hour, The High Dials' Moon Country may be just as lengthy as their inconsistent debut, but this time the long length proves to be a good thing. After all, when something is so enjoyable, it is hard to set such a limit.
——————————————————————————————
The High Dials – My Heart Is Pinned to Your Heart

[audio:http://mineorecords.com/mp3/hdials-myh.mp3]
——————————————————————————————
The High Dials – Killer of Dragons

[audio:http://mineorecords.com/mp3/hdials-kil.mp3]
——————————————————————————————
The High Dials – These Days Mean Nothing to Me

[audio:http://mineorecords.com/mp3/hdials-the.mp3]
——————————————————————————————