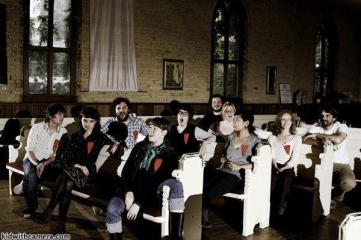 Stereotypes are difficult to shake off some genres, as the primary innovators of them are usually considered to be the archetypical reference point for those aspiring to pursue the style. Structural tendencies are rarely what define a genre since experimentation can be prevalent in all styles of music without it being a hindrance to classification. As a result, listeners often resort to classification through means of instrumentation, historical relevance, and even methods of production. The latter proves to be a rather outdated method since the definition of "quality production" seems to fluctuate with each passing year, but the other two still apply. Upon examining a piece of music, we unknowingly become influenced by the media in determining a song's genre. There exists some one-hundred or so proposed genres, most of them resulting in an overly intricate attempt from journalists and musicians to concisely classify a song or release. It would be interesting to see what the members of Bruce Peninsula think about such an occurrence, as they are one of the few groups whose sound can truly not be grouped into one category. Their main focal points include folk, soul, rock, and an eerily brilliant infusion of gospel music, though one is not even slightly predominant over the others. This creates for an interesting experience, something that serves as one of the few legitimate excuses for a fancily concocted genre.
If forced to choose, folk would personally be my classification for Bruce Peninsula. The genre has demonstrated such flexibility this past decade, with artists finding success in both traditional and modernized approaches. Bruce Peninsula find themselves somewhere in between the two; they express a veneration for the past with scenic lyrical content and a call-and-response vocal approach, but their infusion of other elements within the worlds of gospel and soul place them in a category where few others exist. It would have been rare to see a folk artist in a decade other than this one attempt such a stylistically multifarious approach while still remaining in the realm of their respective genre, but Bruce Peninsula prove to be a new breed that dares to defy any and all stereotypes that apply to folk music. They exist partly as a possessed choir and partly as leaders of some tribal procession, leading way for an exhilarating presentation that blends conventionalism with culturally atypical methods. Some may say that folk music must have some incorporation of a non-electric guitar with little backing instrumentation, but listeners of Bruce Peninsula have or will learn otherwise. With their newest album, they strive to defy the predictable elements that make some music derivative, regardless of their genre.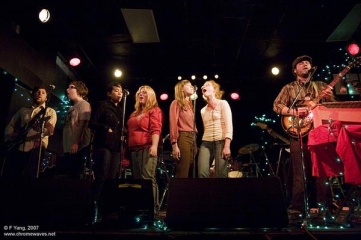 The origins of Bruce Peninsula trace back to 2006. Naming their project after a scenic peninsula in their native province of Ontario, Misha Bower and Matt Cully enlisted a wide variety of musicians to fulfill a stylistic vision that could only be accomplished through a precise selection process. The dozen or so members that accompany Bruce Peninsula when at its fullest are all fine surveyors of the band's target genres: folk, soul, and gospel. The female members often make up a haunting choir of sorts, backing the coarsely invigorating vocals of Neil Haverty. Bower also occasionally serves as the female lead, making her mark with quick but extremely effective moments in tracks like "2nd 4th World War" and "Weave Myself a Dress", the latter in which she stars as a sympathetic protagonist stricken by loneliness and grief. Considering her powerful, trembling vocals on tracks like this, I feel that the Bruce Peninsula's full-length debut, A Mountain Is a Mouth, may have benefitted from seeing more of her voice. Still, with a uniquely captivating voice like Haverty's taking the lead, it is a tough decision to make. Regardless though, the album hits all the right marks with its wide range of emotions. Whether it is Haverty's bluesy howl toward the end of the breathtaking opener "Inside/Outside" or the ceaseless action of percussion on the energetic "Crabapples", A Mountain Is a Mouth is full of ardent moments diverse enough to captivate a listener for months on end.
The aforementioned "Weave Myself a Dress" also tends to serve as a consummate example of Bruce Peninsula's tonal and emotional diversity. Bower initially guides her crackling voice over a pair of acoustic guitars and a twinkling keyboard, with an eerie string-like effect in the distance providing a striking backdrop over her longing lyrics. The track continues like this for several minutes before near-ambience takes over. Bower then lets out a howl over this phased ambiance, allowing the soft strumming of an acoustic guitar to answer in response. When she lets out another one, two guitars become involved. Eventually, the melody seamlessly shifts into a joyous choir of sorts as Bower's voice remains distinct over a unisex chorus. To check out Haverty's tremendous vocal power, one should look no farther than "Shutters". This powerful effort begins with a similarly accompanying choir as Haverty trembles, "Like water from a whale spout, the spray unveils its crown." As strings can be heard building up in the background, the listener can sense impending turbulence. When the volatile rhythm section collides abruptly with a series of guitars, the track intensifies to a level of irresistibility. Haverty either sounds like a deranged madman or a brilliant preacher, with his accomplice of choirs hitting the notes that his musky voice cannot. The track becomes somewhat serene during the middle, but then follows it up with an even more grandiose setting than the introduction. Such tactful precision is what makes Bruce Peninsula so special, and it is a sentiment expressed brilliantly on A Mountain Is a Mouth.
——————————————————————————————
——————————————————————————————
Bruce Peninsula – Inside/Outside

[audio:http://mineorecords.com/mp3/bpen-ins.mp3]
——————————————————————————————
Bruce Peninsula – Weave Myself a Dress

[audio:http://mineorecords.com/mp3/bpen-wea.mp3]
——————————————————————————————