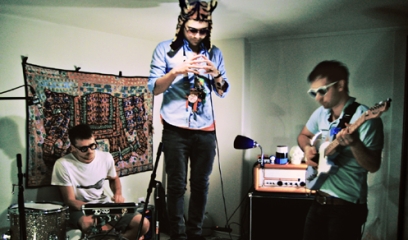 Now that Flight of the Conchords have achieved immense and well-deserved success stateside, a brighter light has shined upon New Zealand's prosperous music scene. Quantity has never really been an issue for the island in the Pacific, but finding success there can be very arduous when applied to the obstacles of touring and getting in touch with proper international marketing. Due to the limited resources and geographical constraints, there is little room for acts that fail to meet a certain standard since there is little use in investing in high-risk options. However, when artists as innovative as Flight of the Conchords or The Mint Chicks emerge, it is certainly not a major surprise to see a major label or international television network swoop them up. In the case of The Mint Chicks, one has to be impressed at the recognition they have received thus far. Although they remain far from Flight of the Conchords status, this is another excellent new act from New Zealand that has substantial staying power and a style that should undoubtedly appeal to western listeners. And although The Mint Chicks' steady rise to fame is not as glamorous or instantaneous, one can be assured with their new album, Screens, that widespread recognition is not far off.
Like many aspiring groups regardless of location, The Mint Chicks began as a half-serious high school band that mainly used their status for parties and whatnot. Eventually though, Kody Nielson got an itch for the real thing and began writing songs. He ended up showing a few tracks to his brother Ruban, who came away so impressed that the whole songwriting thing started to interest him as well. When they started to attend Orewa College, the brother's now-mutual artistic urges rubbed off on bassist Michael Logie and drummer Paul Roper. The two joined The Mint Chicks shortly thereafter and this prompted the rise for the quartet. After a few impressive performances, they were picked up by one of the most respected New Zealand indie labels in Flying Nun Records. They released their first EP, Octagon, Octagon, Octagon, in 2003 and followed it up with another, Anti-Tiger, the following year. These two EPs propelled The Mint Chicks to a highly reputable status in New Zealand, paving the way for their first two full-lengths, Fuck the Golden Youth in 2005 and Crazy? Yes! Dumb? No! in 2006, to appear on the New Zealand charts at #28 and #23, respectively. And in addition to appearing on the charts, even though The Mint Chicks had done everything from touring with the Yeah Yeah Yeahs to annually appearing at New Zealand's Big Day Out festival, the group hungered for more.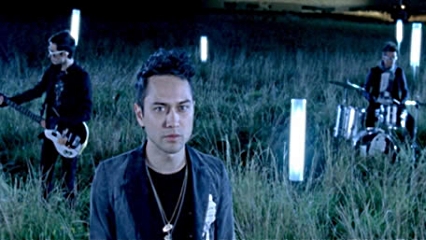 Although the premise of New Zealanders moving to the US to find fame in the music industry has been covered commendably by HBO, The Mint Chicks also figured that the best opportunity to spread their music would be in America. And although Portland, Oregon is not quite comparable to the bustling nightlife of New York City, The Mint Chicks have found it to be a great location to be in for the past year-and-a-half. Ruban Nielson calls the Portland scene "very non-competitive but stimulating." "We feel really welcome there," he said. "People seem to find it really amusing and interesting that we've had some success in New Zealand and choose to bury our heads in the Portland scene in relative obscurity." Relative obscurity may have described The Mint Chicks a few months ago, but the new release of Screens already has been greeted with the most recognition out of all their releases. The album's current peak position on the New Zealand charts is #10, and judging by the consistent infectiousness throughout the album I would not be surprised if it goes higher or lingers for some time. Although The Mint Chicks have remained somewhat consistent with a mixture of power-pop and electro-rock that they label "troublegum", Screens also marks significant leaps in focus, consistency, and songwriting for the band.
After The Mint Chicks moved to the United States in late 2007, bassist Michael Logie opted to stay behind. This created a challenge for the trio, as specializing in any style of power-pop or electro-rock practically requires bassy reverberations. However, as Screens shows, they are able to do just fine by incorporating low-pitched guitars and bass-like keys. "I Can't Stop Being Foolish", the album's first single, shows tremendous organization despite the unconventional rhythm section. With its multiple layers of synth arpeggios, shrill keys, and screeching guitars, the trio constructs a brilliantly energetic anthem that benefits most prominently from the swift hooks that Kody Nielson's whimsical vocals are able to flawlessly concoct. Rarely do the songs on Screens exceed three minutes and "I Can't Stop Being Foolish" shows why this is perfectly justifiable, as The Mint Chicks are able to audibly emit so much energy that it's hard to even imagine what their shows are alike. Well, with the brothers' tendencies to hang from lighting rings and climb across stage equipment, it shouldn't be surprising (yes, this photo shows Kody playing Cirque du Soleil during a show). When the trio tends to subdue themselves slightly though, their best material seems to come through. "Red, White, or Blue" is a hazy assortment of bubbly synth pads and heavily reverbed vocals that retain images of both '80s shoegaze and Animal Collective's art-rock renown, while "Hot on Your Heels" capitalizes on little more than a handful of fuzzy guitar chords and handclap-percussion to achieve something very memorable.
"What a Way" is a particularly interesting example of The Mint Chicks' multifarious nature. Coming directly after the excitable and hit-worthy "I Can't Stop Being Foolish", "What a Way" sounds like it was written at some murky carnival with its tenacious guitar progression and shrill synths that mimic the feel of an accordion. Kody Nielson's vocal approach here is outstanding as well, as he shows his flexibility as a vocalist and songwriter with his brooding shrieks and ability to adjust to the many subtle melodic alterations within each track on Screens. As far as the other highlights on the album go, "Sweet Janie" succeeds like "Hot on Your Heels" with its guitar-based minimalism and "Don't Sell Your Brains Out, Baby" proves memorable by being one of the few songs out there that use auto-tune without ruining the premise entirely. "2010" tends to stumble on its repetition and ambition, but all other efforts are fantastic representations of so-called "troublegum" and its clever fusion of power-pop, electro, and indie-rock. Such a classification may sound a bit odd, but when one is able to craft a style as inventively delightful as The Mint Chicks, they should earn that right.
——————————————————————————————
The Mint Chicks – I Can't Stop Being Foolish

[audio:http://mineorecords.com/mp3/mchicks-can.mp3]
——————————————————————————————
The Mint Chicks – Red, White, or Blue

[audio:http://mineorecords.com/mp3/mchicks-red.mp3]
——————————————————————————————
——————————————————————————————