Posted
May 2, 2009 by Mike Mineo
in Features
Obscure Sound: Best of April 2009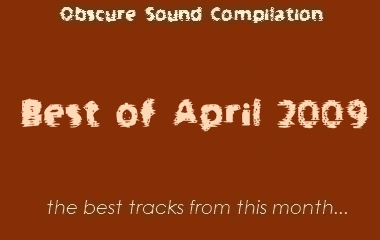 To be honest, I am shocked that I have had the time to update lately. Finals and papers have been bombarding me since Monday, and I have a few more papers due next week. Finals have certainly taken their toll on me, but I have become accustomed to listening to music while writing by now. As a result, neglecting the fine few artists featured this month was not  an option. Whether you want your girl-group pop (God Help the Girl), the latest trend in electro-pop (Neon Indian), or a familiar face (Jarvis Cocker), this month should satisfy most needs. These are all songs that I have had on repeat at some point. It is indicative of their shared infectiousness, which is commendable considering the diverse array of styles presented here.

01. God Help the Girl – God Help the Girl (post)
02. Delay Trees – About Brothers (post)
03. Jarvis Cocker – I Never Said I Was Deep (post)
04. Clues – Remember Severed Head (post)
05. Two Door Cinema Club – Something Good Can Work (post)
06. Neon Indian – 6669 (I Don't Know If You Know) (post)
07. Anna Järvinen – Boulevarden (post)
08. Crocodiles – Here Comes the Sky (post)
09. The Kingsbury Manx – Well, Whatever (post)
10. God Help the Girl – Perfection as a Hipster (post)
Mike Mineo
I'm the founder/editor of Obscure Sound, which was formed in 2006. Previously, I wrote for PopMatters and Stylus Magazine. Send your music to
[email protected]
.