Posted
August 4, 2009 by Mike Mineo
in Features
Obscure Sound: Best of July 2009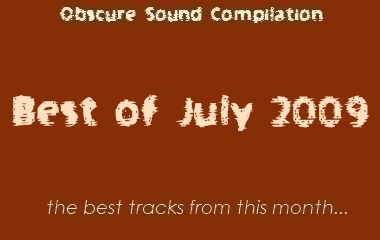 First off, I want to apologize for the server difficulties this site has experienced the past week or so. Obscure Sound was apparently taking up too many resources to be situated on my host's server, so they temporarily disabled it until I fixed the issue. To do so, I was forced to delete hundreds of old MP3 files. It had nothing to do with bandwidth or storage capacity; it was mainly that the site was getting hammered with too many requests, whether it was to download a file or use the flash player. As a result, I strongly discourage any web sites from directly linking to my MP3 files or flash player. I am a college student and cannot afford a dedicated server, so I hope to remain on this server because my host has treated me well the past three years (before this hiccup). However, I will begin looking for a new host if this happens for an extended period of time again. But for now, I hope that the issue is permanently resolved and I can continue exposing deserving bands without interruption.
I will move to a lighter and more enjoyable note in this month's compilation. Although I was only able to expose one band last week due to server difficulties, July still served up an ample amount of great acts. It actually turned out to be one of my favorite months of the year so far in terms of music. I did not have as many worthwhile acts to expose as usual, but the ones that were memorable managed to stand out in a way that was completely unique to their own sound. Salem delivered some of the greatest pop music of the year thus far, Kinetic Stereokids churned out one of the most innovative and impressive albums of the year, and acts like Wild Beasts and Ramona Falls are establishing themselves as new masters of moody alt-rock. Throw in a few electro-pop favorites like JJ and Cold Cave, some irresistible indie-folk mavens like Barzin and Noah and the Whale, and you have one of my favorite compilations of the year.

01. Salem – It's Only You (Part II) (post)
02. Wild Beasts – Hooting & Howling (post)
03. Barzin – Soft Summer Girls (post)
04. Kinetic Stereokids – Planes with Teeth (post)
05. JJ – Things Will Never Be the Same Again (post)
06. Ramona Falls – Russia (post)
07. Noah and the Whale – My Broken Heart (post)
08. Cold Cave – Life Magazine (post)
09. Kinetic Stereokids – Twisted Thoughts (post)
10. Salem – Twelve Fingers (post)
Mike Mineo
I'm the founder/editor of Obscure Sound, which was formed in 2006. Previously, I wrote for PopMatters and Stylus Magazine. Send your music to
[email protected]
.