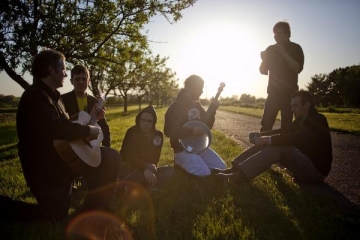 Ambiguity and exposure have an interesting bond in the world of independent music. To associate one with the other immediately seems like a contradiction, but also consider that many deem the role of popularity and experimentation to be incompatible in association. For that though, we know it is not the case because true fans of music push aside both the pretentiousness or mainstream recognition components of an artist if they produce quality music. Justin Vernon, known prominently under his Bon Iver alias, may not be music's hottest celebrity, but anyone who has read any type of music publication in the past two years is likely familiar with his material. Like a Panda Bear or Spencer Krug, he has acquired enough recent acclaim to boost any project into the spotlight with his mere presence. A brand name can sometimes bring a bigger ego than ideas, but in Vernon's case this is clearly not the case. The sincerity, passion, and craftsmanship exhibited in his music shows that. In fact, in addition to his obvious skills being utilized, his popularity should result in the new discovery of collaborating musicians that are just as vital to this excellent new project. By listening to their excellent debut on its own, one can easily discover that Volcano Choir is more than a Justin Vernon side-project. It is the heart and soul of the six different musicians involved.

Despite what Volcano Choir's recent emergence may suggest, the trio dates back to 2005. Years before Vernon became a household name, he and a bunch of top-notch musicians and friends formed a project that they regarded very aptly as a dedication to music itself. They throw around a variety of names like Steve Reich, Tom Waits, and other heroes of experimental music and pop as influences, but they go on to claim that "the group's influence is music itself." Such a statement may sound overbearing or pretentious, but one listen to Unmap, the sextet's debut, should reveal complex layers of beautiful melodies that almost seem to concisely display each of the member's talents in one wholesomely satisfying package. Vernon's quivering croon is wisely evident, but there are so many other things that make Unmap one of the most impressive debuts of the year. Volcano Choir encompasses a bunch of members from one of Wisconsin's most adored bands, bands, Collections of Colonies of Bees. Jon Mueller, Chris Rosenau, Dan Spack, Jim Schoenecker, and Thomas Wincek all lend their talents in a majestic and equatable manner, from Mueller's experimental-noise and percussive talents to Rosenau's glittering guitar work. Wincek and Schoenecker both were in control of Collections of Colonies of Bees' electronics and keys, and both prove vital on a release that blends high-tech experimental production with naturally blissful pop melodies that derive from the talents of each member.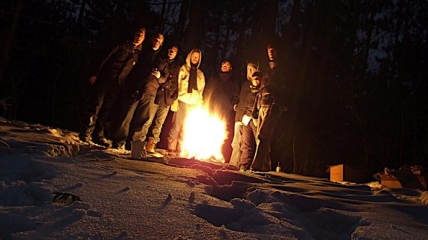 As I mentioned earlier, Vernon's popularity should bring light to the worthwhile material of Collections of Colonies of Bees, even if their name is a bit of a mouthful. And when listeners begin to investigate both that group and the solo material of each member, Volcano Choir's sound becomes increasingly apparent. Whether they tackle Sigur Rós-like Gregorian chants in the sprawling noise-pop of "Dote" or turn in one of the year's most satisfying singles in the choppily brilliant "Island, IS", each maneuver is a success that slowly but steadily constructs Unmap as a stunning debut. "Island, IS" uses several chopped-up samples of guitars and assorted string instruments over the reverbed echo of Vernon's somber croon. The clash between minimalism and folk is extraordinary done, with the repetition of melodic fragments colliding beautifully with Vernon's voice and the building percussion of Mueller. Mueller, while notable for his percussive accomplishments, also has some worthwhile noise material to offer on his solo page. Structurally, "Seeplymouth" is even more reminiscent of Reich-like minimalism, using the driving pulse of voice echoes and guitar twinkles to slowly establish a building melody that eventually ceases for the emergence of Vernon's vocals. Like on his Bon Iver material, they appear omniscient in the way his vocals cohesively adjust in accordance to the lush instrumentation. Listeners are used to this sort of the thing from Vernon by now, but hearing his vocal skills under the grandiose construction of sounds from his stellar collaborators are a whole new experience altogether.
For the album's more barren numbers, "And Gather" is appropriately titled for a style that comes across as joyous and inviting. The soft strumming of an acoustic guitar is hidden behind steady handclaps and gleeful whimpers that seem to vocally involve all six members in some way. It seems to be sitting comfortably in a campfire setting, perturbed by nothing apart from any unnatural force intent on interrupting this spontaneous creation of music. Unmap concocts a lot of imagery without even emitting distinguishable words, a sign of brilliant production and musicianship at the very least. The jazzy influence of "Mbira in the Morass" recalls Frank Zappa's incomparable knack to turn the most avant-garde of styles of compositions into something utterly fulfilling, using sporadic hi-hat percussion, unconventionally tuned keys, and an incoherent vocal accompaniment to create something that sounds foreign in the most memorable way possible. Also, it would be foolish of me to end this feature without mentioning "Still". Another track named perfectly, it evolves from a single synthesizer and vocal accompaniment to what sounds like a full-blown orchestral of beautiful noise-pop. What is most remarkable here is how the initial components remain strong throughout the entire duration, flowing in a majestic manner to complement the growing sense of audible relief. It is simply another example of mastery on an album any of the band's members could call a glowing accomplishment. Collaboration can be a complex maneuver in music, but Volcano Choir have crafted one of this year's finest by involving all of its members in an equal and sophisticated manner.
——————————————————————————————
——————————————————————————————
——————————————————————————————
Volcano Choir – Mbira in the Morass

[audio:http://mineorecords.com/mp3/vchoir-mbi.mp3]
——————————————————————————————