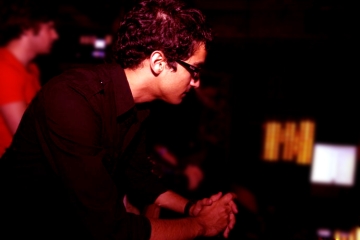 It is hard enough to stand out in the music industry, both in regard to the attention one receives and how long they are able to endure standing there without recognition. It is both literal and interpretive here, as a feeling of prominence undoubtedly effects one's willingness to remain in an industry. In regard to the industry of music, it is difficult to name many other occupations that possess more unpredictability than that one. And on that note, forget about how the country or even the region recognizes them. Getting noticed by your locality cannot simply be an assumption. It is a triumph for some bands to be written about on the back page of their local paper, while others find insufficiency in an above-average review from Rolling Stone. Most newcomers, though, will find excitement in any sort of exposure. For that, I feel some sympathy for artists residing from Brooklyn. Sure, Grizzly Bear and TV on the Radio may be the area's most popular contemporary acts, but that statement's arguable nature simply shows how ample Brooklyn is with great acts; it is the rare instance of a local scene being both agreeably quantitative and qualitative. But it begs the questions, could a local scene ever be overpopulated by too many worthwhile acts? After all, we do need to go to work and get the recommended seven hours of sleep.
The obstacles for artists in artistically overcrowded localities are abundant, even if the issues often are prevailed by the privilege of living in an artistic community where inspiration is vastly accessible. In an area like Brooklyn though, I could only imagine the artists being more frustrated with the press' selection process than the sheer concept of competition. To expose the already-exposed seems to be the norm, with superfluous addition of information (their favorite food, more influences, etc.) apparently compensating for the feeling of something fresh and exciting. For a stable artist intent on just creating music, this can be quite discouraging in the face of innovation. But for an artist like Kordan, who fuses a fresh and polished style of electro-rock with an urban-like rush, these deprived circumstances can be manipulated to his favor. When you have material as great as Kordan does in a place as thriving as Brooklyn, the experienced understand that patience is all one needs to eventually obtain success. Why I think Kordan's success is imminent certainly has something to do with his music, but perhaps more so in how he reacts to the prospect of fame even if it has not arrived yet. It must be a city thing.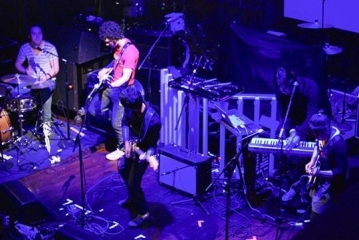 Kordan could modestly note that he's opened for the likes of Cut Copy before selling any song or release, but the low-key Brooklynite does not approach success that way. He writes on his own blog about the art of others, not how his own project is on the verge of widespread recognition. Usually treading toward the avant-garde, featured artists on the blog like Pedro Vilas-Boas and Tatsuyuki Tanaka embody both the unknown and groundbreaking in the non-musical side of art. On the more audible end, Kordan is practically their equivalent. While working on a contemporary canvas that utilizes high-end electronic production to create shimmering works of memorable pop music, the embodiment of Kordan's work is too distinctive and layered to be singularly grouped in the vein of electronic-pop. Like the avant-garde artists he adores and features, Kordan interprets and relays music differently than others within a similar realm. These include acts along the lines of Cut Copy and Chromatics, all very respectable electronic acts that infuse similar formulas of instrumentation and production but proceed to make their work individualistic through other, more discreet means.
While some electronic-rock acts utilize samples, stylistic fusions, and other forms of thematic quiltwork to establish cohesiveness, Kordan simplifies this dramatic struggle with precision. His debut EP, Fantasy Nation, contains a mere five tracks but each one possesses a different approach that summarizes Kordan's intent beautifully. The EP's self-titled cut is a translucent gem that takes the swift guitar work of Cut Copy and plasters it on the '80s new-wave-inspired vocal techniques of groups like Cut Copy, who often worked their grandiose choruses using rhythmic prominence and abruptly increased vocal reverb. "Fantasy Nation", along with several others on the EP, seems to incorporate guitar work that is not there for intricacy or dramatics, but rather as a supplementation of sorts. The rhythm section, powerful vocals, and subtle components of the great production is what truly establishes Kordan as something special. With "Fantasy Nation" serving as an up-beat replica of this decade's trend in electronic-rock, the following "Tokyo Tears" is eventually more resounding as a somber look back at '80s post-punk. The brooding bass line seems to pummel through the thick wave of reverb, making Kordan's vocals nearly inaudible above being a moody whimper. When associated with the chilling guitar work though, it plays off extraordinary as one of the most ardently effective efforts on the EP.
"Slouchy Girl", Fantasy Nation's closing number, is also noteworthy for being completely different than everything else on the release. With its strings, soft acoustics, and background coo's, it almost sounds like Voxtrot acquired a stronger vocalist and started writing better songs. It is fun and catchy to be sure, and more than assurance that Kordan is vaster than a one-trick-pony. This phenomenal EP could have told you that by itself though. Fantasy Nation is one of the most memorable debut releases of the year, and listening to it shows why Cut Copy demanded Kordan to be their opening act last year after hearing the songs on this EP. Although Brooklyn's bustle has prevented instantaneous exposure, the imminence of Kordan's success can be easily heard through tracks like "Fantasy Nation" and "Tokyo Tears". With artists like these, there is no such thing as an overpopulation of quality artists. As listeners, it should be our duty to sift through them in knowing that their locale provides more inspiration than most.
——————————————————————————————
——————————————————————————————
——————————————————————————————
——————————————————————————————
Download four tracks from Fantasy Nation for free here.