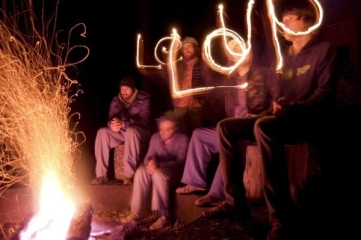 Any music fan can recognize the importance of collaboration in a finished product, regardless of whether they have the liner notes in front of them or not. Even in circumstances where one lead songwriter is in consummate control, there is always inspiration that derives from a willingness to accept others' ideas as helpful intuition. Of course there have been legendary artists that have been stubborn as all hell, but most of them are still willing to admit that some influences and individuals had a prominent role in shaping memorable material. But what often goes unsuspected is the non-musical influence some of these people have, sometimes resulting in an indirect influence on the music itself. The importance of a loving family is inarguable, and to have certain artistic individuals surrounding you with no jealous intent or sense of corruption almost certainly proves beneficial. This is rare to be seen though, especially with many younger artists possessing the ideology that if they create something, the influence(s) are merely an afterthought. It also pertains to the indescribable enigma of chemistry, something that any great band can attest to having at some point in their career (for better or worse). To have a familial presence of fellow artists surrounding your ideas is a supportive way can only be beneficial, as long as all parties are genuine in their intent to aid one another in the formation and development of innovative ideas. And sometimes, it can turn into a band-like collaboration automatically as a result.
Le Loup is comprised of members that echo the indie-rock, DIY stereotype. They are all visibly talented musicians that aspire for great things in the realm of music, only delayed by lack of recognition and a pesky day job that requires them to sort through databases and PDF files. The allure of the stage life is much brighter, but we all have to pay for the groceries. Like any group, they have all been through their series of personal hardships and artistic ruts, but not like many others they are able to channel the negative energy into a creative flow that appears dependent on their incredible potential to work together. Between his job as a paralegal, songwriter Sam Simkoff has been honing has craft as a songwriter for years now. He gave birth to Le Loup in his bedroom and has steadily shared the inception with friends, most of them based out of the DC and Maryland area. He wrote songs throughout college and began moving around a bit after graduation, looking for ideas both as a songwriter and recent graduate with a sketchy job market looming. All throughout that time, he kept in touch with one of his best friends, Christian Ervin, and consistent sent him material in hopes of finding a mutual idea that exhibited the innovation and melodic precision they are both capable of. An electronic whiz, Ervin developed Simkoff's initial songs into more expansive works that contained a more comprehensive scope of production while retaining Simkoff's uniquely captivating songcraft. Simkoff sent the final product to Hardly Art, Sub Pop's "sister label", and they were signed shortly thereafter.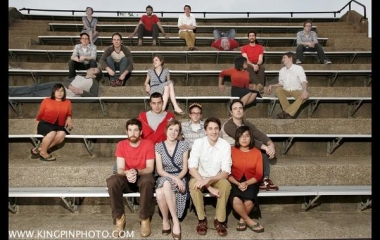 Le Loup's 2007 debut, the ridiculously titled but underrated The Throne of the Third Heaven of the Nations' Millennium General Assembly, was written primarily by Simkoff. Ervin did contribute to a few tracks, but it was mainly a DIY bedroom effort by Simkoff that relied heavily on banjos, synths, and other types of electronic experimentation. It received generally positive reviews but failed to reach the radar of most, mainly due to the fact that it was consistently of high quality but had no single that could achieve substantial radio-play. It would occasionally sound like experimental noise and then transform into a melodic pop song, suggesting somewhat of an indecisive technique despite the highly evident talents of both Simkoff and Ervin. Between then and now, Simkoff worked as a paralegal during the day and on his music at night, aiming toward a more expansive sound that was able to push the boundaries of contemporary innovation while showing off a more naturally spontaneous tone. The triumphs and errors of Le Loup's debut made Simkoff realize that combining his talents with those of trusted friends could result in something extraordinary, and when you have friends that are as selfless and musically skilled as Simkoff's then you should consider yourself fortunate. Their great chemistry is exhibited by the method of madness involved in creating their new album, Family. Appropriately enough, the band alternated between a remote cabin and basement, keeping Simkoff's DIY methods in mind without relying on the singular ideas that make something a solo effort, rather than a collective one.
Family, as the name may suggest, was recorded in close-knit circumstances for a reason. That the five members retreated to a cable-less, internet-less, and social-less cabin in remote North Carolina was not just for fun; they wanted to create the most organic and authentic release they possibly could. The results certainly show, as Le Loup has seamlessly expanded their style from inconsistent experimental electronics to a more organic, satisfying result that can still be called experimental but now with a sense of diversity and musicianship that was largely missing on the debut. A song like "Grow" certainly shows why they have been bringing up so many Animal Collective comparisons lately, as it flaunts Simkoff's breezy vocals over heavily involved percussion and backing vocals inspired by Afro-pop. There is still an electronic element here, but seeing actual percussion (instead of drum machines) and guitars (instead of samples) has done wonders for a project that just needed the extra collaborative push to put it in the spotlight. "Beach Town" has been making its way around the blogosphere for good reason; Simkoff grows from a whisper to an emotive whimper over the sound of seagulls, hectic percussion, and bubbling synth pad. The latter begins to resemble a sitar during its latter movements, again reflecting the apparent world music influence that Le Loup possesses. At times, songs resemble an Asian tribal chant like in "Saddle Mountains". Others, especially "Beach Town", invoke rare detailing to modern psychedelic pop in which world music and western pop collide to create majestic pieces of beauty. Family is full of tracks like these. Sure, experience helped in making this a great achievement and great improvement upon Le Loup's debut, but one must not neglect the familial atmosphere surrounding this album. The stunning detail and stylistic evolution on Family certainly wear such chemistry well.
——————————————————————————————
——————————————————————————————
***TRACKS REMOVED UPON THE REQUEST OF HARDLY ART***
——————————————————————————————