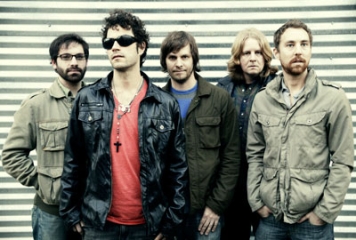 Continuing with the stream of CMJ-bound artists, The Library are a bit different from what many expect at a festival of CMJ's often frenetic vein. Often popular for artists that tout theatrical art-rock, synth-pounding dance-pop, or other forms of danceable bliss with high tempos, the audience at CMJ may initially be startled to hear this Brooklyn five-piece's serene interpretation of folk. Deriving members from The Mayflies USA and The Comas, The Library draw most prominently from influences of '70s. Neil Young's more reflective material (On the Beach) is one of them, as are others that were precursors to the psyche-folk movement of the '70s. The Library tend to integrate these influences with retrospective views of '90s alternative-rock, even if the components are so subtle that only committed fans of certain artists could recognize them. Maybe it was how bands in the vein of Slowdive, Ride, and Spiritualized collided defiant alternative-rock with reverb-heavy doses of '70s pop and folk, resulting in a path between shoegaze and nostalgic pop that established such artists as the most effective of the '90s. Either way, The Library are safely following a similar path in attaining success through manipulating our perceptions of a style or genre often deemed as nostalgic.
Vocalist Matt Long is hardly a far cry from The Clientele's Alasdair MacLean in vocal range and delivery, both using their admiration for '60s pop and its subsequent sub-genre concoctions to create a world where melodies are both frail and beauty, with the emitted emotions being genuine and memorable. The Library's new album, The Life and Times of Rosa Lee, combines this emotive sensibility with nostalgic stylistic references to compel listeners into a substantial accomplishment. "Tomorrow is Better" adds a slight twang to the predictably smooth accompaniment of hazy acoustics and usable percussion, adding in a harmonica for further effect over the subtle accompaniment of keys. This natural arsenal of instrumentation – guitar, rhythm, lap steel, and harmonica – generally compares to their earlier influences, even if the production is polished enough to easily spot its origination in the '90s or '00s. Slight components, like the lap steel arpeggio during the first verse, tend to sound more modernistic, while the beautiful bridge into a simplistically alluring chorus sounds like the work of a lost legend from the '60s. "Tomorrow is Better" summarizes the sound of The Library exceptionally, it being a soothing and ethereal journey into the derivations of '60s pop and folk while maintaining an emphasis on contemporary folk.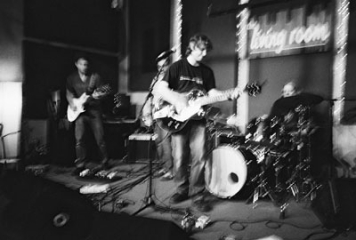 The romanticized contemplation expressed in "Tomorrow Is Better" serves well for the album's general theme, with the opening "Wish I Knew" also expressing similar sentiments. Long's vocals are particularly high-pitched but also relaxed here, probably adjusted for the use of strings that are similar in pitch. The result is a cohesively masterful arrangement that collides Long's tenderly forlorn vocals, slow and emotive strings, and moderately paced acoustics into a breathtakingly exceptional track that serves as the perfect opener for The Life and Times of Rosa Lee. "You can call me up most anytime at all," Long offers, merely requesting one chance to prove his point, "I promise not to be like them." The Library are hardly like the others after all, abiding by their own standard and interpretation of nostalgic pop despite prevalent resemblances to The Clientele and other mood-based groups. Although it is certainly more of a mood track than one bursting with hooks, there are other tracks like "Tomorrow Is Better" and "Club Amnesia" on The Life and Times of Rosa Lee that emphasize more hooks than mood, with the self-titled cut also being one of them.
Keys and strings take over in absence of the initial acoustics on "The Life and Times of Rosa Lee", leaving little room for vocal errors on Long's part. The performance, barring one or two melodic miscues, is extremely commendable and genuine, its lo-fi production serving as the perfect closer to a highly impressive release that should provide some nice press for The Library before their CMJ appearance later this week. When the acoustics pick up after Long's lyrics compel the listener about the overdue formation of a certain band, one can sense the passion for musical ingenuity within the songwriting and delivery. That their styles may derive from the past should only serve to supplement The Library's amiable level of enjoyment. After all, in kicking off a decade of supposed stylistic declassification, everything seems fair game at this point.
RIYL: The Clientele, Slowdive, Belle & Sebastian, Felt, Neil Young, Ride
——————————————————————————————
The Library – Tomorrow Is Better
[audio:http://mineorecords.com/mp3/library-tom.mp3]
——————————————————————————————
——————————————————————————————
The Library – The Life and Times of Rosa Lee
[audio:http://mineorecords.com/mp3/library-ros.mp3]
——————————————————————————————