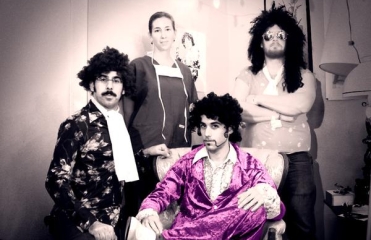 Light shows are not exactly synonymous with indie bands. Superfluous visual appeal and leisurely expenses are not the most attractive concepts to artists on a budget, even if it supplements their music well. I am not sure exactly how Morningbell are able to conduct a consistently impressive light show for less than $100, but this DIY resourcefulness is something that is not only echoed in their colorful array of lights. This is also a group that hardly needs the excess when they play live; the light show is merely a luxury, for they would still remain captivating if their show took place on a tree stump. Perhaps a frenzied local following could attribute to the band's apparent motivation when performing. Their reputation among fans in Florida, specifically college students, is intensely strong for a group as new and uncovered as Morningbell and there is little to suggest that this is an illusion. Originally based out of Miami when it was formed in 2000, Morningbell's first lineup included brothers Eric and Travis Atria along with Eric's girlfriend, Stacie Thrushman. They went under the name Future Feels Good and released an EP, The Day I Was Born, in 2002. The trio changed their name to Morningbell in 2003 following a move to Gainesville, stirring interest Their shows began to resemble Florida Gators games, and all of a sudden Morningbell were becoming one of the hottest thins in town.
The composition of Morningbell is fairly normative for an indie-rock group, seeing a bunch of day-time professionals rocking out a bit. Guitarist/drummer/vocalist Travis Atria worked as a journalist for the most part, while Thrushman was working as a veterinary student before lending her keyboard skills to the group. Travis' brother and Thrushman's husband, Eric, is a public defender and the group's bassist. Though the group has yet to reach that quit-your-day-job status, it does not look that far off. Their first few EPs were fun but lacked the explosiveness to show this, which set up 2007's densely enjoyable Through the Belly of the Sea as the release that would commence Morningbell's vigorously growing reputation. The release's title included "A Choose Your Own Adventure Album" at the end, a rather enjoyable and relevant reference to those Goosebumps books many of us read as kids. The method for this was that Morningbell included directions of sorts in the liner notes, directing listeners toward specific songs in response to their personal experience of previous songs. It almost played like a children's book complemented by beautiful flourishes of psychedelic rock and indie-pop, featuring monsters and shipwrecks throughout an "undersea adventure" which encompassed "chapters" that allowed listeners to experience it in a unique manner. Even the listeners that ignored the instructional adventure had a positive experience, as even without thematic ingenuity Through the Belly of the Sea is a worthwhile release that shows the first glimpses of a group poised for the big time.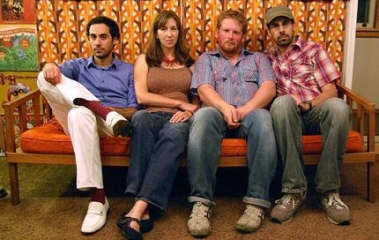 Morningbell's fourth release, Sincerely, Severely, continues upon the ambition of its predecessor without using a unique listening device, like the choose-yr-own-adventure they undertook in 2007. For a group that dominates with light shows and seafaring narratives, it would be difficult to call this a straightforward album. Somewhat contrary to their previous release, Sincerely, Severely relies on accessibility and song-based functionality instead of resourceful devices, making it their most accessible effort to date. Through the Belly of the Sea was a nice refresher of nostalgic indie-rock with its psych-pop and classic-rock fixings, but Sincerely, Severely marks the point where Morningbell have combined their strengths to produce an album even more memorable than their last. It begins strikingly from the get-go, with "Let's Not Lose Our Heads" using toothbrushes as percussion and highly distorted bass to immediately enforce the rhythm section's flexible potential. Its traditional structure and lighthearted vocal delivery should remind listeners of Weezer or The Wrens, two bands that really took coarse '90s alt-rock by the throat and turned it into amiable power-pop that attained plenty of radio airplay and critical acclaim. Travis Atria's vocals can resemble or Animal Collective-like world influences, like on "Marching Off to War" and "Good Morning, I'm Here". The latter emphasizes a youthful desire to live forever, accompanied by an outstanding vocal performance that relives the guitar-led hooks of '90s alternative-rock. This track in particular makes it sound like Morningbell have been around for at least two decades, sounding anthemic in a guitar-led enigma that was reflective of both the popularity in Brit-pop and grunge during that period. It is great nostalgic fun like Through the Belly of the Sea, but there is considerably more ingenuity and consistent quality throughout Sincerely, Severely to separate itself from its predecessor.
In addition to resembling anyone from Avey Tare to Rivers Cuomo, Atria's vocal performance takes another leap on "Soul Ma'am". As the title may suggest, he soulfully croons his way over a stunning array of guitar progressions that distinctively resemble classic-rock in the vein of the Allman Brothers with its southern-y twang. Combine this fascinating infusion with soulful brass and his spot-on falsetto and you have one of the most interesting tracks on Sincerely, Severely. His vocals quiver and bounce about alongside a very playful bass line, being quite typical of soul in its contagious combinations. It also stands as one of the most technically impressive efforts, as the transition from blue-eyed soul to subtle southern-rock is not as easy as it sounds. If you are looking for more straightforward soul then the catchy "King Mango Strut" will fill your needs as well. The near-instrumental "The Blue Whale and the Fly" is also notable for its usage of soul, once again using brass and expertly timed falsettos. Soul is not the primary focus here though, as everything from polka to rockabilly is displayed with its worldly selection of instruments and melodies. Tracks like "Pictures of the Sun" and "Good Morning, I'm Here" bring us to more familiar psych-rock territory with their beautiful layers of reverbed production and certainly fulfill those needs, bringing us to the special thing about Sincerely, Severely. This album is basically like a buffet of stylistic treats, with everything from slowly developing psych-rock to swift soul and rockabilly conquering. It is remarkable how each track uniquely identifies itself, whether it be through toothbrush-percussion or psych-rock elegance, and it derives a unique classification that could make Morningbell one of the biggest breakouts of 2009.
RIYL: It depends on the song… Weezer, Animal Collective, The Wrens, British Sea Power, The Rosebuds, Harvey Danger, and Aqueduct all come to mind though.

——————————————————————————————
Morningbell – Good Morning, I'm Here
[audio:http://mineorecords.com/mp3/mbell-goo.mp3]
——————————————————————————————
——————————————————————————————
Morningbell – Marching Off to War
[audio:http://mineorecords.com/mp3/mbell-mar.mp3]
——————————————————————————————