Posted
November 2, 2009 by Mike Mineo
in Features
Obscure Sound: Best of October 2009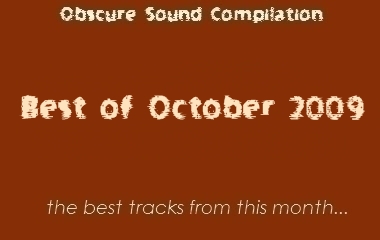 The month of October always seems to root out the Album of the Year contenders, making this and November one of the most active months in new music releases. Similar to the several months preceding the Academy Awards for film, many marketing agencies and labels are thrusting out the last of their '09 products before focusing on the new year. This includes everyone from veterans (The Flaming Lips) to newbies (Surfer Blood), each providing their fanbase with an early gift for the holidays. This month provided everything from infectious electro-pop (UltraChorus, Midnight Juggernauts) and ambitions psych-rock (The Flaming Lips, Her Vanished Grace) to indication of several stylistic revivals in the vein of surf-rock (Surfer Blood) and psychedelic electronica (Washed Out). Even unclassifiable artists like The Kilimanjaro Darkjazz Ensemble  and Lymbyc Systym provided focused and memorable efforts this month, making October 2009 unsurprisingly a month where artists of all different genres find a meeting point in their qualitative nature.
01. Surfer Blood – Take It Easy (post)
02. Washed Out – Belong (post)
03. Total Babe – Bearbones (post)
04. Midnight Juggernauts – This New Technology (post)
05. The Flaming Lips – Convinced of the Hex (post)
06. Tim Williams – Ozone Street (post)
07. A Brief Smile – Bigger Lies (post)
08. UltraChorus – Bestin the Farther (post)
09. Her Vanished Grace – Blue (post)
10. The Kilimanjaro Darkjazz Ensemble – Embers (post)
11. The Library – Tomorrow Is Better (post)
12. Aficionado – The Myth About Real Life (post)
13. Lymbyc Systym – Ghost Clock (post)
Mike Mineo
I'm the founder/editor of Obscure Sound, which was formed in 2006. Previously, I wrote for PopMatters and Stylus Magazine. Send your music to
[email protected]
.