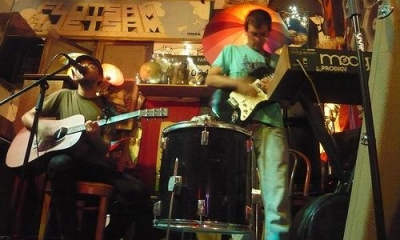 As Brian Lightbody and Tom Asselin could tell you, the differences between rural and urban America are plentiful. Lightbody lives in media-centric Brooklyn and works as a creative director, while Asselin resides in northeastern Pennsylvania working as a tree farmer. The sights and sounds of their respective locales differ dramatically by day, but their night shifts find a fascinating meeting point (and it is not called New Jersey). Extracurricular musical interests allow both to exercise their real passions. Asselin's studio in the Pocono Mountains is a common refuge for the two friends and collaborators, especially now that their project Dragon Turtle is beginning to fully spread its wings. As their debut release, a split 12" containing three tracks (two of them exceeding ten minutes) was released this past August with Goodnight Stars Goodnight Air, it proved to be an immediate unveiling of their stylistic ambition in thematic tone alone. The album cover depicts the Orion Constellation's movement as winter arrives, the photo being set over the woods of Pennsylvania. The duo sought literally for a natural progression to this album, one that would use "the sky as a map" on a 17-minute journey through the blue oceans, green pastures, and the stars themselves. Asselin's rural roots make this transcendentalist ideology more appropriate, but that does not mean a city boy like Lightbody is entirely detached from the ambition.
Even with its technical innovations put aside, the split 12" was a remarkable showing of natural skill that had no bearing on the members' geographical backgrounds. Chilly and ambient keys, fragments of droning guitars, and sweeping orchestrals were the main ingredients for the release's success. Its real pleasure, though, was in discovering its difference from typically predictable post-rock. Thematic experimentation, brooding song build-ups, and various sources of instrumentation are all characteristics today of this genre, but this split defiantly applied all the stereotypes and still managed to be neither classifiable nor derived. The sound produced was so uniquely atmospheric that the method required to get there proved just as interesting as the result. Lightbody and Asselin are clearly open to many forms of experimentation, both in their sound and songwriting. Their full-length debut, Almanac, shows this even more ambitiously. A cross between escalating post-rock, staunch orchestral minimalism, and ambient electronica is apparent just like it was on the split release. But on Almanac, the duo scales new heights in the stylistic and methodological ingenuity.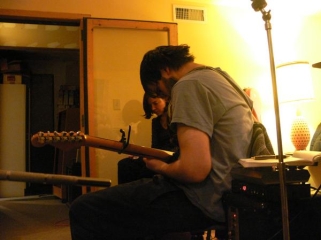 There is certainly an influence of sample-laden post-rock on the album, particularly in the otherworldly vein of World's End Girlfriend. "Organ Fallout" is entirely sincere in its eeriness, combining the resonated effect of clanging church bells with ghostly cries and sullen keys in a concise but ardent effort. I always imagined the sound of World's End Girlfriend to be what purgatory would sound like if it had the capability to be audibly recorded. Indeterminable ghostly cries, unsettling ambiance, and a grandiose build-up to either salvation or damnation… Dragon Turtle are accomplishing this nearly just as well. The impressive thing about this duo though is how they are able to eclectically provide various interpretations of this. The Robert Smithson-influenced "Island of Broken Glass" sounds like it was made from an entirely different band when compared to "Organ Fallout". Its twangy acoustical strums and and use of strings is more reminiscent of western alt-folk, even when you factor in the indistinguishably muddled vocals and unpredictable structure. Despite some occasional incoherence though, I would call it one big gorgeous mess. Wilco's earlier material are certainly a receptive comparison in that their approach is polished but their lack of experience provided for some occasionally enjoyable clutter. On Almanac , the opening "Casualty" is more conventional of duo's usual aims in its transformation from lo-fi bedroom pop to expansive, experimental post-rock. The eight minutes of creative bliss that this track presents are split in two parts between lo-fi subtleties and distorted prevalence. It is sometimes unsettling and overly patient, but the stampede of concluding percussion wraps a laudable effort up beautifully.
Despite the slew of successes on Almanac, the most accomplished effort is "Moon Fallout". It nears ten minutes and the length is not recommended for those without patience, but those that choose to wait will be rewarded heavily. It compares distinctively to Mount Eerie in its dark post-rock developments but also to Sunset Rubdown in its ability to be both ambitiously contemplative and melodically infectious. Repeating guitar drones, alternating acoustic strums, and a haunting dash of vocalized reverb are the main forces at work here. The introduction eventually builds into a very ethereal vein of industrial-pop, where reverbed vocals are intricately adorned over repeating guitar drones that move and comply to the ardent strength of the respective vocal delivery. The final few minutes are led by a effervescently Celtic-like piano progression that adds some interesting flair to a track previously rooted in distorted feedback and vaguely reverbed whimpers. The band claims the song's theme to be "the dream of a young child waking during Israeli air strikes in Lebanon", while its counterpart "Organ Fallout" is the rude awakening. having the prior knowledge of this makes the song even more haunting. Using an empty roller rink as a reverb chamber and mashing together instruments are a few fun technical innovations displayed on Almanac, but the true beauty of the album is its daring and defiant tendency to be unpredictably innovative. It is simply one big burst of creativity.
RIYL: Mount Eerie, Volcano Choir, Kraftwerk, Brian Eno, John Cale, Grizzly Bear, Echo & The Bunnymen, Jesus and Mary Chain, Sigur Rós, Steve Reich, Philip Glass
——————————————————————————————
Dragon Turtle – Island of Broken Glass
[audio:http://mineorecords.com/mp3/dturtle-isl.mp3]
——————————————————————————————
[audio:http://mineorecords.com/mp3/dturtle-moo.mp3]
(this song is 9+ minutes so it will take awhile to load)
——————————————————————————————
——————————————————————————————