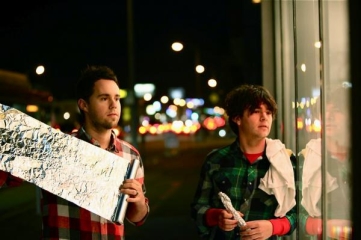 Musical collaborations can work a number of ways. A uniformly legalistic partnership for every song regardless of its actual writer is one method (Lennon/McCartney), while splitting songs up equally (like on OutKast's Speakerboxxx/The Love Below) is another. The latter seems to be the norm lately, probably because quality songwriting partnerships are so rare these days. The reason for this is difficult to explain, but I find many artists that struggle collaboratively simply because they do not know how to distribute ideas properly. They fail to recognize that the other collaborator(s) is in the same position as they are, only with different ideas that must at least be recognized and attempted. This creates more frustration than creativity most of the time. The majority of successful collaborators know how to deal with each other, obviously, but it goes beyond amiable relationships. That is not even necessary. What is mandatory is to recognize that the creativity process is a delicate one that is dependent on the willingness of all parties. Accommodations should be made in the best interest of the collective, not a singular ego. There is nothing wrong with an ego at all, especially when it comes to creativity. It just does not go cohesively with a group full of ambitious songwriters.
Wilderness Survival are far from a household name at the moment, but they possess a sound that is destined for recognition. Nick Grosvenor is the lead songwriter but is not afraid of other ideas, particularly those of longtime friend Shane Reed. The duo have been friends since childhood and have been making random bands since then, none failing to generate much attention. The problem was evident though, and both Grosvenor and Reed knew the reason. They knew one another well, making their shared ambition highly prevalent throughout several projects. Attempting to write songs together was a difficult process because, despite both having good ideas, they never seemed to coincide well. Jamming and covering their favorite bands was not a problem, but the creative process was stifled a bit when they forced collaboration. Instead of deciding to write songs separately and attribute them to the group like Lennon/McCartney or split the credits entirely like OutKast, they decided to go their own separate ways. Well, sort of. They came to the conclusion that two separate projects for two separate creative minds would be best, but they refused to stop collaboration entirely. Instead, they now wrote songs on their own, and then upon near-completion would show it to the other for feedback. This way, it was collaboration that was neither forced nor for the sake of an egotistical drive. Grosvenor would write the songs for Wilderness Survival, and Reed would write for Cosmo Speedway.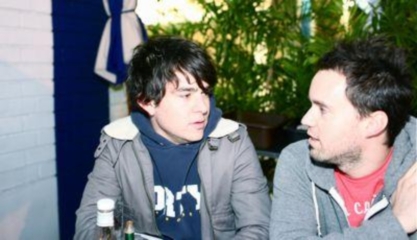 As you can imagine, things began running a lot more cohesively for Grosvenor and Reed after that structural change. Wilderness Survival's fourth album, On Belay Belay On, is a major step forward in establishing their poppy, albeit slightly eccentric, blend of art-rock and synth-rock. Their first album since 2007's We Were 21 in '03, their arrival soon to the 30s is marked by a mature development primarily steeped in glamorous production and a multitude of lovable influences. On Belay Belay On is a very precise mixture of catchy synth-rockers and stylistically impressive interpretations of folk and art-rock. "All the Ways I Do" is played with a cool toughness that resembles the placid retrospection of Beck and Benji Hughes, both artists that show no reluctance in the use of simplistically chirpy synths if the song calls for it (despite an image that entails the opposite). They have their short and radio-friendly electronic efforts, as does Wilderness Survival on tracks like the bouncy "I'm the One" or the dance-club throwback "You Got to Me", but there is always a consistent upholding of each respective artist's signature sound. For Wilderness Survival, it is Grosvenor's serenely raspy vocals intertwining with a series of clever hooks regardless of its level of accessibility.
One of the efforts that really grabbed me on On Belay Belay On was "Overnight", a ballad of sorts placed toward the album's end. Wilderness Survival's past release were so concerned with infectiousness and radio-friendly appeal that it occasionally clouded any hint of emotion from the group. An effort like "Overnight" establishes the duo strongly, the haunting piano progression contrasting beautifully . The guitar solo around 01:36 is likely one of those instances of great collaboration between Grosvenor and Reed. Either that, or the electronic drum samples in the background. This song is unfortunately only 2.5 minutes, and like "All the Ways I Do" is too short, but the album has plenty of other fun efforts like "Catch and Release" and "I Didn't" (Scandinavian electro-pop is always fun, after all) that create a worthwhile listening experience. The elimination of some songs and the extension of others would have resulted better for On Belay Belay On, but it still stands as a very strong release for a group that is poised for significant exposure.
RIYL: Beck, Benji Hughes, Modest Mouse, Matt Pond PA, Cut Copy, Ben Kweller, Private, Radiohead, Thom Yorke, French Kicks, The Rakes, Johnathan Rice, Lou Barlow, David Vandervelde, Wolf Parade, Peasant, Sea Wolf
——————————————————————————————
Wilderness Survival – Overnight
[audio:http://mineorecords.com/mp3/wsur-ove.mp3]
——————————————————————————————
Wilderness Survival – All the Ways I Do
[audio:http://mineorecords.com/mp3/wsur-all.mp3]
——————————————————————————————
Wilderness Survival – Catch and Release
[audio:http://mineorecords.com/mp3/wsur-cat.mp3]
——————————————————————————————