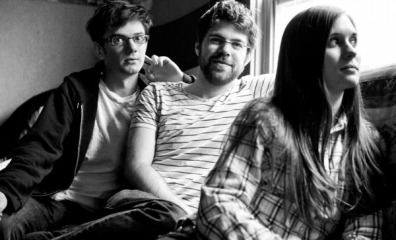 Long-distance collaborations before the internet must have been daunting. Mere words can be transferred easily from one end of the world to another using many methods, but artistic ideas rarely mature properly in circumstances deterred by lack of spontaneous contact. This is especially the case in music, where many people exceed their own potential by working with others that benefit their creative process. Nowadays one can set up a conference call, use a collaborative program, and several people can seemingly be working side-by-side on a creative project and come away with great results. Essentially, technology is able to emulate band practice in your pajamas. This was even the case before the dawn of the internet age, with artists sending cassette tapes to one another for purposes of both inspiration and track-by-track additions. To create worthwhile material like this without a central songwriter is very difficult though, as sending a musician precise sheet music and a cassette accompaniment is a lot less stressful than attempting to express ideas to a songwriter that are often too complex and undeveloped to be put into words. Human contact, under the right circumstances and with the right individuals, is a primary component into developing these ideas into substance.
Secret Cities originated from a cassette tape mentality, at least in the sense of two music-loving teenagers swapping mixtapes from one end of North Dakota to the other. Those mixtapes developed into a collaborative process, where by using a 4-track they would gradually add upon their mutual work. Marie J. (MJ) Parker and Charlie Gokay met in 2001 at band camp, of course, and in an eager attempt to not romanticize this tale I will jump to the part where the duo get their music discovered. After sending material back and forth and showing it to friends, it got in the hands of a rep at Baltimore-based Fall Records. They had plenty of material to peruse, as Parker and Gokay had put together a dozen or so cassettes at that point. The label heard enough to be satisfied rather quickly, and the duo's full-length debut Zurich was released in 2005. They went under The White Foliage at the time, changing to Secret Cities shortly after. Zurich was a sneak peek into the culminating relationship between the duo, who found their mutual adoration for psychedelia cross paths nearly a decade after first meeting at band camp.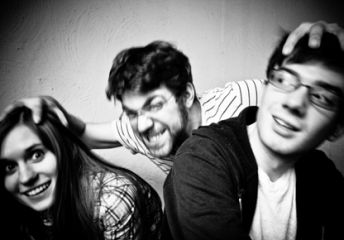 The calming dream-pop of Zurich was a depiction of a band with impressive ideas and no restraint, the latter occasionally to the point of over-repetition in probable fear of straying too far from psychedelia basics. It was a great mood album though, and their new album Pink Graffiti under a new name retains these aspects of impressive atmospheres. However, instead of straying within the realm of conventional cohesion, Pink Graffiti finds a more infectious pose in its expansion of several moods. Whereas Zurich presented a drugged-out feel largely inhibited by ethereal reverb that complemented orchestral-like instrumentation, there is a more prominent fixture on moody pop music as opposed to texture-based atmospheric pieces of The White Foliage. These elements are still prevalent with Secret Cities though, especially in cases like "Wander" where a delicate piano strolls somberly along the click-clacking of percussion, a booming bass drum interrupting occasionally for the point of introductory expansion. These helpful percussive elements are courtesy of recently added drummer Alex Abnos. The only instrumental piece, "Wander" sits alongside the emotionally charged "Pink Graffiti, pt. 2" and delightfully accessible "Colors" with appropriate vigor. The first of those two is one of the album's standout tracks too, where Parker shows her wistful high-pitched croon with a forlorn cry that repeats, "I know, I know she still loves me. I know, I know she still needs me now."
Moments like these, particularly in Parker's voice and the brooding string-based arpeggios that develop behind her, remind me distinctively of Marissa Nadler's work. Other similarities include Meg Baird, Devendra Banhart, and Victoria Legrand, but the Nadler similarity is most accurate in emotional depth and stylistic fixture. Secret Cities can work wonders with the most barren of materials, even if monumental build-ups like both parts of "Pink Graffiti" say otherwise. When they want to though, tracks like "Pink City" find little more than the band's harmonic ability spreading its wings. A joyous chorus full of lightly plucked acoustics, hand-clap percussion, and sonorous guitar solos complements an equally optimistic set of verses, serving as a refreshing opener that allows the listener to ease into the band's multitude of vocal performances and emotional variations. "Color" benefits from the same whimsical glee, except with Parker as the vocalist instead of Gokay and a synth-laden arpeggio in the chorus that falls more in the vein of indie-pop. The lack of emotional ferocity does not necessarily equate to a misstep though, as these songs flourish in their own right. "Boyfriends" has a similar vibe to it, recalling The Shins more than Mazzy Star or Slowdive.
Overall, Pink Graffiti is a very inviting listen that shows a band in its true form, a successful formula they have aimed for ever since producing Zurich . Parker and Gokay meeting at band camp eventually gave way to this album, formulated by the vision they mutually shared upon meeting a decade ago. It was certainly not an instantaneous form of output, but after the right forms of collaboration and working with the right type of people, they emerged with Pink Graffiti. It is a laudable release that the band should be quite proud of, though I will definitely not be the first to tell them this. This summer could be a big one for Secret Cities, as artists in their likeness with emphasis on lo-fi psychedelia are picking up steam lately. Considering Pink Graffiti is one of the better examples of this, it should not be surprising when it occurs.
RIYL: The White Foliage, Marissa Nadler, Ariel Pink, Beach House, Cults, Devendra Banhart, Mazzy Star, Slowdive, Meg Baird, Alela Diane, Cut Copy, Rio en Medio, Espers, Grimes, Massive Attack, Burial, King Midas Sound, The Radio Dept., Kate Bush
——————————————————————————————
Secret Cities – Pink Graffiti, part 1

[audio:http://mineorecords.com/mp3/scit-pin1.mp3]
——————————————————————————————
——————————————————————————————