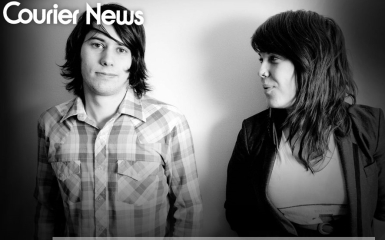 by Jay Mattson
I've always had a soft spot for Canadian bands, so when I was presented with Fixtures, the new EP by Canadian duo Courier News, I was anxious to listen. Courier News is a collaboration between Juno Award-winning songwriter Alexa Dirks (for her work with her band Chic Gamine) and Western Canadian Music Award-winning songwriter Matt Schellenberg (for his work with The Liptonians). Ethereal without being ambient, electronic without sounding techno, and emotional without becoming emo, Courier News finds a near-perfect groove in which to combine the duo's successful backgrounds into a moving and endearing collection of tracks.
The EPs first track, "We're on the Horizon", sets an excellent mood to which the rest of the songs follow. Schellenberg helms the lead vocals while Dirks chimes in through the background. Originally recorded in a bedroom-turned-office, the duo was unable to use actual drums (due to noise ordinances), relying heavily on drum machines until they decided that a more organic feeling was in order and recorded the sound of a beer bottle smashing against pavement to substitute for a snare drum. Reminiscent of Broken Social Scene's more down-tempo work, "…Horizon" is hauntingly peaceful, creating a steady forward movement with a sprinkle of synthesizers to add a different level of depth that compliments the glass-bottle snare drum perfectly. Moving into the second track, "Roses on the Wall", glass bottles are once again utilized for background atmosphere to a more emotional song with vocals that are nimbly smeared behind acoustic melody. "Empty Clouds" might be the most powerful track on Fixtures, especially with an opening line like "What's there to say when there's nothing left, just clouds white on an empty breath." Dirks' mellow vocal style fits this song perfectly. Various vocoded background vocals lead seamlessly into a subtle electronic melody that sounds like a synth-blues fusion of epic minimalism. "Lovers" has more energy than any other track on this EP, but does not sound overbearing or muddled in its production. This track's electronic melody is what jj n° 3 should have been. Dirks belts out the rhetorical '"Do I Dare" to poignantly close an EP that satisfies from beginning to end.
It's difficult to make a down-tempo album without moments of drawn-out ambiance. Courier News manages to stay chilled-out while perpetually leading the audience into their own haunted world. After a few listens it is already addicting, both technically and aesthetically.
RIYL: Broken Social Scene, jj, Mates of State, The New Pornographers, Metric, Ladytron, Client, The Knife, Fischerspooner, Miss Kittin, Robots in Disguise, Goldfrapp, Electrocute, Freezepop, The Presets
——————————————————————————————
——————————————————————————————
——————————————————————————————
Courier News – We're on the Horizon

[audio:http://mineorecords.com/mp3/cnews-wer.mp3]
——————————————————————————————