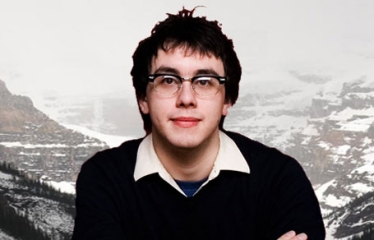 Tokyo Police club has let go. "We're less afraid of having fun," Graham Wright explains, his band's new album, Champ, set to be released in early June. "There are more guitars. Also, the songs are longer. I think that we're more confident and better at trusting our impulses," the band's keyboardist adds. If what we were hearing on Tokyo Police Club's first album, Elephant Shell, was the group holding back, then Champ is looking pretty damn good.
The band, who formed in 2005, are based out of Toronto. "These days, some of us are trying a more transient approach to life, so I guess we're based out of wherever we are at any given moment." The group started when Tokyo Police Club's members were seventeen, immersed in the short-lived garage band Suburbia. The band, which consisted of Police Club members along with their friend Will, eventually disbanded. The four (Graham Wright, Dave Monks, Josh Hook, and Greg Alsop) began to play shows as their own, smaller group, which they named Tokyo Police Club. They quickly obtained attention from their hometown area of Toronto, and were signed to infamous indie label Paper Bag Records. Since being signed, the band has played dozens of festivals (Coachella and Glastonbury), toured with Weezer, and released one album, Elephant Shell, via Saddle Creek Records, which received notable attention from the music scene.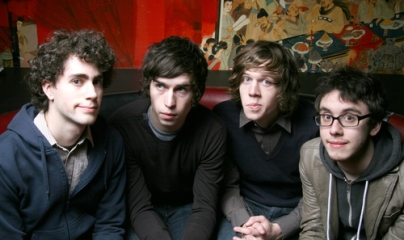 Champ is Tokyo Police Club's second and freshest album. "We're actually enjoying a brief vacation before we start touring, which has been lovely," Wright adds.  "As for what touring is going to be like, I'm expecting it to be a large, sleepless blur of tomfoolery and random roadside photo-ops." Wright's conception of the touring life appears to be full of both frenzied and drowsy living, so quality television is a must. "I'm also intending to choose a TV show that I've never seen and watch every episode, but I haven't decided which one yet.  Possibly Mad About You, Just Shoot Me, or Night Court." When not watching cheap television, the band is handling with their sudden touch of fame. "Most of our odd encounters have been odd in a good way," says Wright on his experience with fans. "People bring us baked goods a lot more often than I would have expected, which is excellent and definitely something I encourage.  I like cupcakes, myself." As far as Tokyo Police Club's schedule for the immediate future goes, they are looking forward to play a set of shows with electro-rockers Passion Pit. "We've been friends with those guys for a while, and it just so happened they had a tour planned right around the same time we wanted to tour, playing in many of the same cities we wanted to play in. Yahtzee!"
Tokyo Police Club has come a long way in a minimal amount time, and have no plans to stop growing. With a surely splendid album on the way, the lives of Graham Wright and his band-mates are in a wonderful dream. When explaining the origin behind the album's name, Graham lists some Wikipedia-aided comparison points: "Champ is a reputed lake monster living in Lake Champlain. Champ is an Irish dish of mashed potatoes and scallions. CHAMP is a German satellite. C.H.A.M.P. is the Counter-electronics High power microwave Advanced Missile Project." But then, he makes a convincing proclamation: "Champ is our new record, and we think it's our best record and if you love it, it will love you back."
Champ is set for release June 8th via Mom + Pop Records. You can sample two new tracks from the album, "Breakneck Speed" and "Wait Up (Boots of Danger)", below. You can also check out Graham's solo material here.
RIYL: We Are Scientists, Born Ruffians, Ra Ra Riot, Foals, Vampire Weekend, Arcade Fire, Broken Social Scene, The Maccabees, Metric, Minus the Bear, Wolf Parade, Harlem Shakes, Land of Talk, Death Cab for Cutie, Cold War Kids, Matt & Kim, Hot Hot Heat, The Futureheads
——————————————————————————————
Tokyo Police Club – Breakneck Speed

[audio:http://mineorecords.com/mp3/tpclub-bre.mp3]
——————————————————————————————
Tokyo Police Club – Wait Up (Boots of Danger)

[audio:http://mineorecords.com/mp3/tpclub-wai.mp3]
——————————————————————————————
Tokyo Police Club – Your English Is Good

[audio:http://mineorecords.com/mp3/tpclub-you.mp3]
——————————————————————————————