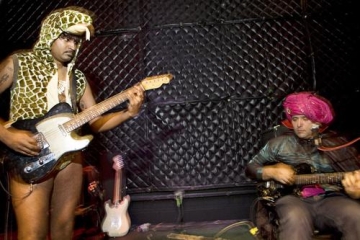 The King Khan and BBQ Show
by Jay Mattson
It has been a rough tour for Arish Khan (King Khan) and Mark Sultan (BBQ). Last month, The King Khan & BBQ Show nearly split ways in Australia after a heated argument and a slew of insults. Fortunately, the band patched things up and continued on to finish their pan-Asiatic tour. This month, though, saw (recent) history repeat itself here in Daegu, South Korea. For readers who don't know, I've been an English as a Second Language (ESL) teacher in South Korea since last November, and from time to time, my fair city of Daegu (Day-goo) hosts some amazing shows. Since I've been here, we've seen Xiu Xiu, Moools, Lymbyc System, and Bane, just to name a few. Of course, Seoul usually nabs the bigger acts (see Caribou later this month), but Daegu does get it's share of impressive acts. One of these was The King Khan & BBQ last week.
For a mere 15,000 Korean won (~$18) my friends and I entered the dark, cozy Bar Guess in downtown Daegu to see the raucous, lo-fi sound of King Khan and BBQ. Before the show started, Mr. Khan was already causing a scene, becoming increasingly irritated that the small, locally owned bar couldn't supply him with free alcohol. Not knowing he'd already ingested a more-than-fair amount of soju (traditional, VERY alcoholic Korean rice wine), I offered to buy the band some drinks. Soon after, a fog machine kicked on and the band started playing. If you've heard Arish and Sultan's music, I don't need to tell you how awesome the show was. Both players were decked out in their expressively flamboyant attire, looks of determination upon their faces. For 45 minutes, they brought a party. Songs from their whole catalog littered the set, though most of the songs seemed to come from their 2009 album, Invisible Girl. But 45 minutes was all we got. After a few of Khan's questionable on-stage antics (flailing into the crowd, purposely spilling a whole bottle of beer in front of the stage, pushing an audience member around), the lead guitarist told the crowd they'd play two more songs. This seemed to be the catalyst for the storm of emotions that filled the rest of the night at Bar Guess. A quick chat between Khan and Sultan resulted in Sultan walking off stage, much to the audience's confusion, and Khan playing a mess of a song to end the night.
Soon after, everyone in the audience could hear the screaming. A projection screen was pulled down in front of the instruments and performing space, and Sultan was seated to the direct right of the screen. From behind the screen, the high-pitched screams of Khan resonated throughout the entire bar, partly because they were so loud, and mostly because no one else was talking, just listening. A visible Sultan was shrugging, calmly trying to converse with Khan about the state of their musical act. Khan's drunken jeering and explosive insults toward Sultan kept coming, though. After conversing with my friends for a few moments, we came to the conclusion that one of two things was happening: 1.) The band was actually breaking up, or 2.) This was one of the most intricate and theatrical shows we'd ever seen. Within the next ten minutes, Sultan was out from the back room, conversing with audience members. I took my opportunity to speak with him. The following quotes are straight from Mark Sultan, who told me that he wanted it known that "[Arish Khan] is a jackass who can't hold his alcohol."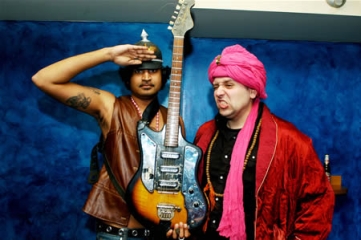 Though I do write for Obscure Sound, my interest in the situation outweighed my journalistic tick and I ensured Mr. Sultan that I wouldn't print anything about the incident if he didn't want me to. "Actually," he said. "You can write whatever you want. Please write about what happened." We talked about the tour, how his favorite part of touring was "going to new places and seeing new people." Of course, our conversation veered toward the night's incident and I was able to understand a little better what happened.
"This happened back in Australia," said Sultan. "I mean, I patched things up there and thought we could make it until the end of the tour." (Side note: the band's three Korean dates in Daegu, Busan and Seoul were the very end of the tour anyway.) "But he's really just an alcoholic," and "I'm sick of the abuse. We're not finishing the tour." When I asked what would happen to the last two tour dates in Busan and Seoul, Sultan assured me that "I can play those shows myself. I write [and perform] 99% of the music." Throughout our conversation, Sultan was completely relaxed and calm. He reiterated a few times that "I'm fine. I'm alright."
Honestly, I'll never forget that night. I've been a fan of The King Khan & BBQ Show for quite some time and seeing them live was amazing. Seeing them break up was more of a bittersweet event; I was witness the the implosion of a phenomenal garage rock duo whom I truly enjoyed. Khan and Sultan have been friends since the mid-90s, playing together since then, as well. Though it seems like this break-up is quite final, there's always a chance things will work out between these two artists. Near the end of our conversation, Sultan explained that "Speaking as a friend, I just hope [Khan] gets the help he needs."
RIYL: Black Lips, Reigning Sound, Jay Reatard, Ariel Pink's Haunted Graffiti, The Gories, The Deadly Snakes, The Dirtbombs, Thomas Function, The Soft Pack, The Seeds, The Detroit Cobras, The Monks, The Standells, The Ponys, The Shadows of Knight, White Denim, Beach Fossils
——————————————————————————————
The King Khan & BBQ Show – I'll Never Belong

[audio:http://mineorecords.com/mp3/kkhan-ill.mp3]
——————————————————————————————
The King Khan & BBQ Show – Treat Me Like a Dog

[audio:http://mineorecords.com/mp3/kkhan-tre.mp3]
——————————————————————————————
The King Khan & BBQ Show – Too Much In Love

[audio:http://mineorecords.com/mp3/kkhan-too.mp3]
——————————————————————————————