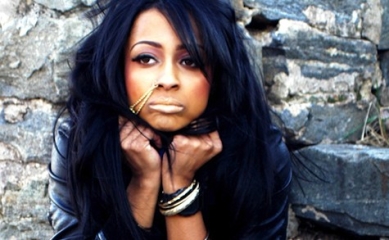 by Colleen Seidel
If Lil' Wayne tells a burgeoning artist to stop giving their songs to other people and start recording them for their own sake, that is advice you would do best to heed.
Shanell, aka SNL, can testify as such. First a former backup dancer for NeYo, then a steady collaborator with Lil' Wayne, and now a female vocalist for Young Money, the songstress stands ready and willing to break out on her own with her first release, Shut Up 'N Listen.  She says it was a chat with Lil' Wayne in a hotel room one night that served as the early catalyst for her decision.
"I was a dancer on a tour that he was a part of," Shanell remembers. "I was in my hotel room recording music, trying to grow as a writer, and Lil' Wayne was like 'Why are you giving your songs to other people?'"
"I was so in love with being a dancer, I didn't take it seriously at the time," she adds. "But I stayed in touch with Lil' Wayne and we worked on Tha Carter III together, and that's when I decided to become a recording artist."
A year and a half removed from that decision, Shanell is now promoting her mixtape, Shut Up 'N Listen.  Featuring many of the heavyweights she has written for in the past, the recording is heavy on the beats and high on Shanell's vocal stylings.  The eclectic mix of R&B, rap, hip-hop, dance and even a little techno on the release was intentional, the Atlanta-based singer insists.
"Hair Down My Back" pulses with the low bass dub sounds of a underground dance club while the singer goes into her higher octaves for the verses.  The chorus – "I got hair down my back, b***ch, hair down my back" – while not the most original of lyrics is certainly an entertaining way to express the female bravado Shanell possesses throughout the entire mixtape.  Not to mention, it's catchy as hell. "Otherside" offers a twist of sorts for Shanell in that it features two of the biggest names in the hip-hop industry, the aforementioned Mr. Wayne and Ne-Yo, on the track instead of the other way around.
A seasoned veteran at collaborating with other artists on their work, Shanell admittedly says it was a struggle sometimes to focus on her own work. "You think too hard when you're doing something for yourself," she explains. "It flows freer and a lot easier when you're creating for other people.  The pressure of having a successful album… it makes the process a little harder." But so far, the reception to her solo work has been positive.  "I haven't seen or heard anything negative, which is just amazing to me," she says.
One of the best tracks on the mixtape, "Tell Me", highlights a trend seen throughout the entire record: remakes of older songs.  This one, featuring Young Money's Jae Millz, is a remake of the 1995 track from Groove Theory, and it stays true to the slower groove of the original song while simultaneously revamping it for the 21st Century. "It wasn't even my idea," Shanell confesses about the song.  "It was Jae Millz's.  He sent it to me first and said 'It would be really cool to remake this.'  I just kept the first verse and the essence of the way it was sung, but I played around with the bridge.  That was more my character coming out."
With the mixtape released back in April – at Shanell's own tongue-in-cheek "baby shower" playing off rumors of the singer being pregnant – Shanell has done nothing but promoting, touring and playing her material. "The fun part is putting together the shows and the choreography," she admits, spoken like a true dancer and entertainer. "But it's a lot, a lot of work… just running around, having to tell different people the same things over and over."
Fingers crossed, soon enough those same people will come running to her. Her debut album will be released next summer.
RIYL: Lil' Wayne, Jae Millz, Ne-Yo, Nicki Minaj, Janelle Monae, Trina, Trey Songz, Ciara, Birdman, Usher, Amerie, Omarion, The-Dream, Cassie, Kelis, Tyga, Brandy, Kelly Rowland, Beyonce
——————————————————————————————
Lil' Wayne – Prom Queen (ft. Shanell)
[audio:http://mineorecords.com/mp3/shane-pro.mp3]
——————————————————————————————
Shanell – Party All the Time (ft. Aubrey O'Day)
[audio:http://mineorecords.com/mp3/shane-par.mp3]
——————————————————————————————
Shanell – Deadliest Catch (ft. Lil' Wayne & Mack Maine)
[audio:http://mineorecords.com/mp3/shane-dea.mp3]
——————————————————————————————