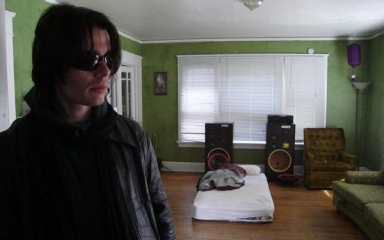 by Josh Taylor
Julian Shah-Tayler was born to make music. Putting out an EP every few months and pumping out 50-70 songs a year is no easy feat, unless you show prevalently the aspects of a well-rounded musician. His robust musicianship is responsible for his versatility as an artist. What I noticed after listening to his latest EP, Un Ange Passe, is that Julian is a songwriter who creates for his heart's content. He strays from songwriting conventions and isn't afraid to experiment if it amuses his untypical sensibilities.
Julian's songs distinctly belong to their maker. Un Ange Passe is very personal and all the songs on the EP (with the exception of "Wetter") were written for a dearly departed friend of Julian's who tragically passed away. The literal translation of the title "Un Ange Passe" is "an angel is passing", but is usually used when an awkward silence falls over the room. The EP tells a brief and interesting story about what happened to Christine. Julian tells it well, as the story is endearing and stripped down to the most honest details.
Instead of diving into the story headfirst, the EP begins with "Wetter."  The songs on the EP are sandwiched by "Wetter" and the remix of "Wetter" by Karl Leiker. This song is definitely the black sheep… uptempo, naughty lyrics and electro influence. The feel of the song is great and could be a radio hit. The second song on Un Ange Passe is "Everything Is You", serving as a good transition into the rest of the EP, which is more relaxed musically. The song begins with finger-snapping, chimes and some elusive and wandering exotic-sounding instruments. Then iit develops a direction and chooses to take on a New Order/Depeche Mode feel. The nameless exotics remain, lending a curious tone to the song. It's almost as if they don't belong, but are still welcomed.
"Communication" resembles the sparse feel of a desert. It's expansive (at 5 and a half minutes) and filled with many instrumental breaks. The track lulls and winds but I don't know that it goes anywhere. All I know is that when I listen to it, I start to space out.  If Julian wanted "Communication" to have a daydream-inducing effect, then bravo — well done, because that is exactly what happens.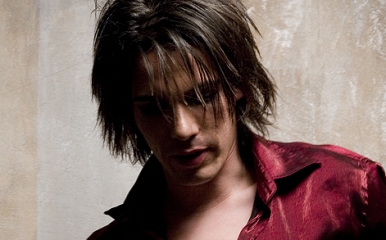 "Christine" is where the EP starts to come together and the song clearly lays out what exactly happened to his late friend of the same name. Make what you want of the other songs and interpret them as you wish, but here is what happened, Julian seems to say. Musically, "Christine" brings to mind The Smiths "How Soon Is Now?" and has the same pensive inquiry.  One of the most striking and revealing lyrics is "as the kiss of the needle delivers you to the real world" followed by this lyric in the bridge "even if this life could give you all the love you need, I guess you had enough." The verdict: overdose.
Un Ange Passe occupies a certain estranged darkness, but it is only when the listener gets to "Christine" that I feel they can go back and find its lingering presence in the background of the entire EP. Perhaps that misplaced discomfort is the awkwardness that the album title also refers to. Still, the way the song is handled is half ode, half something else that I can't quite pin down. For a song written for a close friend the song isn't particularly sentimental, which is odd to me. However,  I think those feelings find their way into the next song "Lullabies."
From what I heard, "Lullabies" was written for Julian's future daughter. But the listener is also led to believe that perhaps the song's tender message is intended for Christine as well. The lullaby soothes the listener as well as the singer, perhaps reminding him that everything will be fine and there really is nothing to be afraid of during the night, and maybe in death…
Whatever the ultimate purpose of Un Ange Passe is, it can be listened to in many different ways. Julian is adventurous with his artistic choices and presents his subject matter though a twisted lens. This is not to say that his method is perverse, but rather aiming for artistic perfection on his own terms. Some say that's a nifty idea. I would say it's better than nifty, or original, or clever. I would say the whole EP is a noble effort. Too many musicians make music to turn a quick buck but lack the vision to make something worthwhile. Others write for their heart's content, yet lack the talent to make sophisticated music. Julian, however, is the best of both. He is talented and passionate, which shows remarkably.
One last thing I noticed: None of these songs showcase Julian's piano talents, but word on the street is that his full-length debut does. Entitled Coito Ergo Sum, it is due in the fall. So keep an eye out, or an ear rather.
RIYL: Depeche Mode, Dave Gahan, New Order, Erasure, Pet Shop Boys, Duran Duran, The Cure, Orchestral Manoeuvres in the Dark, Alphaville, David Wrench, The Human League, Gary Numan, Tears for Fears, Soft Cell, INXS, Talk Talk, A Flock of Seagulls, Naked Eyes, Blancmange
——————————————————————————————
Julian Shah-Tayler – Everything Is You

[audio:http://mineorecords.com/mp3/juli-eve.mp3]
——————————————————————————————
——————————————————————————————
Julian Shah-Tayler – In Your Room (Depeche Mode cover)

[audio:http://mineorecords.com/mp3/juli-iny.mp3]
——————————————————————————————