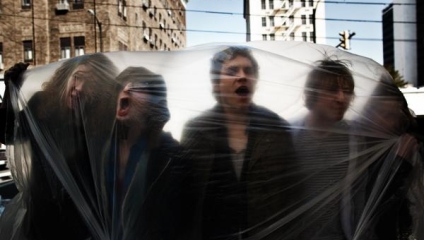 by Colleen Seidel
He is eight days from home and Carl Shapiro, namesake of DC-based Shapiro, can't wait to get into his own bed.  The 6-foot-2, lion-maned bassist has been sleeping in a 15-passenger van for the past month, on the road with his bandmates to spread their sound of piano-infused pop-rock with audiences in small clubs and venues all over the United States. When asked whether or not the van is a comfortable bunk space, he doesn't even bother to answer.  "It's not an option," he says.
At the time of our interview, on another relentlessly muggy evening in Pittsburgh's hipster Lawrenceville district, Shapiro is on the last leg of their first coast-to-coast tour, and tour-fatigue is starting to noticeably set in.  While the gigs have been sweet, the stories have been nothing short of epic – apparently what happens in New Orleans stays in New Orleans – and the drinks have been plenty. The young men are starting to get tired. "At this point, we've been on the road for four and a half weeks, we're all broke as shit," explains Chris Howe, one of the band's guitarists, "and so you take what you can get."
"We're lucky if we get reimbursed for food," adds the band's drummer John Granofsky.  "So paying rent with this band would be amazing."  When asked how much of the tour budget is spent on gas, the unanimous reply from the quintet is a resounding "All of it!" "That $100 we get every third show goes straight to gas," Chris explains.  "When you're touring, it's all going back to the band."
Going on seven years together, Shapiro now sits in a position no band wants to stay in for long: they're waiting for their sound to break big.  Still relying on generosity from friends-of-friends in tour cities with which they're unfamiliar, Shapiro has slowly but surely been paying their dues and making progress. "We used to drive around in a Dodge Caravan," John explains.  "A mom van.  Literally a mom van.  We would cram the five of us, all of our equipment, literally all of our shit into a mom van.  So that," he says gesturing to the band's Econoline-350 extended cab, "is luxurious."
The band released its first professionally produced album, self-titled, earlier this year with producer John Mark Painter, better known for his work with John Mayer and Ben Folds.  Painter approached the boys after hearing their self-produced original EP, You Are Alone.
But putting the album together didn't turn out to be all that the group had hoped.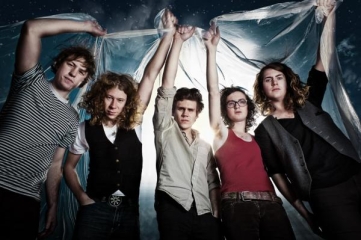 "A lot of those songs [for Shapiro] were on our first EP, and [Painter] wanted to re-record them," John says, but then goes on to explain the band's frustration with the album: "A lot of those songs, though, Jeremy wrote when he was 20 years old.  So you can understand – we've been playing these songs for years, and you write some new stuff and you wanna play the new stuff." In other words, the band is nursing a baby that's seven years old.  They feel it's time to move on. "We've got a lot of new material, material that I think describes our band a lot better than the album itself," adds the now-26 year-old Jeremy Teter, Shapiro's brooding, boyish-faced frontman and songwriter.
"I think I have a better idea of what I want to do now and put a little more thought into it," Jeremy goes on to say about his matured style of songwriting.  "I used to write just whatever I thought would be cool on a live set.  I feel like now I can take whatever I'm inspired by and put it into a more concise and concentrated way." For as much as the boys want to be recognized for their newer material (plans to record a second album are in the works for sometime next year), it is hard to argue with anything they play live, especially their single "All Things Around the Sun."  A broadly sweeping tune that could easily fit onto an Arcade Fire album, the single highlights Teter's slightly off-kilter, nasal-driven vocals that keep Shapiro's pop from being too saccharine and uplifting (ergo, too mainstream).  There's a reason Painter put this song on the album, and there's a reason fans should see it played live.
Pittsburgh's boutique music venue The Brillobox can barely contain the energy Shapiro puts out later that night in its live set.  The floor vibrates with the thumping of John's kick drum and Carl's bass lines, not to mention the viscerally accosting chords of the synthesizer coming from the band's fifth member, Nathan Granofsky.
"Our motto is 'five to 500, you play the same,'" Chris says.  "If there's five people there, you go all out.  If there's 500 people there, you go all out."  After one song, this is self-evident.  The band moves in sync on stage; the sound coming from the speakers feels like its meant for a stadium gig.
"Chris has a saying that we're striving to be the most metal band in pop," Carl adds. By metal, the boys mean hair – if not in sound then at least in aesthetic – and lots of it.  Chris sports long, straw-colored curls; John sports a shaggy 'do and Nathan a full beard from time to time.  And Carl himself is a dead-ringer for Shaun White. "It's a funny story – my mom was watching the Olympics and she didn't have her glasses on and she tells my dad 'Steve! What the hell is Carl doing at the Olympics?'," mimes the bassist in a thickly Jewish accent.  "And my dad goes 'Lisa, that's Shaun White, not your son!'"
In defense of Carl's mom, though, it's an easy mistake to make. Visit Shapiro's MySpace for the first time and you'd be hard pressed to find anyone who wouldn't think the huge JPEG that immediately pops up is the two-time gold-medalist in his teenage years. Celebrity doppelgangers aside, it's a no-brainer to see that the band, whether they're satisfied with the album on their merchandise table or not, is enjoying every minute of being a band and performing live.  Case in point: the time they covered Lady Gaga's "Poker Face" on stage, with Nathan in full Gaga regalia.
"Yeah, it's really easy [to impersonate Gaga]," he jokes.  "Just take off all your clothes and put a bra on.  And put on a pair of panties turned around so your junk doesn't fall out."
And that little gem is only one of many.
With more ground to cover before they can put this tour behind them and set their sights on recording new material, Shapiro wraps up their set at The Brillobox.  They want to soak up every last drop of the Steel City's mojo before departing for Ithaca, New York, the next morning.
So before they rock out on stage one last time, somebody yells "This is the final song.  So let's party!" – as if, for the boys, this wasn't one already.
RIYL: The Big Sleep, Foreign Born, Birdmonster, Versus, Colour Revolt, Wilderness, Aloha, Oxford Collapse, Blood on the Wall, Nurses, Holiday Shores, Division Day, Sound Team, The Broken West, Pela
——————————————————————————————
Shapiro – All Things Around the Sun

[audio:http://mineorecords.com/mp3/shap-all.mp3]
——————————————————————————————
——————————————————————————————
Shapiro – Right and Wrong (live)

[audio:http://mineorecords.com/mp3/shap-rig.mp3]
——————————————————————————————