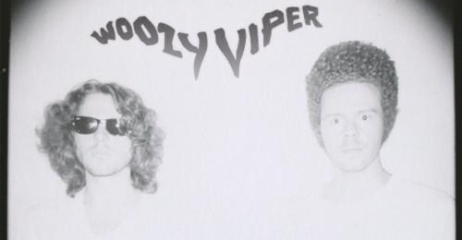 by Lauren Keiser
We all know that guy. The one who wakes up still drunk, refuses to spend more than ten dollars for a t-shirt, and reads the works of Hunter S. Thompson like a to-do list. Luke and Mitch Meseke both are probably "that guy" and, fortunately for us, they form the all-elusive Woozy Viper. Without even so much as a bio, their '60s-inspired rock emits a form of authenticity that makes it feel as if we already know and love them.
At first listen many may draw comparisons to the Black Lips and rightly so, but I think just pairing them alongside their coevals would not be doing Woozy Viper justice. The NYC-based duo have successfully taken the great pop sensibilities of the Mod era and interwoven post-modern nuances to form a refreshing aberration. Tracks like "Dirty Rat" and "King Kong" are reminiscent of The Monks in subversive catchy goodness, yet are original enough to not be imitative. The trademark vocals soar in their range and versatility, drawing comparisons to Brian Jonestown Massacre's Anton Newcombe ability to shine over lo-fi rawness. This debut album is comparable to a cart spiraling out of control on broken elevated tracks in a rustic mine. Just as you start getting used to a steady vibe of Kinks-inspired throwback rock, Woozy Viper time-warp us back to the days of Jerry Lee Lewis with the song "Woah Baby". Yet, the very next track swelters Jim Morrison-esque croons. Then the proverbial "lever" is pulled and we are still in that old rustic mine, descending at a mind-whirling velocity from soulful cowboy ballads to spastic ditties that, at times, have the off-kilter whisper-shout stylings that take a surprising nod to such acts as Suicide and The Pixies.
While I was painstakingly cutting out the shoulder pads of a new sweater, I felt comfort in knowing that although some fads need to die a horrible sordid death, there remain some styles that are classic and need to be revisited in order to be preserved. The latter is such the case with this gem of an album, which by the way is free (though you can also support the band by buying it here)! The MC5 would be proud that their spirit of kicking out the jams still lives on through this Kansas duo. Now feel free to download their completely free album here. If you like it, you should be happy to know that their sophomore album, Rock & Roll, is on the way.
RIYL: Brian Jonestown Massacre, The Dandy Warhols, The Kinks, The Monks, The Warlocks, Spacemen 3, The Black Angels, Darker My Love, Dead Meadow, Black Rebel Motorcycle Club, Spiritualized, 13th Floor Elevators, The Jesus and Mary Chain, Ride, Wooden Shjips The Velvet Underground, Comets on Fire, Galaxie 500, Deerhunter
——————————————————————————————
——————————————————————————————
——————————————————————————————
Woozy Viper – The Switchblade Swing

——————————————————————————————