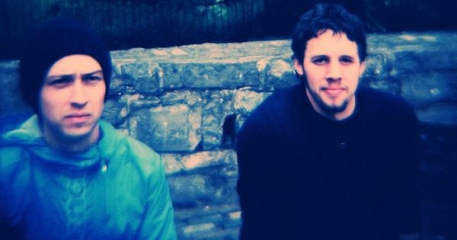 Things usually fare well for film geeks when they show a passion for making music. By film "geeks", I'm not referring to that friend who can name every David Lynch or Lars von Trier film. They might know every underground film in existence, but if they have no knowledge of production or the film aesthetic than they are merely a critic (and probably a bad one at that). This is not to say that an artist cannot simultaneously be an enthusiast of his own medium, and vice versa. The potential for artistic growth is wonderfully sporadic and somewhat randomized, and when it comes to film-savvy people there tends to be a greater advantage for them to grasp the necessities of quality music. It somewhat mirrors the tendencies of a quality film after all, where atmosphere, performance, and stylistic consistency are vital aspects. In a sense, even though mise en scène is visually bound, music has its own form of it. The subtle, sometimes indescribable tendencies that take place in music set the scene, and it is reliant on the artist to formulate the proper visual and/or audible accompaniment within their medium.
John Kowalski and Rian Trench named their band Solar Bears as a tribute to famed Russian filmmaker Andrei Tarkovsky. The two had always shared a love for cinema, but it is hard to say if it ever trumped their love for music. Considering the degree of success they have experienced in the latter thus far, one could say their decision to focus on Solar Bears is in the best of their interests. When speaking about their music, their interest in film immediately emerges. "With Moroder, for instance in Scarface, some of the pieces are quite minimal but they are very effective," Kowalski said excitedly in an interview with Dummy, who would also enforce the duo's enthusiasm with their "ability to paint a vivid landscape with a relatively minimal palette; creating resonant textures from very little". Judging by their colorfully atmospherically music, you get the sense they would produce something evolutionary on film… something that evolves from monochromatic dullness to a thriving gloss of colors and imagery. Their own music would be a perfect backdrop considering it can pull precisely the same thing off.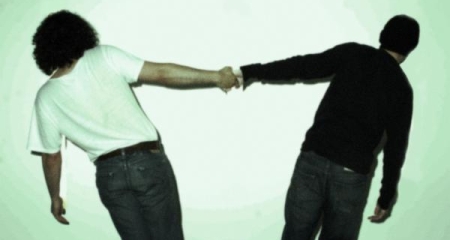 Solar Bears' debut LP, She Was Coloured In, contains a rather apt cover image. You see a red woman crossing her hands with reflections of her by her side, all set in a different color. The colors actually reflect the three monochrome images on a TV – RGB – and the woman's figure looks as if it is fading out against analog video noise. As one of the better electronic debuts of 2010, She Was Coloured In shows the band's range of flexibility. They can at one point sound like a producer of lullabies, with soft sweeping synths collaborating with luxurious orchestral elements, like the lucid twinkle of arpeggios in "Solarization" or the exotic "Cub", which dabbles in woodwind-like sounds over chirpy synth pads. That a song called "Quiet Planet" represents one of their more rambunctious works is ironic, but it certainly show their infectious works more in the vein of a Röyksopp or Ratatat. Their restrained efforts may be more impressive though, at least for those accustomed to more organic and atmospheric works by artists like Kraftwerk and Yellow Magic Orchestra.
Their music recalls Kraftwerk's innate abilities to turn electronic sounds into consummate atmospheres, whether it be complete with lavish hooks or developmental chaos. The chiptune-like percussion maintains a steady futuristic tone, often in 4/4 and accompanied by instruments that are both organic and technological. Like the interlude in "Forest of Fountains", around 02:19, when it goes from a funk-like trance into a soft interlude of guitars. The transition is mesmerizing, as the cohesiveness of the journey is worth listening for alone. Their bass also has a tendency to sound organic, like in "Children of the Times" where a deep bass tone resonates alongside a vocoder and soft electro-keys, and it is one component of an essentially powerful rhythm section. At least for the sound they successfully produce here. They tread an appropriate line between naturally existent field recordings and man-made electronica, pushing forth an interesting emphasis on the production of their own music in the process. The sonorous tone of the synth pad throughout "Twin Stars" has a cinematic feel to it, almost like the build-up to a frenzied battle in some sophisticated manga re-enactment. The little flicker of synths that gradually add on contribute to the pulsating suspense. With examples like these, the duo are clearly masters of believable soundscapes, and their elaborate songwriting and production really go a long way in separating Solar Bears from the masses of atmospherically-dependent electronic artists.
RIYL: Kraftwerk, Yellow Magic Orchestra, Röyksopp, Ratatat, Gauntlet Hair, Twin Shadow, Tamaryn, Candy Claws, Women, Neu!, Elektric Music, Klaus Schulze, Cluster, Tangerine Dream, New Order, OMD, Orbital, Ultravox, Front 242, Laibach, Harmonia, Yello, Telex, Depeche Mode, Can
Solar Bears – Forest Of Fountains
Solar Bears – Children of the Times
Solar Bears – She Was Coloured In