Posted
October 13, 2010 by Mike Mineo
in Features
Ben Talmi for Dreamers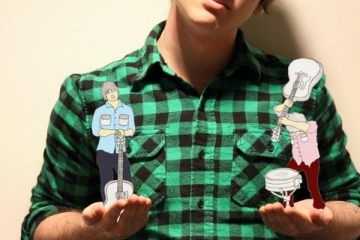 Ben Talmi wants to fuck with your ears. He does not want you to know that his instrument collection is limited, or that his recordings rarely extend beyond his bedroom. In an age where popular music is bursting with superfluous production it is hard to blame him. Talmi recorded his debut EP, For the Dreamers, completely alone in his bedroom. And like most albums recorded in isolation, it resounds with a presentation unique to the artist. The Boston native seems to make music by his own standards, abiding by the belief that "limitation breeds creativity", which makes me think that even if he was supplied an instrument apart from an acoustic guitar, a moog synth, and a piano free of charge, he would consider it to be cheating himself and – more importantly – his sound.
Admirable ideologies have little relevance in music if the material being produced is poor. I would not be featuring Talmi if that was the case though. His desire to bring out the most unconventional uses of his guitar/moog/piano arsenal results in some interesting efforts, for sure. But his most admirable traits of all, which are continuously infectious melodies and revolving song structures, are more prevalent than anything. Talmi successfully produces a vein of glitch-pop that – for once – does not express a reliance on sounds over melody. His material sounds simultaneously tightly infectious and creatively personalized.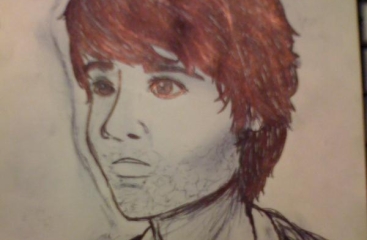 The tightness of Talmi's compositions are immediately recognizable, like on the crisp "Ticking of Your Bicycle" where the acoustic guitar swipes, beeps of synth, and clouting electro-bass combine for a tightly infectious journey. "Scales of a Fish in the Sky" is certainly more subdued initially, with an acoustic guitar arpeggio interweaving multiple progressions over the clock-like formation of the bass. The track picks up very quickly though, with a background of "ooh-ing" creating a serene feel about a half-minute in. From here, the listener is exposed delightfully to Talmi's skills as a songwriter, which aligns perfectly with the styles of glitch-pop and electronica he maneuvers through. His innovative replication of orchestral elements is thoroughly fascinating, but it never overrides the infectious songwriting found on both "Ticking of Your Bicycle" and "Scales of a Fish in the Sky".
It is appropriate that this feature comes only a few days after our review of Sufjan Stevens' The Age of Adz. If anything, Talmi seems to possess the youthful ambition of Sufjan Stevens, and their stylistic preferences certainly appear aligned with these two releases. Talmi is younger and experienced, which shows, but sometimes it actually serves as a positive. Sufjan has lately been a bit over-ambitious in sacrificing accessibility for some puzzling choices within the avant-garde. That is not always true for him, since tracks like "I Walked" are as straightforward as one would want from him, but The Age of Adz was far from perfect with some notable missteps. Talmi, though, is still refreshingly experimental, in that he shows his bursting creativity but also knows that his chances for exposure would be weakened by acting too out there. Sometimes innocence and inexperience can pay off, especially when you pack as much potential as Talmi.
RIYL: Sufjan Stevens, Pinback, Andrew Bird, Grizzly Bear, Radiohead, Anathallo, Own Pallett, The National, Tor, Dirty Projectors, Deerhunter, The Dodos, Dave Sitek, M. Ward, Mass Fiction, Ross Fish, The Antlers, Rosie Thomas, Bright Eyes, My Brightest Diamond
Ben Talmi – For The Dreamers EP
BUY (get $1 from Amazon when you purchase now)