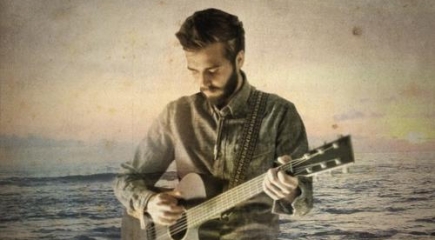 It is not surprising that Benji Schneider grew up on a lake. Michigan's Lake Huron, to be exact. Most of Schneider's press photos and album artwork depict him and a body of water in the background, or just the latter. The serenity of water's flow and grace alone allows us to guess this is not some metal or noise-rock outfit. But it's not some constrained acoustical act either. Schneider has blended aspects of various sea-aligned genres, where blue waves and sunny 80-degree weather seems to be the inspiration. It is difficult to get specific when describing how Afro-pop, tropicalia, or chillwave comes to best describe this audible seaside allure, but listening to artists like Lord Huron, the name of Schneider's project, makes it apparent in more ways than one.
His songs concoct an actual atmosphere, with sound effects usually ushering in his songs like the splash of a wave precedes it slowly creeping along the sand until it reaches your toes. Schneider enjoys keeping this appearance up for only a short while though. His sweeping melodies and harmonies always emerge triumphantly over these atmospheric samples, which are more than just supplements. They fit cohesively within the gorgeous melodic layers of sound, recalling a Beach Boys-y vibe that should also bring many comparisons to recently released singles by Panda Bear. Lord Huron's sound is not the most ambitious considering many of his peers are attempting the same thing, but Schneider is able to pull it off better than most.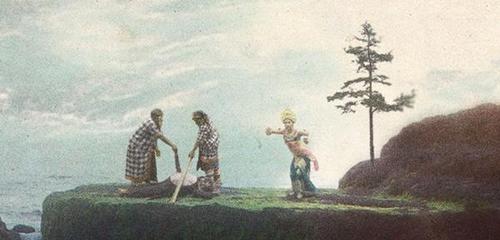 "Mighty" begins with a mixture of what sounds like raindrops, gurgling radio frequencies, and sitar-driven propulsion. The melodic component of the track emerges subtly, as the lazy pad that floats in the beginning integrates itself into a series of reggae-like bass lines, tropicalia percussion, and slickly tropical guitar licks. The vocals are reminiscent of Panda Bear. A swift transition around the minute-mark throws away extraneous background effects for a crisper melodic delivery, bringing to mind Vampire Weekend (but with more tolerable vocal stylings). The slow trickle of water around the three-minute mark begins the procession of some eerie effects, like a soft keyboard arpeggio that conflicts with tribal-like coos. The percussion-less demeanor of this part is extraordinary in context of what came before, bringing listeners back to the initial prickly rhythm to tidy up the bookends. It sounds like music originated from some far-off land, but with enough clever melodic jabs to remain in the realm of convention.
Another notable effort off of Mighty, a four-track EP serving as Lord Huron's second release, is "Son of a Gun". The gentle guitar arpeggio that begins the track with graceful flow is shortly complemented by urgent acoustical strums and sporadic bass pushes. "Oh there was a time when she lie in the grass and imagined the places she'd never go," Schneider sings, revealing a more poppier and conventionally structured track than "Mighty". The track really begins to pick up around the two-minute mark, when his howls resonate gently against a backdrop of glossy guitars and slowly whirring synth pads. The sound effect of trickling raindrops loves to make appearances throughout Mighty, and it serves a great purpose here in affirming the anthemic vigor present just before the three-minute mark and then beyond that. "Son of a Gun" is less than four minutes, but every thirty seconds to a minute there is a subtle transition present in Schneider's voice or music that creates a beautifully stirring moment or hook that is lost to many artists attempting to perfect this sound. Lord Huron has produced a truly gorgeous release in Mighty, which houses four ravishing efforts that will appeal to fans of Paul Simon, Animal Collective, or any other talented pop artist that pushes the boundaries of world music by aligning such fusions with familiarly beautiful pop music.
RIYL: Panda Bear, The Beach Boys, Paul Simon, Bon Iver, Pentangle, Fleet Foxes, Sun Airway, Grimes, Coma Cinema, Sunglasses, Candy Claws

Lord Huron – When Will I See You Again
Lord Huron – "Into The Sun" 7″