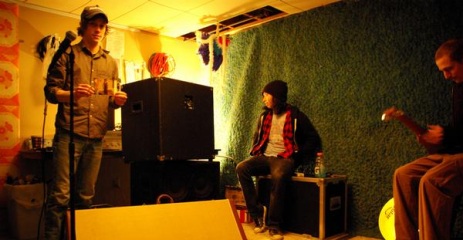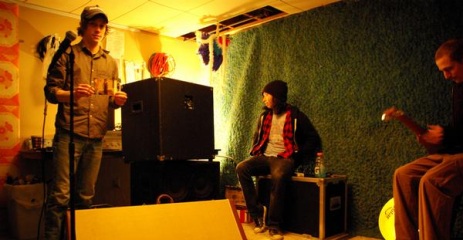 The 'Omaha Sound' is a term used, now somewhat loosely, for bands based in or around Nebraska's largest city. The term first came to my attention when I featured Old Canes a few years back. Omaha's most prominent label, Saddle Creek, was undergoing an interesting period at the time, going somewhat against the label's stylistic conventions when Conor Oberst formed it in 1993. The stylistic diversity was nothing new to the label's longtime fans, who remembered acts as diverse as The Faint (aka Norman Bailer) joining the folk-heavy Saddle Creek in the mid-'90s. But toward the end of the '00s, commercially successful acts in the indie-rock vein like Tokyo Police Club and Land of Talk began to make the label's diversity more noticeable to the mainstream. For once in the label's history, artists without the signature 'Omaha Sound' (indie-folk, sometimes with a country twang) were more prominent than those with it. Bright Eyes and Cursive were relatively quiet, and the newly signed artists more reflective of the label's neo-folk origins – like Old Canes, Two Gallants, and Orenda Fink – were all sufficiently good, but lacked the commercial appeal of the more trend-leaning Tokyo Police Club and Land of Talk.
Old-fashioned diehards would probably look upon this recent trend as a blemish on an excellently niche-geared foundation, but many fans and industry analysts look at it differently; they tend to see it as an example of Saddle Creek's business savvy, not their self-sacrificial desperation. Saddle Creek have maintained the elements of folk that gave them a cult following in the first place, all while letting in "outsiders" (in a sense) who are pursuing different styles. Just because one band plays electro-tinged indie-rock and another specializes in traditional folk does not mean it is impossible for the artists and their fans to overlap in some capacity. While it is true that many of Saddle Creek's folk-leaning acts are Nebraskans and most of their indie-rock output comes from Canada, Saddle Creek's enduring success continues because their audience remains unchanged; they remain the sort of avid music-seekers who would wait outside record stores in the pouring rain for the latest release, if need be. So even if they prefer one style to another, they trust enough in Saddle Creek's notorious word-of-mouth appeal to at least give an artist a shot. Their biggest successes lately have went against the label's norms and past, giving even more reason to shed the stylistic elitism when dealing with a label one associates with familiarity and trust. Nostalgia also helps.
Saddle Creek have expanded in the above aspects, and have done so without sacrificing the precious locality and small-knit feel that makes everything on their label – from Bright Eyes' idiosyncratic folk to Tokyo Police Club's modernized garage-rock – appeal to a similar cluster of fans. No recent act on their label represents this more than Noah's Ark Was a Spaceship. Friends Andrew Gustafson, John Svatos, and Ricky Black formed the project in 2004, finally settling on a drummer (Rob Webster) in 2007. Judging by their age and sound, it is easy to tell what music these guys grew up on. Bands like Pavement, Sebadoh, and Sonic Youth are likely to be mentioned in a bulk of their reviews, mainly because Noah's Ark resemble wholesome authenticity and nostalgia without sounding the slightest outdated. That sounds somewhat trite, but it's true. The most distinctively modern aspect of their sound is the flourishes of art-rock that cohesively align with the traditional alt-rock formula they build their music around. Sure, their allegiances lie most with the best of late '80s and early '90s alt-rock, but such an astute grasp on power-pop and punk also makes names like Teenage Fanclub, The Replacements, and Big Star relevant.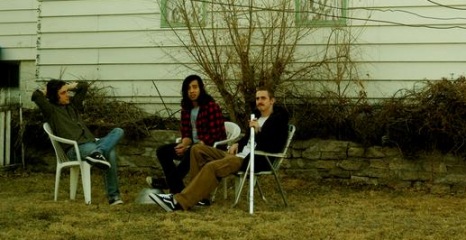 NAWAS' debut LP, Hanga-Fang, is one of the most exciting of the year thus far. The ferocious chorus of "Opener" emerges with just about a minute remaining, recalling both the crunchy guitar tones of Gish-era Smashing Pumpkins and the angular work of Slint. It sits somewhere between alt-rock amateur goodness and the borders of ambitious prog-rock, the latter indebted to NAWAS' extreme use of variation. The lovably weird "I Need a Nap" is reminiscent of Slint's murkiest work. Screeching guitars and a placidly shifting fuzz-bass concoct feelings of ominous intent, especially as the percussion drags along and abruptly shifts from nonchalant half-hits to unbridled angst. Preceding it, "Sweet and Sour Day" is a perfect example of the group's ingenious structural tendencies. Its grungy beginnings stretch for several minutes, slowly enveloping into a more laid-back approach where feedback and bass tremolo join forces to complement a more psychedelic vocal delivery. The track almost resembles a frenzied drug trip, where moments of chaos slowly develop into scenes of spaced-out bliss before descending again into the hectically disordered come-down.
More conventional efforts like "Big Mouth", "Wrecking Ball Girl", and "I'm Not a Father" will be adored by fetishists of late '80s and early '90s college radio. The latter is perhaps the most accessible track on Hanga-Fang, where the vocals admit "I know I'm not well" over crisply sonorous guitar chords. The lack of distortion and heavy emphasis on rhythm bring to mind more melodic alt-rock acts like The Pixies, who are noted for having played with both ends of the alt-rock spectrum. From blistering anthems of distortion to harmonically sugar-coated gems, they are one of few bands from NAWAS' favorite era whose durability is unquestioned. Noah's Ark Was a Spaceship have a collage of influences that enable them to pursue a similar goal. They capture the essence of a recognizable period in music without diluting its nostalgia and influence.
Bands like The Pixies and Smashing Pumpkins encouraged artistic growth while proudly wearing influences on their sleeves, and it is an ideology like this that makes Hanga-Fang so strong. There are always flashes of a certain band's influence, but by the end of a track listeners of Hanga-Fang will have no difficulty respecting the originality of the band's songwriting. As a track like "Wrecking Ball Girl" evolves from creakily acoustic minimalism to ardent displays of distorted awe, fans of bands like Pavement and Sebadoh in their heydays are embraced with the best form of nostalgia: one that borrows the best aspects from the past without incorporating the staleness of methods beaten tirelessly to death by over-use. Noah's Ark Was a Spaceship sound remarkably like a breath of fresh air considering their tributary influences, and because of that Hanga-Fang is a consistently strong release with just the right dose of modern experimentation and past recollection.
RIYL: Pavement, Sebadoh, The Pixies, The Smashing Pumpkins, Nirvana, Big Star, The Replacements, The Lemonheads, Sonic Youth, Teenage Fanclub
Noah's Ark Was a Spaceship – I'm Not a Father
Noah's Ark Was a Spaceship – Big Mouth
Noah's Ark was a Spaceship – Warm Eyes