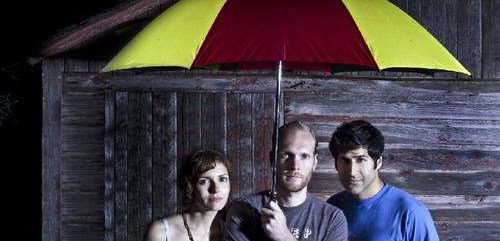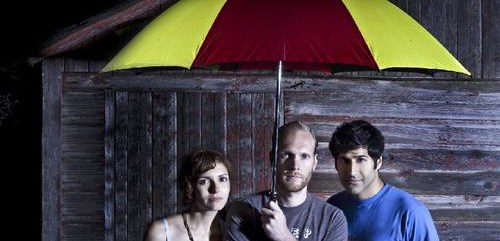 The Rural Alberta Advantage probably appreciate movies like The Deer Hunter, the 1978 classic that depicted the inhabitants of a small, factory-dependent town shortly after the Vietnam War. These portrayals of ex-soldiers/steel workers with deep emotional wounds made for a great film with a top-notch cast that contributed to some of the finest character development I have seen. The Rural Alberta Advantage seem to thrive artistically from circumstances and strong characters like these. The band grew up in small towns around Central and Northern Alberta, never taking for granted the big range of emotions that take place in a small town. They note everything – from the economy's crushing blow on factory workers to nature's unavoidable beauty – and do so with tasteful sentimentality and memorable arrangements. Emotionally complex scenarios like these for locals of mountainous terrain seem like the band's log line of choice; their music follows suit rather appropriately.
While such a description would encourage most to think of gloomy Appalachian folk as the most appropriate backdrop, The Rural Alberta Advantage pursue an unconventional route in capturing such sentiments. There are touches of electronica with washes of synth pads and key-laden melodies, but more dominant are electric guitars and pianos that complement Nils Edenloff's nasally narrative delivery with precision. Signed to the rather naturalistic Saddle Creek, The Rural Alberta Advantage just barely teeter on the boundaries of folk music. Their plain-spoken lyrical urges and near-transcendentalist sentiments are reminiscent of the genre, but the musical aspects are more rock-driven. Interweaving vocal harmonies between Edenloff and Amy Cole, polished electro-like breakdowns, and reliance on repeating choruses bring to mind a vintage form of '90s electro-rock, when musicians were not yet ready to fully embrace aspects of electronic production but occasionally provided interesting doses of synth accompaniments and sample-laden production to keep things interesting.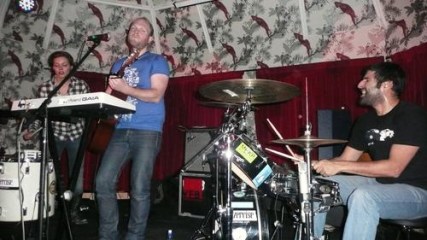 Toronto-based but self-proclaimed Albertans at heart, The Rural Alberta Advantage were good friends before forming the band. Two-thirds of the trio were somewhat reluctant to enter the music scene after enduring years of classical music forced upon them by their parents, but the prospect of forming a band with your friends and pursuing any style you choose was hard to push aside. They released a promising demo and EP shortly after their formation in 2005, but it was not until their full-length Hometowns in 2008 that Saddle Creek took notice. After acclaim from Spin, Pitchfork, and earning a spot as eMusic's band of the month for November 2008, Saddle Creek took a chance with the trio and re-released Hometowns in July 2009. That provided them even more exposure, but they were still far from becoming a household Saddle Creek name like Bright Eyes, Cursive, or Tokyo Police Club. Their second album for Saddle Creek, Departing, will be released on March 1st and should lend a helping hand.
The album's third track, "Under the Knife", relies predominantly on synth stabs that give Edenloff's excitably nasally delivery an accommodating backdrop. His vocal style reminds me most of The Mountain Goats' John Darnielle and even R.E.M.'s Michael Stipe at times. Cole's feminine vocals join Edenloff's in a duet for the chorus; her cherubic tone keeps up with Edenloff's nasally croon with surprising competence. I expected the stark contrast to drag the song into muddled disorganization, but Edenloff and Cole play off each other's deliveries exceptionally well. They are always supported by Paul Banwatt on drums; he seems to be significantly more advanced than both Edenloff and Cole in theory and instrumentation, and his drumming on tracks like the tightly catchy "Stamp" is very noteworthy. The Rural Alberta Advantage's keys and guitars sometimes sound stiff because the melodies struggle with over-repetition at times, but they are almost always salvaged by an inventive drumming display by Banwatt. The band's chemistry is best shown through their songwriting, not their instrumental virtuosity (which only Banwatt appears to possess on a noticeable level).

Departing is another nice release from The Rural Alberta Advantage, but lacks the ambition necessary for great recognition. The songs all sound "nice" but occasionally lack depth. "North Star", for instance, features a few keyboard whole notes scattered around Banwatt's drums, a trend that repeats for essentially the entire track. The subtle wash of synths when Edenloff bursts out "tonight!" is effective, but the band tends to fear stretching their songs out. A lack of variation among the guitar and keyboard progressions is the unfortunate result. A simple drum shuffle and elongated take on the chorus is all to enjoy here until the last minute, when they finally show substantial melodic range in a romantically triumphant whirlwind of keys and synth-organs. The same can be said for "Muscle Relaxants", where generic alt-rock riffs carry on until finally a keyboard breakdown in the middle bridge provides some melodic variation; the glimpses of successfully fleeting Brit-pop here are very fun. Moments like these are frustrating though, simply because they show the band's potential. At this point, it is still something they are chasing.
RIYL: The Mountain Goats, Dan Mangan, R.E.M., The Wooden Sky, Arms, We Were Promised Jetpacks, Frightened Rabbit, The Antlers, Said the Whale, Harlem Shakes, Titus Andronicus, Phoenix, The French Kicks, Plant and Animals, The Weakerthans, Freelance Whales, Blind Pilot, The Acorn
The Rural Alberta Advantage – Stamp
The Rural Alberta Advantage – Tornado '87
The Rural Alberta Advantage – North Star