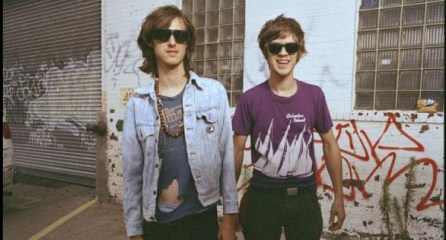 Jake and Jamin Orrall specialize in fuzzy West Coast rock that plays best in a party atmosphere (or on Tony Hawk's Pro Skater 2). There is a vintage feel to the brothers' guitar-and-drums lineup, forcing an emphasis on quality songwriting and stage presence; superfluous bells and whistles are not present to mask the occasional misstep. Fortunately for the Orral's, their new album We Are the Champions has nothing to hide. It is a wonderfully refreshing throwback to early '90s power-pop and garage-rock. Their style possesses the same power-pop/surf-rock blend of Weezer up front, but often with a more aggressive take on variants of punk and noise-rock that bring influences like Sonic Youth, Jay Reatard, and Pavement into play. The most ambitious the duo get with production is via a guitar pedal or keyboard addition, which is a type of forgotten minimalism that aligns beautifully with their powerful songwriting and ready knack for hooks.
The brothers formed their project, Jeff the Brotherhood, when Jamin was in middle school and Jake was a sophomore in high school. They financed their first CD-R off early band profits, gathering enough money back home in Tennessee from $5-per-bootleg efforts to fund the effort. The boys' father saw potential and brought some of his business savvy to the table at that point, though one can wonder how he felt when both his sons dropped out of college to pursue music full-time. Based on their recent hype and album (which is their best), he is probably more proud than pissed. After all, they play hundreds of shows per year and have aspirations of touring Japan, so it's not like they're slacking off. Jeff the Brotherhood are simply the epitome of quality DIY rock, representative of those whose genuine passion for music helps fuel an anti-label, do-it-yourself attitude. There are so many acts that slap on the DIY tag, yet embrace the first chance of corporate sponsorship that comes that way. It would be nice if more acts like Jeff the Brotherhood existed; they just want to get their music heard, and seem to care less about "the man".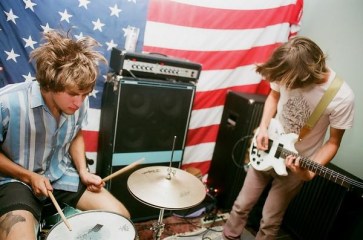 Sibling rivalries are unavoidable when on the road (which is why the duo always bring a mediator on tour), but there is certainly no doubting their chemistry when in the studio. "Endless Fire" is a gorgeous semi-ballad that would have fit seamlessly on Weezer's classic Pinkerton. It is a frail and gentle effort compared to other tracks on the frenetic We Are the Champions, but its placement smack-dab in the middle of it provides a seamless breather between the post-rock intricacies of "Diamond Way" and bluesy guitar howls of "Ripper". "Is it too late to think it isn't over?" both brothers croon on "Endless Fire", one reminiscent of a nasally Rivers Cuomo and the other higher in pitch – almost like a Steve Bays or Brad Nowell. The outro enveloping the final minute places a scraggly guitar solo over an airy organ, both of which fade out in a distorted whimper. It is one of the album's most melodic efforts, even if the initial verse is too short. Conciseness is clearly something Jeff the Brotherhood value though, as not one song on We Are the Champions overstays its welcome.
Two standouts in particular, "Cool Out" and "Bummer", are bound to give the duo some heavy notice. The latter brings back the Weezer feel, but now more aligned with the fuzzy punk influences of their debuting Blue album. "I can't see through this dream," is the line marking a chorus with an incredible build-up, with distorted guitar tremolos and increasingly furious percussion. "Cool Out" is just as great (especially the breathtaking final minute), albeit more in line with lo-fi revivalists like Wavves. Even better, "Shredder" is a no-frills take on old-school DIY punk that imaginatively adds a droning chiptune-like synth, while "Health and Strength" is a fascinating semi-acoustic effort with sitar and string samples that make it inarguably the most psychedelic-leaning effort on We Are the Champions. There are even some Celtic folk progressions hidden below the acoustic flaps, almost giving it a "The Battle of Evermore" sort of feel. It is a definite success, just like many of the efforts on We Are the Champions. This is the album that should put these talented brothers on the map.
RIYL: Weezer, Jay Reatard, Sonic Youth, Pavement, Sublime, Wavves, Ex-Models, Hagfish, Screaming Females, Turbo Fruits, Cheap Time, Jacuzzi Boys
Jeff the Brotherhood – Endless Fire
Jeff the Brotherhood – Health and Strength
Jeff the Brotherhood – Cool Out