Posted
July 28, 2011 by Mike Mineo
in Features
Giles Corey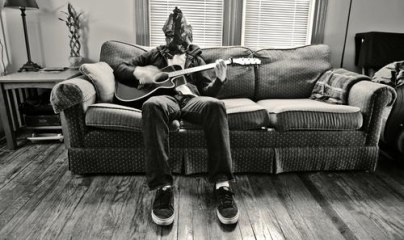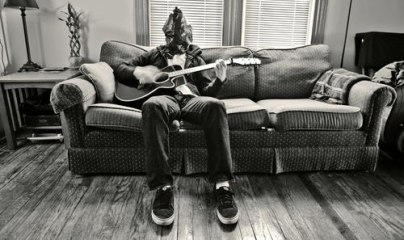 Dan Barrett's music plays like a spectre in the night, most effective to the highly attentive and surveyors of the smallest details. It's something that exists and has its hand on your shoulder. Your reason for ignoring it has nothing to do with the light ethereal touch, but rather that it may trigger thoughts that veer into the unpleasant and supernatural; it is what some might deem as "unnatural". A track from the eponymous album of Dan Barrett's project Giles Corey, "Empty Churches", begins with an appropriate sample. The famous paranormal researcher Raymond Cass begins: "The voices of unknown origin appearing on radio frequencies were first noticed in Scandinavia by the military in the '30s, and were put down at the time to secret Nazi transmitters." He continues: "After the war, no records of secret Nazi transmissions ever came to light. The voices didn't stop after the war, but it was not until 1959 that Frederich Jorgensen noticed intrusions on tape and commenced his own systematic study. A disturbing fact soon emerged; the voices zeroed in onto [Jorgensen], addressing him by name, revealing knowledge of his thoughts and actions and claiming to be the voices of deceased friends and acquaintances."
Barrett produces music that plays like the sounds of ghosts from another time; it is hardly a menacing sound, instead opting for ethereal beauty in the compositions despite lyrical content that is gloomy – to say the least. The most chilling aspect of Barrett's fascination with death and the afterlife is that it arose from depression. The longing to no longer exist, in this life at least, is certainly one way to spark an interest in such affairs. What makes Barrett's music such an artistic feat is how genuinely it projects these sentiments. Much of Giles Corey is wordless; heavy organs and keys show dominance over ghostly choirs and languishing croons, with Barrett's breathy and sombering tone providing the only hint of singular resonance. It sounds like a procession of tortured ghosts rather than one man tackling depression and his ensuing fascination with death. But through his own work and the art of others, he seeks the answer to whether life is worth living. By how resounding his music will be to others in a similar situation, one can hope he realizes the worth and impact of his life and the musical ability he was given alongside it.
Giles Corey is a dense, hour-long affair that features songs with plenty of life – despite how it occasionally sounds like it's coming from a lifeless entity. There's so much power in these compositions that even the ghostly quality is submerged at some points by vibrant life; both "Spectral Bride" and "Blackest Bile" begin as an acoustic slogs with solemn organ-drenched choir processions before bursting into expansive arrangements – and even in the case of "Spectral Bride" a brass-like movement. "Blackest Bile" ascends to stomping percussion and vocals with greater clarity, with both high and low pitches interweaving with precision. Moments like these, especially in subdued chirpiness of "Spectral Bride", provide a hint of optimism that lifts these efforts to an emotionally stirring state. The very sudden transition from gloomy cathedral-like processions to more spontaneous bursts of life, even if the sanguinity isn't exactly unavoidable, is metaphorical on several levels. This, in particular, brings Scott Walker's recent works to mind. Every song on Giles Corey attacks this ascension differently, each providing a glimpse into Barrett's troubled but brilliant mind. It's art for the human soul, and for what exists beyond that.
Giles Corey comes with a 150-page book that Barrett calls "an intensely personal, intimate portrait of depression that took me almost 4 years to make." The album follows a story arc that is detailed in the book, along with an emphasis on afterlife theorist Robert Voor. It's certainly not something to read/listen to if you're looking for a sudden burst of happiness, but anyone interested in the human psyche and the many factors of the afterlife will find this to be a stunning work of art.
RIYL: Scott Walker, John Cale, Tim Buckley, Robert Wyatt, Jacques Brel, David Sylvian, Stars of the Lid, Roxy Music, Talk Talk, Tindersticks, Harry Nilsson
Giles Corey – I'm Going To Do It

Official Site / MySpace / BUY