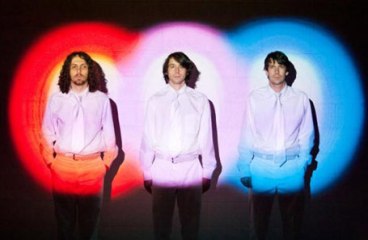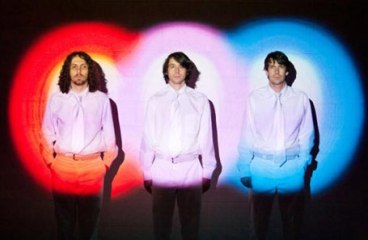 The Stepkids' "Shadows on Behalf" sounds like it could have been recorded at several points throughout history — at a '60s soul festival, on the set of a '70s porno, or during a pioneering hip-hop sample demonstration from the '80s. The track presents a tasteful clashing of stylistic periods. The best classification for it, and many of The Stepkids' tracks, would be psychedelic-pop. It's a tough decision, as it's especially difficult to discard the massive soul and funk influences primarily inherent in the band's rhythmic aspects, which are mixed high. The adventurous quality of their songs speak most to the funk genre, with varying styles weaving in and out to produce a brilliant and hypnotic feel – like The Avalanches, but with pop-inspired vocal leads and minimized sampling. Likewise, The Stepkids' music is full of vibrant life and shimmering hooks; trickling keyboard scales, prominently musty bass lines, and quick guitar licks collide with soul-inspired vocal harmonizing and quirky brass sampling. But especially when noting the plushy synths and ghostly piano crescendos just past the mid-point of "La La", listeners will recognize The Stepkids as a progressive and futuristic beast devoid of fetish nostalgia. Their material plays with greater importance than serving as a relic of past movements.
Considering that the trio includes Alicia Keys' ex-guitarist (Jeff Gitelman) and others raised on everything from jazz to hip-hop (keyboardist Dan Edinberg and drummer Tim Walsh), it's not surprising that The Stepkids sound so varied. Their own description even sounds a bit lengthy, as it's hard to fit their stylistic cues into one sentence without sounding breathless: "The Stepkids' groove is a fusion of punk and jazz, West African and 1960s folk, neo and classic soul, classic funk and 20th century classical." It would be easy to disregard the group as an example of stylistic excess, attempting to generate a trendy sound simply by fusing past styles together in hopes of it sounding cohesive eventually. As these tracks and their forthcoming album – out September 27th on Stones Throw – will show, the trio is quite the opposite of that.
"Shadows on Behalf" sounds like a contemporary group emulating the sounds of the Jackie Brown soundtrack, but not without some original appeal. The airy vocals over the thick arrangements are immediately reminiscent of Seattle's Crystal Skulls, one of the first artists featured on this site. They apply some modern indie-pop magic to safely blend the funk-inspired rhythms with the unconventional vocal approach. One such example is the jubilant chorus, where the group burst out "shadows on behalf of me!" It's exceptional, fusing the infectious quality of pop music with the thickly reverberating sounds of soul and funk. "La La" is no different in that regard, though its emphasis on soul is more prominent with frequent sampling of Hair-esque '70s soul-pop vocals, brass, and sombering strings with a reverbed key vibrato. The two-minute mark introduces sinister lurking strings that could appear in the The Wizard of Oz's twister scene, kick-starting the track into spontaneous psych-pop territory. And this is where The Stepkids are at their strongest – when spontaneity is at the forefront, and the trio's love for seemingly every style of music on the planet is expressed fully and with jovial impulsiveness.
RIYL: Unknown Mortal Orchestra, The Delfonics, Mayer Hawthorne, Crystal Skulls, HEADPHONES, The Joggers, David Bazan, Kinetic Stereokids, Via Audio, The Dramatics, Blue Magic, Two Door Cinema Club
The Stepkids – Shadows on Behalf
The Stepkids – Legend in My Own Mind