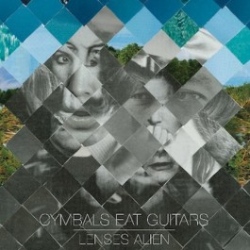 by Jay Mattson
Why There Are Mountains was one of the highlights of 2009 for me. It seamlessly melded Elliot Smith-esque melodies and aesthetic with a more contemporary garage-rock sound. The album was praised as a work of blissful art from a group of kids that may or may not have known just how good they were. If there were any question today as to whether that album was a fluke or not, audiences should take a listen to the mediocre, bloated, and boring Lenses Alien, Cymbals Eat Guitars' sophomore effort from Barsuk Records. Even production assistance from John Agnello (Dinosaur Jr., Sonic Youth, etc.) can't help this album as it continuously trips over itself and leaves much to be desired.
The major problem with Lenses Alien is the band's desire to stick with a formula; the formula that worked, exactly, on Why There Are Mountains. The similarities in the two albums are stark and not subtle (see "Wind Phoenix (Proper Name)" from two years ago and "Rifle Eyesight (Proper Name)"). "Rifle Eyesight", though, is merely a shadow of its spiritual ancestor. "Wind Phoenix" was a lighthearted romp through a youthful idea that the band apparently lost since 2009. They merely attempt to recreate this through their new single. Also, they include a track titled "Another Tunguska" (is that not obvious enough?)
This distinction in quality from the band's 2009 album and today seems to be an overarching theme that haunts Lenses Alien at every turn. It sounds unimaginative, unoriginal and pompous, among other things. I can't speak to the production that went into this album, but it sounds more like a jam session gone awry than an actual set of cohesive tracks. Why There Are Mountains contained all the angst and energy of youth channeled through unpretentiously pretty garage rock that reminded an adoring audience of mid-90s indie rock simplicity that kind of bit the dust with the advent of today's over-production. Lenses Alien, on the other hand, sounds like Cymbals Eat Guitars were playing and writing like Cymbals Eat Guitars should sound instead of sounding like they wanted to, which made their debut album so memorable. Lenses Alien does not contain one memorable track; it's consistently stuck in limbo, attempting to decide if each effort is going to be a ballad or a pop-oriented number.
Surprisingly, the end of the album starts to get things right, just as everything is winding down. "Wavelengths" manages to keep a steady melody despite singer Joseph D'Agostino's overly-warbled vocals threatening to derail the song at any moment. "Secret Family" is big, if not over-stuffed, and "Gary Condit" is nice in that it doesn't try to be anything more than it is (a simple ballad about the harsh nature of growing up), which is refreshing on an album full of pretensions.
Like Congratulations from MGMT way back in 2010, Lenses Alien is a sophomore flop that could have been avoided if the band members hadn't thought about it so much. Over-thinking can be a gift and a curse, and in this case, Cymbals Eat Guitars have managed to over-think themselves into a soupy, unformed mess of an album that has trouble holding itself together let alone an audience to hear it.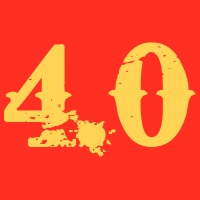 Cymbals Eat Guitars – Rifle Eyesight (Proper Name)

Cymbals Eat Guitars – Definite Darkness
Cymbals Eat Guitars – Keep Me Waiting

Cymbals Eat Guitars – Another Tunguska
Cymbals Eat Guitars – Plainclothes (Live on BBC 6)

Cymbals Eat Guitars – Wavelengths (Live on BBC 6)
Official Site / MySpace / BUY