Posted
July 10, 2012 by Mike Mineo
in Reviews
Twin Shadow – Confess (2012)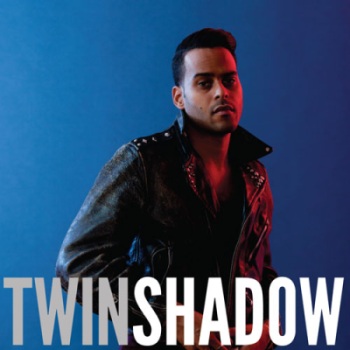 MP3: Twin Shadow – When the Movie's Over
In following up his superb 2010 debut Forget, Twin Shadow's George Lewis, Jr. had little reason to abandon his admiration for '80s post-punk and new-wave, or their tendencies to seamlessly alternate between emotionally-charged ballads ("When We're Dancing", "Tyrant Destroyed") and thumping rock ("Shooting Holes at the Moon", "Castles in the Snow"). Forget was an instantly unforgettable debut due largely to its fluctuating song tones and structures, as well as Lewis' boldly personified delivery – which showed a range of personalities, from knees-deep in love to self-absorbed prick. With his new album, Confess, we find much of the same gritty realism and '80s nostalgia, though with a slight and generally welcome increase in synth-pop sentiments. We know what to expect from Lewis at this point, so Confess isn't initially as striking, but the level of quality is comparable enough.
Early parts of Confess are forcefully infectious and instantly accessible, whereas the second half presents a form of synth-pop more aware of vintage atmosphere, like on his debut, and with a resounding emotional core that reminds of synth-pop legends like Erasure and Depeche Mode. Erasure may be known more for upbeat tracks like "Always" and "A Little Respect", but look toward darker trips like "The Circus" and "Ship of Fools" and the comparison will be more evident. Somewhere in the middle spectrum, Confess closer "Be Mine Tonight" is more in line with the darkly seductive twang of Chromatics, while the memorable likes of "I Don't Care" and "When the Movie's Over" remain some of the album's strongest pieces. Though due to strong developments and twists, the influence o aforementioned '80s synth-pop embracers is difficult to remember at conclusion of each.
The initial radiance of opener "Golden Light" suggests Lewis may be heading in a softer direction, but several twists prove otherwise; an introductory kick drum and wavering synth pad murmur in the background as Lewis gently croons over a marimba-like bounce, which is then enhanced by a stuttering synth arpeggio. The righteous chorus initially appears as a jarring contrast to the delicately melancholic initial verse, but the verse – "it's been so long" – and its effervescent build-up eventually makes for an enjoyably fluid track. It's less of a punch than "You Call Me On" or "Five Seconds", but those are lofty gems for comparison's sake.
"You Call Me On" expands from quick guitar swipes reminiscent of The Police into electro-rock exultation for its majority, pushing halted drum patterns and wavering synth pads as Lewis' snide suaveness comes through; "I don't give a damn about your truth, or a world that's foaming at the seams," he sings, its directness being particularly effective right before the two-minute mark, when a bombast of noise stutters into a momentarily serene lull. The track is exciting from start to finish, thanks largely to unpredictable percussive stomps and Lewis' powerful lead, which helps in projecting the emotionally insecure themes throughout the album. A nice-guy protagonist isn't exactly required, especially when several sounds remind of '80s leather-clad bad-boys (nice album cover) or rebels with some melodic cause, as it is on some tracks here.
Moving to a more straightforward yearning for love, standout single "Five Seconds" begins as a grimy rhythm guitar gives way to an acoustic sprinkle; it's a subtly gracious lead-in to the album's most explosive effort, a hook-filled example of Twin Shadow's greatest strength: turning '80s nostalgia into an inventively sleek audible representation, that retains an addictively hook-filled repertoire despite idiosyncratic percussion choices and creative structural maneuvering. Excluding "Five Seconds" and "You Can Call Me On", atmospheric trips into rhythmic-heavy post-punk are generally abandoned in favor of fluttering '80s new-wave and punchy funk hybrids.
The somewhat odd "Beg for the Night" has synth-string stabs and light guitar strums reminiscent of The Style Council, while "Patient" is a swanky and flamboyant ballad with striking synth work ranging from warm and gauzy synth pads to Afro-tinged keys and percussion. "Patiently waiting for you to say just what you mean, and give up everything," Lewis sings, with the sort of polished yearning and sexualized undertones you'd expect from a group like Hercules & Love Affair.
Though its lead hook pales in comparison to the inventive R&B/synth-pop allure of "Patient", "Beg for the Night" and its ceaseless bass stomp works particularly well over the lock 'n' loaded percussion, which rotates like a revolver. It tends to rely too much on the brass pushes to establish its central hook, which is weak relative to other tracks on Confess. Extending the instrumental outro, led by twinkling synths and more brass stabs, would have been more interesting than repeating the chorus verbatim. It's not clumsy by any means, just a bit dull.
"I Don't Care" has the understated brilliance of a piano-laden ballad, though with percussive grunts and guitar smatterings which help solidify its status as a heavy-charged brooder. The prancing Victorian-style keys during the chorus – "Long as I can dance you 'round the room while I lie to you" – increases in prominence each appearance, by the final chorus emerging as a force. The one-two-three punch of "When the Movie's Over", "I Don't Care", and "Be Mine Tonight" is absolutely brilliant
The album's best overall effort, "When the Movie's Over", is a beautifully intimate effort that revives several components from synth-pop legends Erasure, whose fusing of Andy Clark's soaring dramatics and Vince Clarke's tightly constructed arrangements made for a consistently striking sound. The weeping synth pad in the background helps aid an exceptional vocal performance from Lewis. His hushed whispers, and whistles alike, stir up an infectiously melodic reflection on a relationship's imminent demise. "You hang on to the falling leaves / Like the leaves themselves you were born to claim," he sings. The song's atmosphere fits the album's themes with perfection, flawlessly embodying the fates of crumbling relationships and tragedies of narcissism. Following graciously in the steps of a phenomenal debut, Confess continues Lewis' emergence as a talented songwriter and performer with a penchant for dark, '80s-inspired pop.