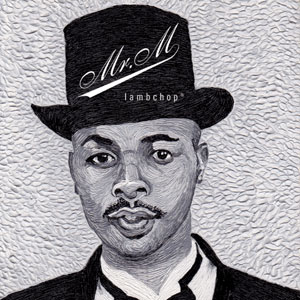 Mr. M is Lambchop's first album since OH (Ohio), which is now four years old. They are one of the most consistently extraordinary bands currently producing music, so it comes as no surprise that their new record is entirely worth the wait. It is a touching album which is dedicated to the late Vic Chesnutt, a man who inspired and influenced Lambchop more than anyone else.
Mr. M opens with the lushly orchestrated slow number "If Not I'll Just Die". It's an expressive song sung from the deep heart of frontman Kurt Wagner. Every syllable he sings is delivered with a vital clarity; you can hear every murmur he makes. After another mellow song, the record moves to lead single "Gone Tomorrow". This is a relatively up-tempo song for Lambchop, and they pull it off extremely well. Being the lead single, it's the most immediately accessible song on the album. Its catchy chorus is superbly carried by Wagner, who seamlessly manipulates the words each time the chorus is heard.
The fifth track on the album, "Gar" perfectly illustrates that Lambchop's signature sound is not solely indebted to Kurt Wagner's voice, as it is (apart from some female vocals) an instrumental track. Even without the frontman's signature vocals, this bass-driven composition is clearly the work of Lambchop. It, like the majority of the band's songs, possesses a soul of its own, which really does give the unique character of a trademark Lambchop track.
In "Nice Without Mercy", Wagner's voice is put to excellent use; he harmonizes with himself through multiple layers to create what can only be described as a beautiful dissonance. This is an effective accompaniment to the plodding music beneath. The next track on Mr. M is a personal favorite, "Buttons". Hardcore Lambchop fans will recognize it from the band's 2010 Daytrotter session. It tells the tear-jerking story of an unnamed protagonists who goes off the rails. The lyrics "I used to know your girlfriend, back when you used to have a girlfriend / She was nice and you were not, but I was the big prick back then" always stand out, and seem to be deeply personal for Wagner. Throughout the record, his lyrics leave the listener asking questions about the album and its beautiful songs. Despite the words of the songs being extremely abstract and at times hard to make sense of, it is clear they mean a huge amount to Wagner.
Mr. M really does demonstrate the fact that Lambchop are an evolving band. They have come so far since the country songs on How I Quit Smoking in 1996. People who say they peaked with 2000's Nixon need to realize that Lambchop are almost a different band now; they do not retrace their steps, but instead continue to explore in different directions, all the while retaining their signature, lush sound.