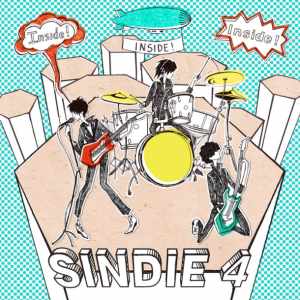 Sindie 4 tread everywhere from Wire's concise punk to Roxy Music's sophisticated touch of glam, from swirling organ-led psychedelia to hazy British Invasion. The trio turn their pocketful of influences into fiercely infectious art-rock gems with quick innovation. Originating from Chelyabinsk, Russia, Sindie 4 are currently unsigned. It must be out of preference; they're one of the most exciting unsigned acts I've heard in some time. Their debut, Inside! Inside! Inside!, isn't even ten minutes long, but manages to leave a lasting impression comparable to how the one or two-minute bursts of brilliance on early Wire albums – like Pink Flag and Chairs Missing – left an audible imprint.
One unique conceptual take is the infusion of Chelyabinsk, specifically the city's sounds and atmosphere, into their music. The ominous industrial-tinged synth backing of "September", along with its quickly trickling percussion and keys, would synchronize well with the bustling of the city's square. Yet the concept is much more prominent is on a track like "The Hive", with its blaring sirens and administrative PA output. On the vocal end, there's a reoccurring bark from militaristic vocals, which aligns with furious yet tactful percussion that would fit well in a drum line. Here and throughout the album it makes sense that drummer Artem Loginovsky played in a military band with bassist Nikita Tyurin; their chemistry is evident, and the rhythm section's importance on the album is impossible to overlook. Lead vocalist Anton Sheludko is a force in himself, with a presence similar to a Damo Suzuki or Mark E. Smith, but like all great post-punk acts the rhythmic collaboration is essential. And here, it's a phenomenal one.
"September" divvies up the album appropriately, as the first half plays closer with elements of traditional Russian music and punk. The second half of "Biotechnologies" is particularly indicative of their Russian influence. Keys and brass combine for an exotic sound; keys drip over an ominous guitar reverb, the melody enchanting but also slightly unnerving. For a track barely over two minutes, the number of ideas here is remarkable. They're all worthwhile ones too; the duration doesn't allow for filler, and Sindie 4 are entirely aware of this. "Antisleep" is the album's longest at three minutes, but its organ-led psychedelia warrants development, especially as it transitions into an exceptional chorus. Here sound is extremely similar to Edwyn Collins and Orange Juice, matching his emotional vibrato and resonating jangle.
Closer "Sorry Sindie" is a fun farewell in the vocal tradition of Nick Cave and Tom Waits, intertwined with bouncy art-rock in the more contemporary vein of Arctic Monkeys. Though not as distinctive as other efforts, it's another success that manages to tout energy and creativity, even if some influences are impossible to mask. Sindie 4 are going to break out eventually. It's just a matter of when. Another new album, that one being over ten minutes, would help. Using a solid debut like Inside! Inside! Inside! to work off of should make the process less daunting.
Download Inside! Inside! Inside here, or stream the tracks below:
RIYL: Wire, Edwyn Collins, Orange Juice, The Fall, Can, Kraftwerk