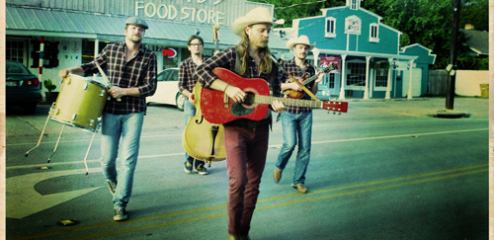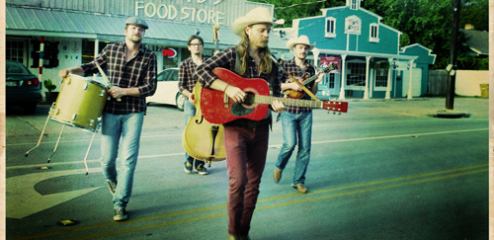 You can grab Crooks' EP at a 60% discount on GroopEase the next few hours, so act quick. All four tracks are a blast.
Glimpses of country-rock and folk appear on Crooks' EP, Lonesome, Rowdy and Restless. On the memorable "Downtown", a series of spaghetti-western horns pave a smooth road for the soaring vocals of Josh Mazour, whose nasally croon is the driving force behind the quartet's infectiously twangy down-south sound. Somewhat surprisingly, the acoustic progressions and their rhythmic choices can also resemble Celtic folk at times.  The acoustic progression in this song's intro is such an example, though once the booming drums and interweaving vocal harmonies arrives it becomes the pure country-rock bliss that dominates the rest of the EP. This is far from easy-listening, commercial-friendly country-rock though; it's packed with ambitious ideas and revolving song structures, bringing comparisons to Neil Young and The Allman Brothers on both a lyrical and stylistic level.
"18 Wheels" finds Mazour emulating Young not only with his similar crooning snarl, but in the music as well. A steady rhythm guitar is an apt supplement to a roaring guitar lead, which touts twangy distortion found throughout Young's heavier albums – like Living with War and Everybody Knows This is Nowhere, the latter his first with Crazy Horse and also a glimpse into a future string of releases with a heavier style of rock. The horns on both "Downtown" and "18 Wheels" resemble the likes of Calexico or DeVotchKa more than Young, but his influence remains in the inner-fabrics of the song.
In addition to the impressive "River Road", which features Neko Case-esque backing harmonies, the fun "Bar Stool" is a stark contrast from the other two efforts. Instead of hard-rocking ambition, this one is a tongue-in-cheek barnyard dancer that resembles traditional country in the vein of Hank Williams or Merle Haggard. "So pour me a glass to the working class / I'll hang my hat when I'm dead," Mazour sings. "Dusty roads and lonesome souls keep on calling me back home." He ain't got much to lose, so pass him a bottle of booze; that's essentially the purpose, and it'd hard not to fall over the sentiments mixed with the nostalgic, warm sound of vintage country. Like all songs on the EP, the track pursues an interesting direction at the end, again involving horns. It's a nicely executed vision, but it would be great to hear the horns utilized as a background supplement to the vocals, rather than continuously as an instrumental bridge during a song's last two-thirds.
Traditional country sentiments like open dusty roads and working 'til sundown make it easy to enjoy the EP over a bottle of whiskey and a hard day's work. Even if that means nothing to you and you hate anything to do with country, Crooks' EP is an extremely accessible entry into the style. This Texas four-piece really stand out among a crowd of generic country-rock imitations, many of them content with Johnny Cash and Hank Williams covers. Crooks maintain the spirits of their influences while showing creativity within their original songwriting, which is a lesson that many country artists have yet to learn.
RIYL: Neil Young, Buffalo Springfield, The Allman Brothers, The Black Crowes, Hank Williams, Johnny Cash, Crazy Horse, David Crosby, Graham Nash, Gram Parsons
Official Site / MySpace / BUY (60% discount)