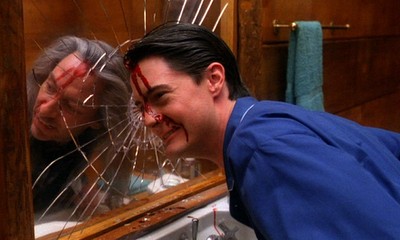 I'm all about recycling, upcycling, composting… anything that reuses materials already on this earth. If a friend wants to use jeans for insulation or to make a quilt out of old clothes, I'd be over in an instant. But recycling music? I was not keen on the idea until I heard Stolen Voices by White Label. While the original samples are extracted from greats like David Bowie, Dennis Wilson, and The Supremes – all of whom need no help lending their creations – White Label redirect the intentions of their memorable classics, no matter how familiar.
Hailing from Scotland, the trio create a full sound that breathes life into older songs that you may not have heard in awhile or at all; many samples are taken from rare and unreleased tracks. Stolen Voices uses only the vocals from the samples, separating voice from background accompaniments and placing them within a full-band arrangement. The results are exciting and have the potential to appeal to a wider audience than previously intended. In a world where one of music's major purposes is to express emotion and reach other individuals, White Label do these artists a favor by expanding their audience. Beyond that, White Label do not envision the result as their creation. Their name shows this, after all, as a tribute to vinyl records. Stolen Voices covers a wide array of music styles and it is difficult to not find at least one song that suits one's musical preference.
The album begins with "Jean 1". The vocals come from The Supremes' song "Plane". The keys provide an unexpected intro and give the song a unique vibe, somewhat of a crossover between contemporary indie-pop and throwback soul. The '60s soul is still very present, but with added piano, bass, and drums that make it feel more modern.
"Jimmy" takes the song "Sycamore Trees" by Jimmy Scott and makes it sound even more mysterious. Some may already know, but this was a track featured in the final episode of Twin Peaks. It opens with an eerie guitar twang, which sets the stage for cumbersome and tired percussion reminiscent of Badalamenti's trademark work. The spaced out elements continue with flourishes of synths and a smattering of piano, aided by Scott's powerfully emotive voice. Indeed it feels as if we are entering into the world of David Lynch. Fortunately, if you look around, you will find we are still in a universe where David Lynch's characters don't await under our beds. But when you need a break from the monotony of our world, this tune will transport you to a peculiar place.

The album closes with a loveable favorite, The Beach Boys' Dennis Wilson. An underrated genius in his own right, it's nice to see a modern tribute of sorts. "Dennis" features vocals from Dennis Wilson's song "Carry Me Home". This track was unreleased; it did not make the cut for the 1973 Beach Boys album Holland. Thankfully White Label uncovered this treasure and altered the song without destroying it. The soft bass and drums fuse effortlessly with the caressing piano. They are the perfect accompaniment to comforting and gentle Wilson vocals. The essence of Wilson is not lost; he is still the main player in this arrangement. As a continuing trend, White Label provide enhancement of a pre-existing gem.
Stolen Voices was a difficult project to undertake. It is taxing to take on the work of an older artist and make it new and worthwhile with a fresh coat of paint. An artist must always ask himself, am I altering it too much or too little? Am I making this song my own? White Label are extremely successful in their venture. It is as if they found old family jewelry, polished it, and gave it a new topcoat. New is not always what is best. Finding new meaning in old material is innovative. Find your favorite artist of the past or maybe artists you have never particularly cared for that are featured on this album, and enjoy listening to it in a new way. Just remember: the voices are stolen, but the arrangements are provided for a new generation to appreciate.
Click here to download Stolen Voices in its entirety.
RIYL: The Supremes, Jean Terrell, Jimmy Webb, Todd Rundgren, The Beatles, Billy MacKenzie, The Associates, Harry Nilsson, Jean King, Billie Holliday, David Bowie, John Martyn, Dennis Wilson, Avalanches