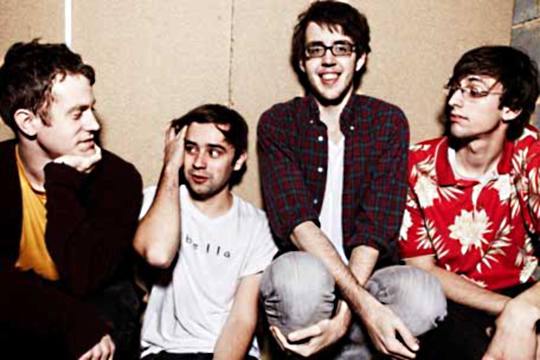 Cloud Nothings – No Future/No Past

I became enamored with Dylan Baldi's mix of power-pop and alt-rock last year, when I gushed over his 7″ single Didn't You. Baldi sounded like a thirty or forty-something music vet who grew up on plenty of Sebadoh, Jesus & Mary Chain, Teenage Fanclub, and Matthew Sweet… not a fresh-faced 19-year-old. Like Weezer or The Wrens, one of his most glaring strengths was the ability to turn romanticized simplicities into substantial stylistic journies. Such was the case with the excellent b-side "Even If It Worked Out", which I enjoyed just as much as "Didn't You".
But Baldi is no longer a teenager, and with that comes some polishing of his lo-fi rock ideology with Cloud Nothings. The release of his self-titled debut LP in January asserted this, his intensity and knack for melodic hooks remaining mainstays over a clarified sound. His next album, Attack on Memory, will mark the next stage of growth for Baldi. It helps when Steve Albini is there to lend a helping hand in the studio. But honestly, if you told me a year ago that Albini would fawn over Baldi, I wouldn't be shocked. If Albini can somehow work with Jarvis Cocker's sound, then a back-to-the-roots songwriter like Baldi probably seems like a breath of fresh air to Albini. It's more in line with the sound that he pursued himself as a musician with Big Black and Shellac.
Attack on Memory sounds like an ambitious venture for Baldi. It's set to contain "higher fidelity, a track clocking in at almost nine minutes, an instrumental, and an overall more plaintive air." Baldi's voice is brought up in front of the mix throughout the album, though it's not meant to overshadow guitar work that's allegedly more adventurous than any of his previous releases.
You can listen to the album's opening track "No Future/No Past" above. Baldi's voice begins with a complacent whimper, gradually evolving into a fierce growl reminiscent of Frank Black. The beginnings tout a minimalistic, percussion-led feel that serve as an essential build-up. The addition of an extra guitar riff just past the one-minute mark starts to peak into the aforementioned ambitious territory. The structure, and its transitioning from a minimal ballad to an emotive power-rocker, will remind many listeners of The Wrens' best work. Still, even as comparisons to alt-rock from the past two decades is abundant, there is a large dose of originality inherent here — just like the rest of Baldi's work.
[toggle title="click for Cloud Nothings' tour dates"]
11/02 Oxford, MS – Proud Larry's
11/03 Dallas, TX – Canton Co-op
11/04 Austin, TX – Fun Fun Fun Fest
11/05 Houston, TX – Fitzgerald's
11/07 Baton Rouge, LA – Spanish Moon
11/08 Atlanta, GA – 529
11/09 Chapel Hill, NC – Local 506
11/10 Washington, DC – Black Cat
11/11 Philadelphia, PA – Johnny Brenda's
11/12 Brooklyn, NY – Glasslands *
^ = w/ Crystal Antlers
* = w/ Hoop Dreams[/toggle]