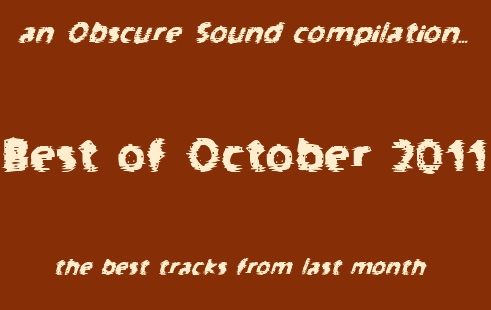 As many of you have noticed, Obscure Sound is undergoing some changes. I hope the new design helps this site continue on the path of more frequent and diverse updates. The past design was useful, but it was irritating how only one post was able to take the spotlight at a given time. Now, features and reviews no longer have to fight for prime time. In addition to the in-depth content you expect from OS, you can also expect a new feature: news tidbits. Independent music is bustling enough that, with limited staff, it's difficult to cover everything. And even when you tend to be very specific, it's not enough. The addition of news tidbits should be a welcome one. Whether it involves new tour dates for your favorite artist, the release of a single, a contest, or bizarre headlines you wouldn't expect to see on any music site, you can expect to find these in the 'News' section directly under the lead carousel on the front page (another nice feature that allows for a wider display of featured posts).
Of course, the design is FAR from finished. I just consider it polished enough to publish at the moment. Even though it's not close to done, I still consider it an upgrade over the previous theme. PLEASE leave feedback, either by e-mailing me or leaving a comment below. I'd love to hear what you love, hate, or whatever.
I'm also happy to coincide it with the release of this month's compilation. It's an excellent one. From the final gasps of summer in surf-rock revivalists like The Explorers Club and the shimmering indie-pop of Santah to the dark brooding pop of Black Partridge and Lavis Blake, this is an appropriate track listing for the impending seasonal transition. The weather is an extreme state of unpredictability; 70-degree sunshine a week ago turned into a substantial snowstorm in my neck of the woods. This compilation is stylistically diverse enough to offer the same feeling, but without the power outages and freezing rain one has to endure. Well, there's probably a little bit of that buried in here as well. Listeners shouldn't limit their ears to exclusive zones of happiness and sadness. Necessary transitions and emotional spontaneity seems to be a trend with October's compilation.
01. The Explorers Club – Weight of the World (under construction mix) (post)
02. White Label – Jimmy (post)
03. Santah – White Noise Bed (post)
04. Matt Stevens – Nightbus (post)
05. Silky Johnson – Fuck the Money (post)
06. Absofacto – Whose Side Are You On Anyway? (post)
07. Sunsettes – If We Talk (post)
08. We Are Trees – Girlfriend (post)
09. Black Partridge – Right Place (post)
10. Mario Gonzalez – Wither (post)
11. The Eversons – Hyacinth Girl (post)
12. Dumhi – Therapy (post)
13. Lavis Blake – Ginsberg (post)
14. Silky Johnson – Chasin Paper (post)
15. Balthazar B & The Beatitudes – Like Shrapnel (post)
16. The Grapes of Wrath – What Was Going Through My Head (post)
DOWNLOAD ENTIRE COMPILATION>>> (114.2 MB, .RAR)