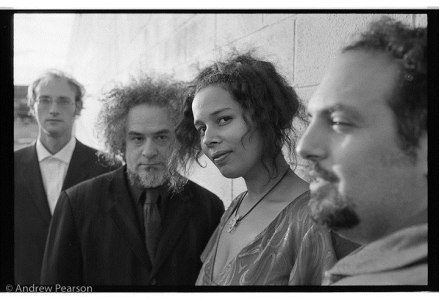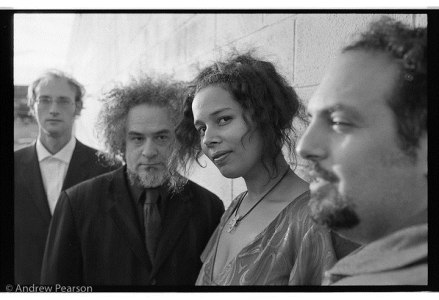 Despite the fact that you don't hear a lot pertaining to the Carolina Chocolate Drops on mainstream radio, they are Grammy winners. So it's not terribly surprising that one if its founding members, Rhiannon Giddens, has a new project creating quite the buzz: Sonic New York.
I recently had the pleasure of attending Sonic New York's second show ever at a small venue called One Longfellow Square in Portland, Maine. I had seen a poster hanging in the window a few weeks prior, and there was no way I was going to miss it. I recognized Sxip Shirey's name, as he had recently played at Occupy Wall Street alongside Amanda Palmer and has worked with the Dresden Dolls and author Neil Gaiman.
I'm going to go out on a limb and say that Sonic New York is one of the best shows, if not the best show, I have ever had the pleasure of attending. I was wildly impressed, and though I was rather ill (it is flu season), I could not pull myself away.
Their sound is all over the map. There is a lot of the folk and old-timey influences that you would expect from Giddens, including the most gorgeous cover of "Dink's Song" I have ever heard in my life. Her love of Irish music is obvious in the way she uses her voice on songs like the a-cappella "Bottom 99". Sxip Shirey keeps things lively with his plethora of homemade instruments, bells, pennywhistles, and special effects. Sonic New York's bio describes their sound as, "an explosive melding of Brooklyn, the British Isles and North Carolina", which is accurate enough.
Adam Matta, a reputable NYC beat boxer, was a pleasant surprise at the show. Now a regular addition to the Carolina Chocolate Drops, Matta is also featured on Sxip Shirey's most recent record (also titled Sonic New York). His resume is pretty impressive, and he has worked with acts like Bobby McFerrin and Sufjan Stevans. His job in the new band? Human drum machine.
Joe DeJarnette, who produced Sxip's last record, completes the group on bass. The lanky musician known as "Joebass" also touts an impressive career, working with the likes of Bob Dylan and founding the WIYOS. I dream of a triple bill. Imagine, if you will, the Carolina Chocolate Drops, the WIYOS, and Sonic New York. Yes.
Sonic New York has yet to release an album, but you can also listen to recordings of their songs on Facebook and Soundcloud. There are also a few videos available on YouTube, and all of the members are present on Sxip Shirey's Sonic New York album.
RIYL: The Books, Janelle Monae, Beat Circus, Humanwine, Jason Webley, Romashka, Harlequin Jones, Vermillion Lies, Katzenjammer Kabarett, Csókolom
Official Site / Bandcamp / BUY