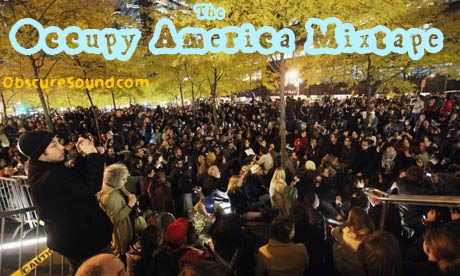 I suppose I should begin by disclosing that I was working the front information desk at Occupy Wall Street from the fourth day until the day before the raid, and continue to work with the group attempting to reoccupy.
Working the desk for as long as I did, I inevitably and inescapably encountered what I admit was some of the worst thought-out and most repetitive musical displays I have ever seen. The drum circle, while spirited, never approached an intentional poly-rhythm, and would frequently vacillate between sounding like either the A train was perpetually approaching, or a very drunk person was knocking at the door. The people with acoustic guitars who would show up with freshly written songs were all of a sub-YouTube quality.
I heard "The Times They Are a-Changin'" what must have been 18 times in a single day once. It was never an especially good song. There was a song circle which took to meeting directly behind my info desk every day, singing "We Shall Not Be Moved" in two hour chunks. Some tents went up and they moved a little. Some more tents went up and they moved some more. Eventually they were surrounding the table and I had to tell them to move.
I began to think what song best captured the experience of actually occupying. After "I Wanna Occupy All Day (And Camp Out Every Night)" threw me off the notion of parody, an uncomfortable epiphany reared its head on the occupation's 40th day. The song that most captured it all was…"Saturday in the Park". Yes, the Chicago song. "40 days in the park / And every one the 4th of July", the overwhelming disorientation in how many goddamn times they repeated "another day in the park"…yes. That was the song.
I thought one day…I'm a music writer. I should be able to scrounge up some protest songs to make this bearable. And so the Occupy America mixtape was born.
I selected the songs with no central qualifying criterion, but rather based on some element, small or large, that struck me in each.
"Class War" by DOA seems like a good opener. It's perky, quick, simple, and pretty unambiguous. People could conceivably sing this at Zuccotti Park. And to top that, Alex Penley, lawyer for Anonymous and a frequent visitor to the desk, will break out into choruses of this song while attempting to slam dance.
"Part of the Union" by The Strawbs and "Jump Start" by Melissa Czarnik are two songs about union struggles and values which are conveniently positioned several decades apart. "Jump Start" gained some popularity in the Madison Wisconsin protests and is one of the few recent protest songs I've heard that works at all on a musical level.
The next pairing is of "Bloody Ludlow" and "El Derecho De Vivir En Paz", they evoke the uglier side of political activism. The first is an account of the violent dismemberment by the Colorado National Guard of the Ludlow strikers' encampment in 1914, which resulted in somewhere between 19 and 25 deaths. They were protesting against several Rockefeller-owned coal companies. "El Derecho" meanwhile, is a fairly peaceful song with a calm melody made haunting by the eventual gruesome death of its writer and performer Victor Jara. In the overthrow of Chile, he was corralled with 1000 other political dissidents into a stadium. His hands broken, the guards reportedly taunted him to play the guitar. He sang "Venceremos (We Will Win)" instead. He was killed and discarded several days later. I like that it adds something in Spanish to the tape, since so much of this country speaks Spanish.
Next is a trio of songs devoted to discontent in the youth, who comprise a large part of the occupation. I'm not sure "No Time to Be 21", "Kill the Poor", or "Payday" requires much exposition.
"Everybody Knows" captures, for me, the cynicism of many who come to the square, the strange impotence of knowing and the lack of clarity that can provide. Cohen captures this and as always lays down a great vocal performance.
"Pretty Boy Floyd" and "March! For Martin Luther King" fit together a bit less than the other pairings, but each has something to offer. "March!" captures the slow driving rhythm of the protest, while "Pretty Boy Floyd" sums up the double standard of criminal behaviors in American society pretty succinctly:
"Yes, as through this world I've wandered I've seen lots of funny men / Some will rob you with a six-gun and some with a fountain pen.
And as through your life you travel. Yes, as through your life you roam / You won't never see an outlaw drive a family from their home."
The Occupy America Mixtape
Compiled by Daniel Levine
01. D.O.A. – Class War
02. The Strawbs – Part of the Union
03. Melissa Czarnik – Jump Start
04. O.V. Hirsch – Bloody Ludlow
05. Victor Jara – El derecho de vivir en Paz
06. Monks – Monk Time
07. The Adverts – No Time to Be 21
08. Dead Kennedys – Kill the Poor
09. The Wobblies – Payday
10. Leonard Cohen – Everybody Knows
11. The Byrds – Pretty Boy Floyd
12. John Fahey – March! For Martin Luther King
DOWNLOAD COMPILATION>>> (42MB, .RAR)
Mirror #1
Mirror #2