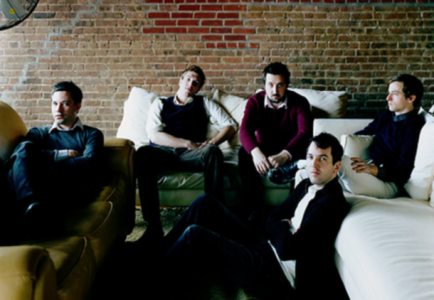 Our coverage of The Walkmen's impeccable show at the hMag Music Fest on 10/16 proved two things to me: they're one of the best indie-rock groups – live or otherwise – in the business today, and they're working on new material. The new song they played, tentatively titled "Your Southern Soul", was prompted by nearly the entire band vacating the stage. As they were getting hydrated on the side, frontman Hamilton Leithauser introduced the track as "a new one" and began playing with nothing but a minimally configured electric guitar. It sounded like a solo effort, and looked like one too, but seeing how The Walkmen described their upcoming album as the "quietest" and most lush to date it's not a surprise. Considering the band's penchant for both quality key-driven rock ballads ("Rue the Day) and infectiously chugging rockers ("Danny's at the Wedding"), we still expect plenty of diversity.
The Walkmen will head into the studio this month to begin recording the new album, which will presumably include "Your Southern Soul". The five-piece are aiming for a summer 2012 release, and have already recruited Phil Ek to produce the release. Ek has been one of the best in the biz for nearly two decades, from his debut producing Built to Spill's There's Nothing Wrong with Love in 1994 to this year, when he produced Fleet Foxes' Helplessness Blues. The new album will be The Walkmen's first since 2010's Lisbon. The 2012 date also coincides with the band's 10-year anniversary, which they will mark with a series of shows and a first-ever vinyl release of their debut album, the classic Everyone Who Pretended To Like Me Is Gone. That re-release will be out on 1/10. Tour dates have yet to be revealed in full, but dates in January for San Francisco and Chicago have already been confirmed:
January
14 — Chicago, Ill. @ Metro (Tomorrow Never Knows festival)
20-21 — San Francisco, Calif. @ The Independent
Chalk down The Walkmen's newest as one of my most hyped 2012 releases.
MP3: The Walkmen – Rue the Day

MP3: The Walkmen – Blue As Your Blood