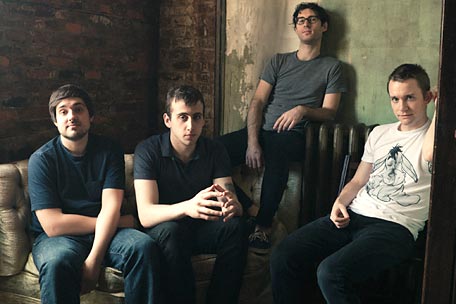 Cymbals Eat Guitars announced their first 11 tour dates of 2012, a year that should be very busy for the rising Staten Island-based group:
1/5/12 – London, UK – The Garage
1/6/12 – Leeds, UK – Brudnell Social Club
1/7/12 – Manchester, UK – Deaf Institute
1/8/12 – Glasgow, UK – O2 ABC 2 Glasgow
1/10/12 – Brussels, BE – Rotunde Botanique
1/11/12 – Amsterdam, NL – Paradiso
1/12/12 – Cologne, DE – MTC
1/13/12 – Berlin, DE – Privat Club
1/15/12 – Hamburg, DE – Molotov
1/17/12 – Sankt Hanshaugen, NO – John Dee
1/19/12 – Vesterbro, DK – Lille Vega
Obviously, expect more dates in the very near future. They also released the video for "Keep Me Waiting", off their latest album Lenses Alien (review), earlier this week:
The first scene has the scenery of a foggy Halloween night, with it quickly transitioning into days filled with sunshine, green grass (both kinds), and carefree acts of vandalism. The final one-third allows for some heavy interpretation. It's not quite clear what happens, watch for yourself. It just feels like a Richard Kelly film for some reason… I mean that as a complement. Kudos to director Adam Kurland.
Also, fans will be interested in some session videos the group recorded during the Fall 2011 tour.
Cymbals Eat Guitars – Keep Me Waiting

Cymbals Eat Guitars – Wind Phoenix

MP3: Cymbals Eat Guitars – Some Trees

Official Site / MySpace / BUY