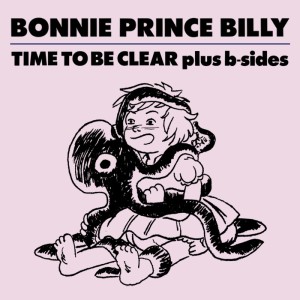 Bonnie "Prince" Billy will release the single for "Time to Be Clear" on February 28th via Drag City. The track is a highlight off last year's Wolfroy Goes to Town (2011: #25). The single includes two b-sides, "Whipped" and "Out-of-Mind". The press release describes these unheard tracks:
"Both these non-LP B's are little monsters, rooted in the same dark earth as Wolfroy, but reaching for higher peaks, as sides of singles always should. Starting with a familiar weary tone and limping gait-lessness, "Whipped," soon ascends to heights of emoting vocals not encountered throughout the entire album that preceded it. The comfy bob-and-strut of 21st century honky-tonk gives "Out-of-Mind" a sweet jukebox feeling, again creating a safe place for naked expression to occur in short order. Yes, the pleasures are fairly immense here, in the way that only two songs can provide."
The tracks were recorded with Ben Boye, Van Campbell, Emmett Kelly, Danny Kiely, Angel Olson, and David Ferguson. Ferguson also worked on Oldham's There Is No God single last June, but their roots go back farther than that. About a decade ago when Oldham was invited to Johnny Cash's recording of his own "I See a Darkness", Ferguson was Cash's main engineer. Generally in regards to music, meeting someone through Johnny Cash turns into a long-lasting collaboration, and this is no different.
Bonnie "Prince" Billy
Time To Be Clear
(Drag City)
Street Date: Feb. 28, 2012
1. Time To Be Clear
2. Whipped
3. Out-Of-Mind

MP3: Bonnie "Prince" Billy – There Is No God

MP3: Matt Sweeney & Bonnie "Prince" Billy – Life In Muscle