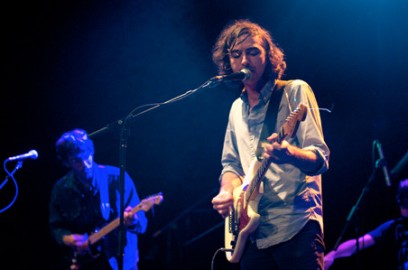 Real Estate are carrying their busy 2011 into the new year. They released videos for "Easy" and "It's Real" last month, and had already confirmed several tour dates in January and March. Well, they added even more dates to March (for Aussies and Kiwis), in addition to a plethora of stateside dates in April. Also don't forget their two Coachella appearances, one on 4/15 and the other on 4/22.
Additionally, the Easy single will drop on April 10th alongside b-side "Exactly Nothing".
Fri-Mar-09        Sydney, AUS            The Standard
Sat-Mar-10    Meredith, AUS            Golden Plains Festival
Mon-Mar-12    Melbourne, AUS            Corner Hotel
Tue-Mar-13    Brisbane, AUS            The Zoo
Thu-Mar-15    Auckland, NZ            Kings Arms
Fri-Mar-16        Wellington, NZ            San Francisco Bath House
Sat-Mar-17    Dunedin, NZ            Refuel
Tue-Apr-03    Philadelphia, PA        First Unitarian Church
Wed-Apr-04    Baltimore, MD        Ottobar
Thu-Apr-05    Richmond, VA        Strange Matter
Fri-Apr-06    Raleigh, NC            Hopscotch Presents at Lincoln Theatre
Sat-Apr-07    Athens, GA            40 Watt Club
Sun-Apr-08    Oxford, MS            Cats Purring Dude Ranch
Mon-Apr-09    Little Rock, AR        Rev Room
Tue-Apr-10    Dallas, TX            Club Dada
Wed-Apr-11    Austin, TX            The Mohawk
Sun-Apr-15    Indio, CA            Coachella Valley Music and Arts Festival
Thu-Apr-19    Mexico City, MX        Caradura
Fri-Apr-20    Seattle, WA            The Neptune
Sun-Apr-22    Indio, CA            Coachella Valley Music and Arts Festival
Mon-Apr-23    Santa Cruz, CA        Catalyst Atrium
Tue-Apr-24    San Francisco, CA    Great American Music Hall
Wed-Apr-25    Reno, NV            Holland Project
Thu-Apr-26    Salt Lake City, UT    Urban Lounge
Fri-Apr-27    Englewood, CO        Gothic Theatre
Sat-Apr-28    Lawrence, KS        Bottleneck
Sun-Apr-29    St. Louis, MO        Plush
Mon-Apr-30    Columbus, OH        Newport Music Hall
Tue-May-01    Harrisburg, PA        Appalachian Brewing Co.

MP3: Real Estate – Kinder Blumen

MP3: Real Estate – Municipality

MP3: Real Estate – Blue Lebaron
Domino Records / MySpace / Twitter / BUY