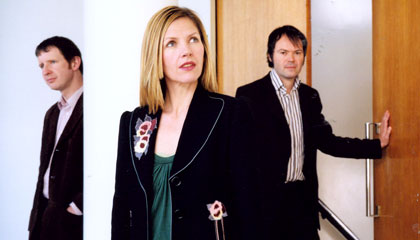 Pop trio Saint Etienne announced details of their comeback album, which was originally announced on December 11th via a Christmas message on their web site. Words and Music by Saint Etienne, out May 21st via Universal, is their first LP since 2005's Tales from Turnpike House.
Songwriter and keyboardist Bob Stanley said the album's emphasis is "how music affects your life," and "how it defines the way you see the world as a child, how it can get you through bad times in unexpected ways."
"I've Got Your Music", the album's first single, was released this month. Words and Music by Saint Etienne is also preceded by a second single, "Tonight", out March 5th. You can stream it below. The single features remixes by Richard X, Club Clique, and the 2 Bears. Richard X, along with Nick Coler and Ian Caft, collaborated further on the album, whose full tracklisting has yet to be unveiled.

MP3: Saint Etienne – Through The Winter