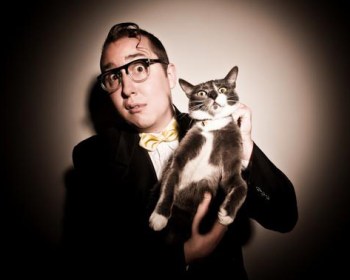 Multi-instrumentalist Tim Fite premiered a new track, "Joyriding", off his upcoming album Ain't Ain't Ain't, along with a bunch of tour dates to celebrate the release. The central focus of the Ain't Ain't Ain't, out March 6th on ANTI-, is "the pain, hope and unbridled passion of one's teenage years." The specific theme of "Joyriding" is "the budding freedom and romantic adventure of youth." The new album will apparently express less youthful exuberance and optimism than his previous two releases.
Tim Fite Tour Dates:
Mar. 08 – Brooklyn, NY – Union Hall *RECORD RELEASE SHOW
Mar. 30 – Portland, ME – The Oak and the Ax
Apr. 01 – Toronto, ON – Drake Hotel
Apr. 03 – Chicago, IL – Subterranean
Apr. 04 – Minneapolis, MN – 7th Street Entry
Apr. 06 – Rock Island, IL – Rozz Tox
Apr. 07 – Urbana, IL – Mike n Molly's
Apr. 08 – Memphis, TN – Hi Tone
Apr. 09 – Birmingham, LA – Bottletree
Apr. 10 – Atlanta, GA – Goat Farm (I hope this is a real goat farm)
Apr. 11 – Chapel Hill, NC – Local 506
Apr. 13 – Washington, D.C. – U Street Music Hall
Apr. 14 – Philadelphia, PA – North Star Bar
Tim Fite has always been stylistically indecipherable, with his content ranging from satirical hip-hop (or hip pop) to Beck-inspired folk-pop musings. He also loves playing with samples, and any instrument he can get his hands on. His previous release, 2008's breakthrough Fair Ain't Fair, was described positively by many as a cut-and-pasting of ideas both lyrical and musical. Perhaps Fite's biggest talent is his ability to develop hooks out of songs that, at first, may seem cluttered by too many ideas, variety of instrumentation, or both. Initially overwhelming as some of his songs may be, his colorful songwriting always keeps accessibility in check.
Listen to "Joyriding" here, and check out another new track from the album below:
Tim Fite – We Are All Teenagers
Also check out "I've Been Shot" for some old-school (2006) Fite action.