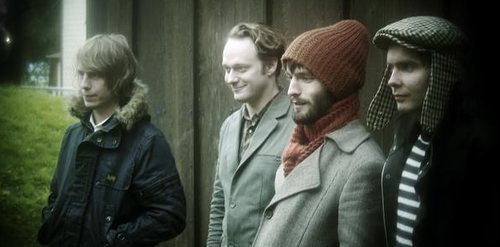 UPDATE: Stream a new track off the album here.
Sigur Rós' new album Valtari will be out May 28th. The details come from fan site Victory Rose Music, which posted an interview with the band from Q Magazine. Also released was the tracklisting, found below. Frontman Jónsi told the magazine that "the music kind of just rolls over you" but "in a good way." Valtari is the Icelandic group's first new album since 2008's Með suð í eyrum við spilum endalaust
Jónsi says the album sounds "like an avalanche in slow motion", warning that it will be "to heavy and floaty" for some listeners as "there's not enough drums." There won't be any English lyrics either. "I've tried siging in English and my accent is too bad," he continued. "There's more electronic stuff than before," added bassist Georg Hólm. "But don't worry, we haven't made a dance record." The album was made in the band's own studio, Sundlaugin, which was formerly a swimming pool.
Valtari:
01 Êg Anda
02 Ekki Múkk
03 Varúð
04 Rembihnûtur
05 Dauðalogn
06 Varðeldur
07 Valtari
08 Fjögur Píanó

MP3: Sigur Rós – Með Suð í Eyrum