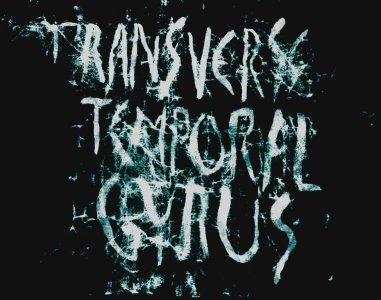 In celebration of Record Day '12, Animal Collective and visual artist Danny Perez extended their "Transverse Temporal Gyrus" exhibition, which they premiered in March at the Guggenheim Museum in NYC.
In addition to releasing an exclusive 12″ featuring audio from the installation, they launched a web site that expands the project's reach. Its description: "The web site allows people an opportunity to experience "Transverse Temporal Gyrus" in a unique way. Just as the installation refashioned what a traditional performance and environment would be, the website reformats these materials again into something new. Video, audio, and images from that one evening provide a unique perspective to both people who were there and those that weren't."
"Transverse Temporal Gyrus" was a very collaborative and technologically dependent project; a computer program designed by Stephan Moore mixed new tracks written by each Animal Collecive member, jumbling the track order and sometimes combining "stems from one track with stems from another." At the Guggenheim, the music panned in different directions through a 36-channel surround sound system. The '"Transverse Temporal Gyrus" website features a free downloadable audio player (for both Mac and PC) that recreates the computer program designed for the Guggenheim installation over 2 stereo channels.
Moore's programming is a prevalent feature on the site. "The sound score and installation for "Transverse Temporal Gyrus" was spontaneously re-created at each performance by rearranging dozens of recorded sounds and flying them around the Guggenheim Museum space according to a set of complex rules," he said. "A graphical representation of the entire automated decision-making process (the actual computer code written in MaxMSP) makes up the poster image that accompanies the 12inch release, and the complete software itself is now available to download as share-alike open-source."
Although the exhibit went off without a hitch, the band is happy the web site provides the experience to more fans. AC member Geologist said it best: "The only disappointment was the inability to share it with more people, and this website finally allows us do that in some way, while ensuring that every individual experience will still remain just as singular and unique."

MP3: Animal Collective – Graze

MP3: Animal Collective – For Reverend Green

MP3: Animal Collective – Turn Into Something